Best web analytics tools: Alternatives to Google Analytics
Web analytics is an important tool for every business, especially newer companies that might not have the experience of managing audience content.
A good analytics tool can provide a wealth of information on new and returning visitors, referrals, bounce rates and real-time visitor stats (to name a few).
For many businesses, Google Analytics (GA) is the first analytics tool that comes to mind, and with good reason. It's easy to use, free (up to a point), and comes with lots of peer support from a huge user base.
The basic hosted package is free until you have more than 20 custom metrics and have no more than 200 views per web property. If you do go to the premium package, you'll be able to take advantage of lots of useful third-party integrations and unlimited data.
However, there are plenty of analytics tools out there to rival it. In this article, we pick out the best web analytics tools.
Read next: Best free and open source inventory management systems.
Additional information by Hannah Williams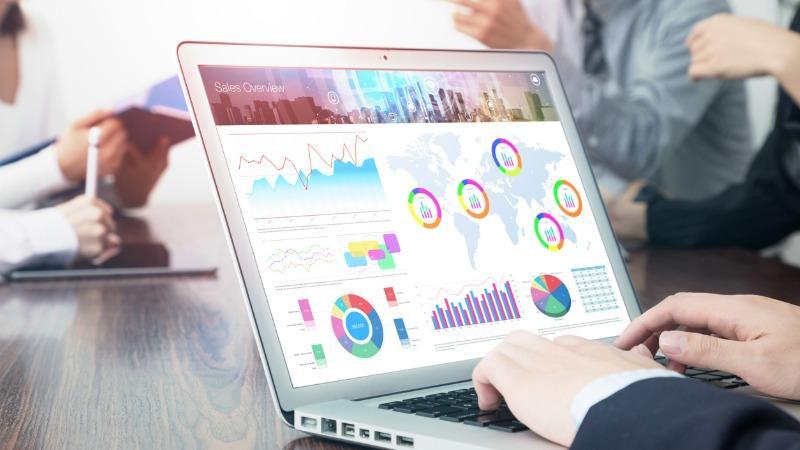 Mouseflow
Mouseflowprovides a session replay and heatmapping tool, enabling users to see how people are using the website.
This includes observing the behaviour of visitors on the site, whilst also being able to easily identify any problems that people tend to face in order to resolve them more quickly.
Its session replay feature is a great way for companies to see what may be stopping visitors spending longer on the site, as well as potential reasons for not purchasing services and products.
The heatmaps feature works in collaboration with this, providing details of where people click, scroll, move the mouse and pay more attention to on the site.
It also includes a range of other features for web analytics. Pricing begins at €29 (£25.83) a month for the starter plans.
Statcounter
Statcounter is a real-time web analytics tool that provides users with detailed tracking information about website visitors' activity.
It also includes a range of features such as visitor alerts, reports dashboard, bounce rate and more to help companies track how visitors use the website and how they find it in terms of the features and user experience.
Statcounter also provides information on traffic for users to see how key metrics are performing through page views and sessions.
It offers a free 30-day trial, and pricing starts from €7 (£6.24) per month.
GoSquared
GoSquaredis another real-time web analytics platform that includes dashboards of detailed insight about the performance of users' websites.
All data is anonymised, but provides users with key metrics reports which include traffic volume, bounce rate, traffic spikes and downtime.
It also includes a map view of visitors to help users see which locations around the world drive the most traffic.
GoSquare also offers live chat and marketing automation. It provides a free 14-day trial and pricing starts from £29 a month.
FoxMetrics
Describing itself as 'marketing solutions for digital marketers', FoxMetrics offers a lot more than the average web analytics tool. In fact, this platform aims to provide a totally personal experience.
Organisations can customise most elements of this metrics software, able to create unique user behaviour segments, build user-targeted campaigns from website data and integrate multiple widgets such as email capture, notifications and pop-ups. This is of course on top of the usual visitor data analytics.
You can get FoxMetrics on four pricing plans (Standard, Professional, Agencies, Enterprise) starting from $99 (£75) a month.
Matomo (formerly Piwik)
Matomototally free to use and open source, so a great choice for small businesses not looking to spend the Earth on good-quality analytics.
During its Piwik days, Matomo was a GA clone, with one critical difference. Unlike Google's tool, you had to host the analytics on your own server. Although, if you had a lot of traffic and the developers to host a package like this, it was a great choice.
And while this option still remains, Matomo also offers cloud-hosted analytics able to great real-time analytics, and similar features to Google Analytics, like campaigns, site search, custom alerts and geolocation.
Matomo really is a great open source alternative to Google Analytics. You'll get a feature-rich product without the price tag.
Zap
If you're looking for a business intelligence and data collection tool then Zap is a solid choice. Its Zap Data Hub offers data analysis for any business or team objective you set.
Zap is directed at enterprises, so skip to the next slide if you run a small business. However, its enterprise-grade data management lets you integrate a load of applications including Google Analytics, Power BI, Tableau, Qlik as well as other ERP and CRM program apps.
Its dashboard is pretty intuitive and looks great.
Chartbeat
Chartbeatis a live analytics package. It pings users on your site, and measures in real-time what they are doing, as they do it.
Different to - and more accurate than - GA's live analytics which measures only server hits, Chartbeat is hypnotic and compelling and useful. It is pay-for, but nothing like as expensive as Adobe. I love Chartbeat, but it is probably best thought of as an addition to your main analytics package.
Open Web Analytics
Open Web Analyticslooks an awful lot like Google Analytics, or at least one of GAs older versions. However, this analytics platform is free and open source, meaning while it's totally customisable, it is also a little rough around the edges.
Like Matomo it offers self-hosting and comes as a WordPress add-on which means it can track the specific WordPress site it's installed on, and outside of that, you can track multiple websites if it's installed independently.
For a free tool, Open Web Analytics is seriously feature rich, so if you're new to the game it is worth trying this platform out first, you could save yourself a lot of money.
Adobe Analytics
The big beast of the web analytics world. The product formally known as Omniture is the most complete and complex web-analytics tool there is.
For large enterprises that rely on driving large numbers of end users through a digital funnel, Adobe Analytics is the best there is. But it is not simple, and for smaller web-based businesses it is likely to be overkill. Not least because Adobe Analytics is not cheap. At all.
Clicky
The key advantage of Clicky is that it is super simple to use. For small traffic sites, it is a perfect alternative to Google Analytics, in that it takes only 15 minutes before you are fully au fait with its features.
But beyond a limited free program, you do have to pay. And the real-time tracking is less impressive than that of Google, in my opinion.
And if I'm honest, its stripped back UI might put some people off.
Snowplow
Another data collection tool like Matomo, Snowplow is for the less faint of heart. It does allow far more granular control of the data.
However, it doesn't come with the intuitive front-end interface of Matomo, instead simply creating a database of web data which you then query with OLAP tools such as Tableau or with more advanced techniques like MapReduce.
Although, with Snowplow you can own your data and choose who you share it with. Which is pretty useful.
Parse.ly
Parse.ly, generally referred to as 'Parsley', is ideal for media publishers - the likes of Computerworld UK.
If you are in e-commerce or run a vendor website, it is likely that Google Analytics or Adobe Analytics will give you better support for tracking users through the sales funnel. But if you want to know who is reading what, by which author, Parse.ly is your friend. Great for publishers, but not cheap.
It also has a great feature for tracking historical reader data to analyse trends and spot patterns.
Woopra
Wooprais a real-time CRM system for web users. Woopra is free for up to 500,000 interactions, but you don't need many users to break that limit, at which point you are in the hole for $999 (£760) a month, which takes you up to only 5 million actions. For any more than that, you'll need to grab a quote.
For ecommerce sites, Woopra is great for tracking the customer's buying journey. This can be broken down into numerous subsections, for example, who is buying what, how many visitors are signing up to emails and how many are reading them, as well as offering real-time notifications to entice customers to buy and of course analytics of uptake on this.
Copyright © 2019 IDG Communications, Inc.
Next Up: Check out these related slideshows