Everything we learned at Dreamforce 2018
Another Dreamforce is in the books and there was a lot to digest, as always. Here we round up everything we learned from the SaaS CRM giant from being on the ground in San Francisco last week.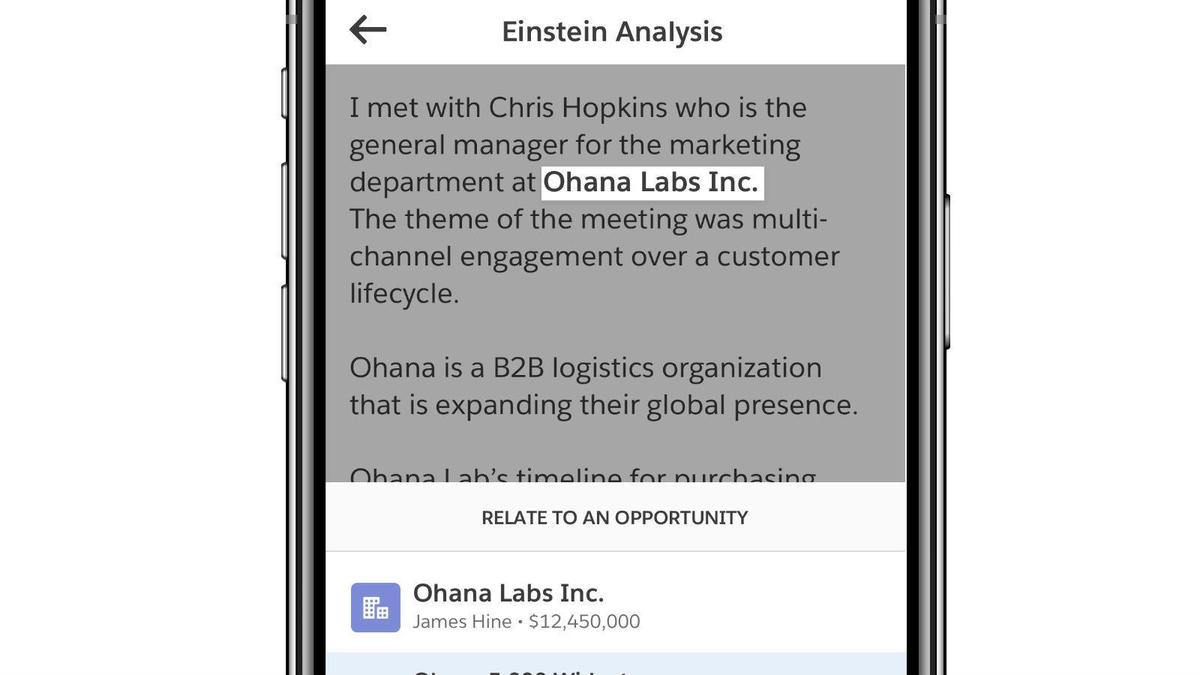 Einstein Voice
Salesforce made a big move into the voice domain during Dreamforce, announcing Einstein voice and bot capabilities.
The core feature is allowing Salesforce users to engage with the CRM platform using voice through the Salesforce app and receive daily briefings through assistants like the Google Assistant and Amazon's Alexa.
For example, you can dictate a note into the app and press the Analyse Einstein button at the bottom to automatically identify the right Salesforce record and opportunities related to that account. This utilises natural language processing for Einstein to find the relevant contact record, pick up action points and associate them with the right field in Salesforce automatically.
Customers can also build their own voice-enabled bots with clicks not code through the Einstein Bot Platform. Launch customer Marriott is using Einstein Voice to run a network of connected smart speakers in its rooms, as demonstrated during the day one keynote.
Einstein Voice will be piloted in 2019.
Salesforce enters new partnership with Apple
In a landmark partnership between the cloud company and the most valuable company on the planet Salesforce is looking to better align with iOS and help app developers build on top of Salesforce.
The announcement included redesigning the Salesforce app for iOS, a new Salesforce Mobile SDK for iOS, and a new iOS App Development course on Trailhead, Salesforce's training platform.
"We're excited to work with Salesforce and that their industry-leading CRM will embrace native iOS and deliver exclusive new features on iPhone and iPad," said Tim Cook, Apple's CEO said as part of the announcement.
Mulesoft joins the family
Salesforce was clearly keen to show off its shiniest new acquisition during Dreamforce, as integration specialist Mulesoft was part of the main keynote and had its own Integration keynote on day two.
We took a deep dive into how Mulesoft is fitting in under the Salesforce umbrella (hint: it's not) and how the products are aligning but, crucially, staying separate.
Read next: How Mulesoft fits in at Salesforce
Customer 360 launch
Salesforce launched its latest standalone product on day one of Dreamforce with Customer 360.
Patrick Stokes, SVP of product management for Customer 360 said: "We are giving business users all of the tools they needs to build a single view of their customers across systems and to connect that back up to their CRM applications."
Read next: Salesforce Customer 360 aims to unify customer data across systems
For example, a customer service agent could now have an up-to-date picture of a customer in one place, allowing them to see past orders, wishlists, in cart items, every marketing campaign they have engaged with and even churn risk, all in one place.
Benioff calls for "ethical and humane use of technology"
Salesforce cofounder and co-CEO Marc Benioff used his keynote address on day one of the conference to talk about values and the "ethical and humane use of technology".
As in previous years Benioff handed off product announcements to CTO Parker Harris to talk more about culture and values, a role many expect him to lean in to now that Keith Block has been appointed co-CEO and who will focus on operational day-to-day issues.
Read next: Salesforce cofounder calls for "ethical and humane use of technology" during Dreamforce keynote
Addressing the audience and cameras, Benioff said: "This is a very important time for the world, we all know that. It is a time when we are taking personal action to change the world and we know we are not relying on our government leaders or even our NGO leaders, or our business leaders. We are coming together.
"We can have a structured conversation not just with our own employees myopically, but by bringing in the key advisers, supporters and pundits and philosophers and everybody necessary to ask the question if what we are doing today is ethical and humane.
"We are all going to have to ask that question in the technology industry and every company and CEO better be ready to answer that question through their values."
AWS partnership enhancements
After talking up its Google partnership last year Salesforce used this year's Dreamforce to talk up an "expanded global strategic alliance" with Amazon Web Services.
This included a new new AWS PrivateLink integration with Salesforce APIs, allowing developers to offer private endpoints. There's also new integration with Salesforce Platform Events, and linking Amazon Connect with Salesforce Service Cloud.
"Salesforce today runs the vast majority of their public cloud workloads on AWS. Salesforce is now live on AWS in Australia and Canada, and customers can access the Salesforce Customer Success Platform on the AWS Canada (Central) Region and AWS Asia Pacific (Sydney) Region, Salesforce's first international infrastructure expansions supported with AWS cloud services," the vendor said in an announcement.
Dreampitch 2018
The annual Dreampitch competition, which challenges startups to pitch company ideas built on the Salesforce platform to a celebrity panel, Dragons Den style, was won by CarServ, a SaaS platform for auto repair shops.
Using Salesforce's Heroku platform-as-a-service (PaaS) offering, CarServ allows repair shops to automatically share updates with customers via text, call a Lyft without them having to have an account and give managers predictive analytics to track revenue and customer satisfaction levels. CEO Mars Mundy particularly impressed judges with his calmness under pressure.
The judging panel was made up of Will.i.am (yep, that Will.i.am), Bloomberg technology anchor Emily Chang, NBA champion and finals MVP Andre Iguodala, general partner and cofounder of Canvas Venture Rebecca Lynn and famed talent manager Guy Oseary.
The winner gets a $250,000 USD investment opportunity from Salesforce Ventures, an AppExchange Launch Package and a trip to the T-Mobile Tech Experience Center in Bellevue, Washington.
Metallica rocked the Dreamfest
After drummer Lars Ulrich appeared on stage earlier in the week to talk about how the band connects with fans using the Salesforce platform (never meet your heros, kids), the Bay Area-based rock bank played the Dreamfest concert at the Civic Centre alongside Janet Jackson on a separate stage for a typically lavish evening.
Copyright © 2018 IDG Communications, Inc.
Next Up: Check out these related slideshows