Best software tools for journalists
Journalism in the digital age has added speed, reach and reporting techniques by harnessing the power of a variety of technologies.
We've listed some of the best of these tools for journalists, from the basics of a good word processor, voice recorder and file storage, to more advanced tools for transcribing interviews and getting scoops.
Additional reporting by Hannah Williams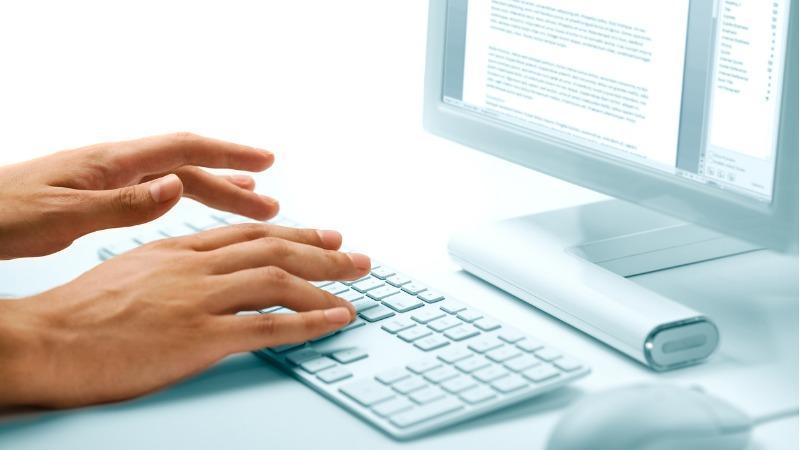 Word processors
One of the most important tools for a journalist is a word processor, and this can be a contentious topic between editors who all have their preferences.
Writers tend to like simple word processors, such as Text Edit on MacOS or Notepad on Windows, while the open source LibreOffice is a popular open source alternative to the feature-rich Microsoft Word.
In terms of specialist word processors Scrivener, Hemingway, iA Writer and Byword promise clean, distraction-free writing environments. Dropbox's own Paper is also a nice, collaborative web-based word processor.
The best of both worlds for balancing simplicity and features might well be Google's G Suite Docs as this has the added bonus of being cloud-based allowing for simple sharing and collaboration with your editor.
Voice recorder
Most journalists own a dictaphone but many are now also using voice recording software on their mobile devices to do the same job or act as backups during interviews. The native Voice Memos app on iOS does the job if you abide by a few basic rules: ensure you have enough space on the device before starting and set the phone to airplane mode during the interview to avoid the recording being disrupted.
For Android, Smart Recorder is a free and lightweight app for recording audio. For iOS users, Voice Record Pro is a free app that allows you to record audio files of an unlimited length. The Voice Memos app is also a handy tool, available pre-installed on every iOS device.
Transcribing tools
The holy grail for journalists would be a tool that takes audio files and accurately transcribe them into a word doc. Many promise this but no one has quite delivered this tool yet, although Amazon's currently in-beta Transcribe service could be the AI-powered service to change all of this.
For now we have two options: rudimentary tools or human transcription services like Rev.com. Rev will provide transcriptions within roughly 24 hours but for a price, and the quality is not always top notch. There is also the issue of some less-than-friendly Glassdoor reviews regarding their working practices.
The free app Otter from AI Sense also promises to perform live conversation transcription or delivers a transcript from an audio file within minutes, complete with keyword search. The company says that it will never share your conversations and that data is synced over an encrypted connection and stored in a secure cloud environment.
Tools like oTranscribe and Transcribe by Wreally are handy for transcribing your own audio without having to switch between your word processor and whatever you use to play audio.
Slack
The popular enterprise chat software Slack has long been a mainstay in newsrooms where quick and simple collaboration, especially across geographies and departments, is key.
Younger newsrooms have long had a preference for Slack's UX over such enterprise solutions as Microsoft's Skype for Business and Cisco Spark, and because of its generous freemium tier it is an easy tool to get up and running across a small editorial team.
Read next: The best enterprise collaboration software
File storage
A cloud-based file storage option can be a better, more secure option for journalists than storing things on a hard drive or local device.
The options here are pretty clear: Dropbox and Google Drive are good options for freelancers and Box and Microsoft OneDrive are more suited to larger organisations, although Google and Dropbox also have business tiers.
G Suite includes Google Docs and has a generous free allowance of 15GB. A basic G Suite plan with 30Gb of storage is then just £3.30 a month per user.
Read next: Dropbox vs Box: What's the best cloud storage for your business?
Encrypted messaging apps
For journalists dealing with sensitive topics and sources securely through an encrypted messaging app is a must. Telegram and Signal are popular options as they are easy to register for and get in touch with contacts quickly and safely.
Read next: Best secure mobile messaging apps
Social listening tools
A modern newsroom should have its finger on the pulse with analytics, social media listening and SEO.
Tools like Buzzsumo allow journalists to track what their competitors are writing about, and what is trending across their beat. You can filter trending topics via sector such as business, finance, entertainment and more, and create custom lists which can monitor the most popular articles on your competitor's sites.
It also offers content analysis for key terms, providing a Google Trends-style interface. This is pretty useful to track topics and key terms and help journalists preempt when a certain topic should be written about.
Simple Google Alerts for companies or people you cover are also a valuable tool.
Social media posting apps
A collaborative social media platform is useful for teams of journalists tasked with tweeting out their own articles, especially when working across multiple accounts.
We use Buffer, but Sprout Social is good for team posting across multiple networks, TweetDeck is strong for Twitter and Hootsuite is also a popular tool. These will all cost you beyond just a handful of users though.
Analytics tools
While tools like Moz and SimilarWeb are handy for competitor analysis and SEO of articles, you can't beat Google Analytics when it comes to tracking key metrics for your own site and content.
There is tonnes of functionality in Google Analytics and editors can set up handy reports to keep abreast of content performance.
The basic hosted package is free until you have more than 20 custom metrics and have no more than 200 views per web property. If you do go to the premium package, you'll be able to take advantage of lots of useful third-party integrations and unlimited data.
Chartbeat is also a very popular newsroom tool for tracking live analytics for your site(s). The simple dashboard shows the amount of people currently on your site, what content they are looking at and for how long and from what device. You can drill down a little bit into page load times, traffic sources and top referral links.
Read next: 10 best web analytics tools: Alternatives to Google Analytics
Tools for extracting email addresses from LinkedIn
Tools like Saleslift.io, Skrapp.io and Hunter are a bit of a dark art for the clued-up journalist.
These tools allow you to grab someone's email address from their LinkedIn profile. Have a source you want to contact without contacting the PR department? Want to follow up with someone after a talk but didn't catch their email? This free browser addon can prove invaluable on certain occasions.
Photo sourcing and editing
Most journalists will have to source their own images for stories, so a good grasp of Google Images and how to properly credit an image are key skills. Creative Commons also now has a search page for images that are free to use and remix. Paid-for photo depositories like iStock and Shutterstock can also prove valuable if your newsroom has a subscription.
Then for editing images to the right specification there are some good free image editing tools on the web that mirror the basic functionality of the very expensive Adobe Photoshop.
We like Pixlr's free web-based editor tool for resizing and touching up images, but Irfanview and GIMP also a good lightweight tool.
TinEyealso provides a handy reverse image search for finding credits to older images or alternatives. Simply search by image or upload the file and you can find where that image appears online.
Company information search
DueDiland Companies House have good search functionalities for anyone looking for company information like recent filings, key people and addresses.
Another handy tool is Google Data Search, an online search engine similar to the standard Google search, which helps journalists and researchers locate online company data. It includes links, along with data descriptions, publication dates, author and provider bylines and other information for accuracy.
Copyright © 2019 IDG Communications, Inc.
Next Up: Check out these related slideshows