Oracle vs Amazon: Oracle's public cloud milestones so far
The centrepiece of Oracle OpenWorld 2016 this week is a plan to go head to head with Amazon Web Services within the infrastructure as a service market. Oracle is a relative latecomer to the public cloud market but boldly claims its Generation 2 IaaS can take on AWS' offerings. It's ambitious to say the least: a Gartner report last year said AWS's IaaS cloud is ten times bigger than the next 14 competitors combined, not that you'd know it from Oracle's bullish language.
"Amazon's lead is over," CTO Larry Ellison said during his opening keynote. He promised the service will deliver twice the compute, twice the memory, four times the storage and ten times more I/O at 20 percent lower cost than AWS.
Bold words indeed, and certainly a far cry from when Ellison dismissed cloud as just a fad. Here are some of the main milestones in Oracle's shifting approach to public cloud over the past decade...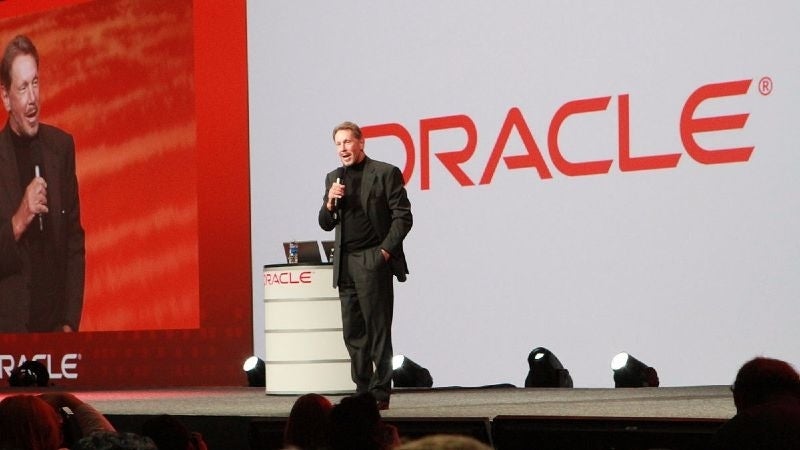 2008: Cloud? It's complete gibberish, says Larry Ellison
Addressing analysts in September 2014, Oracle cofounder and CEO Larry Ellison struck a sceptical tone regarding cloud's potential.
"We've redefined cloud computing to include everything that we already do...The computer industry is the only industry that is more fashion-driven than women's fashion," he said.
"Maybe I'm an idiot, but I have no idea what anyone is talking about. What is it? It's complete gibberish. It's insane. When is this idiocy going to stop?"
2011: Oracle launches first public cloud products
At Oracle OpenWorld 2011 the company launched the 'Oracle Public Cloud', a set of services including applications, middleware and database services. However Oracle quickly faced accusations of 'cloud washing'. A number of analysts and experts said its new products were just its existing software and hardware rebranded, without meeting the definition of true cloud services.
2013: Oracle launches IaaS. But does it really?
Oracle launched an 'IaaS on Demand' range of rental application servers at OpenWorld 2013 in addition to its private cloud infrastructure products. However much like its 2011 announcements, this was denounced as 'faux cloud' strategy shortly after as it was not actually a cloud IaaS offering, just Oracle's usual data centre hardware available to rent for a monthly fee, to be be deployed in customer data centres.
October 2015: Oracle launches 'Elastic Compute Cloud'...nine years after Amazon launched EC2
Oracle's focus on AWS didn't come out of the blue this year. In fact, at OpenWorld 2015 the company decided to ditch its 'fake cloud' strategy and announce an actual IaaS service with pricing. The news came just days after it emerged that HP had decided to abandon precisely the same market, confirming it would stop offering its public cloud for running companies' applications from January 2016.
January 2016: Oracle declares war on AWS
Oracle unveiled its Generation 2 IaaS at Oracle OpenWorld 2016 with AWS firmly in its sights.
Despite the fact Oracle is late to public cloud, and has an IaaS business worth just five percent of AWS's, it has clearly calculated it is a market worth being in. The logic behind it - whether to retain existing customers, attract new ones, or just because the entire IaaS market is set to be so valuable it's worth getting even a tiny proportion of it - remains to be seen.
Copyright © 2016 IDG Communications, Inc.
Next Up: Check out these related slideshows