Best file-sharing software
File sharing, otherwise known as peer-to-peer, is the process of securely sharing files such as documents, pictures and videos across the internet, or storing them in a shared drive.
Online file sharing is a must in today's business world. The software you use often follows from the ecosystem you're already embedded in, such as Microsoft or Google, but there are a wide range of other apps with their own intriguing features.
Here are some of the best options on the market.
Read next: Dropbox vs Box: What's the best cloud storage for your business?
Additional reporting by Hannah Williams.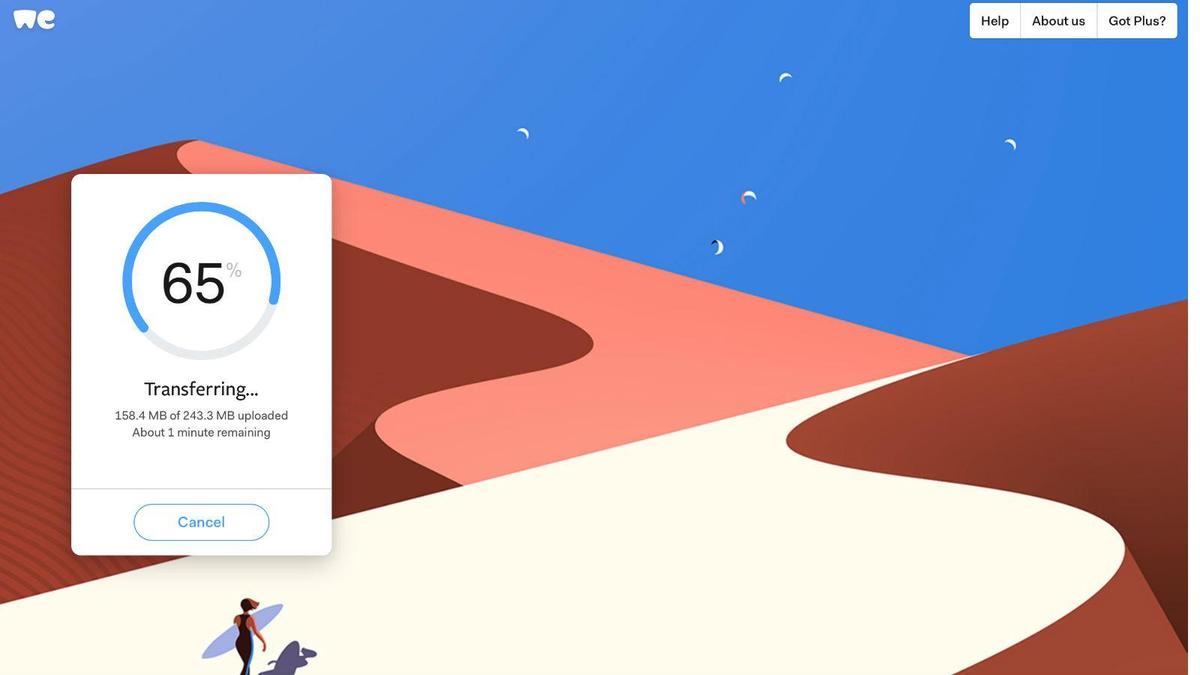 WeTransfer
WeTransferis well known cloud-based file transfer software that enables users to transfer files in a simple way.
The software offers a free version, that supports file transfers of up to 2GB a month, with the premium WeTransfer Plus package at €12 (£10.50) a month.
The Plus package includes up to 500GB of file storage, with the ability to transfer full HD videos and photos along with customisable downloads that enables users to share large files at once.
WeTransfer is available on Mac, Android and iOS applications.
Syncplicity
Syncplicityis a file share and synchronisation service that allows users to share, both internally and externally, without any size limits. It is useful for mobile and field workers and can be used to provide unified access to data with or without an internet connection.
The service also enables users to share large files using Secure Shared links, which include optional passwords and expiration dates for access.
Syncplicity is available on Windows and macOS. It is free for up to 10GB, then is priced at $60 (£46.50) per user a year for the business package.
Box
Boxoffers file-sharing and storage software squarely aimed at the enterprise market.
The company's business package begins at £12 per month and includes unlimited storage and uploading files of up to 5GB and can be used by any number of employees.
Documents can be shared with non-users, however they will have read-only privileges, and not the ability to edit. The software offers integration with Microsoft 365, meaning it can be layered on top of this software.
In terms of security, it offers SSL and at-rest encryption and two-factor authentication to ease your privacy concerns.
One of the few downsides of the software is that it doesn't offer offline access and editing of documents, a feature that other software - such as Google Docs - do provide.
It does, however, offer an ever-growing set of features, including the Box Notes document creation tool, easy access to files from your desktop whether you're online or offline, and previews of almost any file type.
They were recently joined by public beta versions of a comprehensive G Suite integration and a new feature called Box Feed, which intelligently curates and surfaces the content and updates that matter most to users. Box has also announced two new features that will be available in 2019: Activity Stream and Recommended Apps feature, which surfaces the latest activity and relevant context from other apps, and Box Automation, which automates repetitive tasks such as new content releases to save time around the review, approval and publication.
Google Drive
If you're already using Gmail, Google Drive will naturally present itself as your file sharing software of choice.
A free package affords you 15GB of storage. If you upgrade to 100GB for £1.59 per month and to 1TB for £7.99 per month. You can share files of up to 5TB each.
The productivity and collaboration apps enable the seamless, real-time editing of the same document by multiple different parties.
Egnyte
Egnyte Businessis another competitive option when it comes to file-sharing and storage software for business.
The software adopts a centralised storage model, rather than the distributed model most of its competitors adopt. This means that superiors have a greater degree of control over permissions for various documents.
The Office package, for $8 (£6) per month, is aimed at businesses made up of between 5 to 25 people, and includes 5TB of online storage, and supports files of up to 10GB in size. The Business package is for larger offices of between 25 to 100 employees, and offers 10TB of online storage, and offers advanced security over the more basic Office package.
ShareFile
ShareFile(owned by Citrix) offers a number of compelling features including the ability to share files with co-workers or clients, real-time, collaborative document editing and workflow management tools. It integrates with a number of useful third parties, such as e-signature software, Microsoft Outlook and Gmail.
Security is also sound, offering bank-level 256-AES encryption and over 25 customisable security settings.
You can trial the software for free for 30 days, and then select either a Team package for £48 per month (for five employees plus £6.50 for each additional employee). This package allows for 1TB of storage. Alternatively, there is the Business package costing £80 per month for five employees (with an additional £8 for each extra employee) that offers unlimited storage.
SugarSync
SugarSyncis another option offering cloud storage, online backup and of course, file-sharing across numerous devices. The software also provides a number of relevant work tools such as the ability to adjust permission settings to, for example, share a view-only document. However, currently the software offers no collaborative editing tools.
In terms of security, files are transferred using TLS (Transport Layer Security) and are stored in the cloud using 256-bit AES encryption. However, it lacks the two-factor authentication feature found in many other options.
The software lets you seamlessly share any folders on your hard drive, and everything is backed up in real time, securing your documents.
They don't offer a free plan, and business plans start at $55 (£41) per month for between one to three users, with incremental price increases as that number rises.
Zoho
Zoho Docswill be a natural fit for any current Zoho Mail users, and offers plenty of enviable features, including 5GB File upload limit, unlimited file versions, password protection and the ability to send files to non-docs users.
Zoho Docs may have the edge over competitors such as Google Docs when it comes to task flow management.
You can use Zoho Docs alone for $4 (£3) per user, per month for an annual contract, granting up to 100GB of storage per user.
Dropbox
Dropboxis a massively popular cloud storage and file share service. Its business offering comes with unlimited storage, and a raft of administrator and collaboration tools on top of its consumer product.
The software can integrate with a number of third party apps, including DocuSign, Salesforce, Office 365 and Slack.
Their standard business package comes in at £10, and rises to £15 for an advanced option. The standard package includes 2TB of secure storage, Office 365 integration, granular sharing permissions. Upgrading to the advanced package will buy you unlimited space and advanced user management tools among other features.
The software contains safety features such as 256-bit AES and SSL/TLS encryption and remote device wiping capabilities.
Microsoft OneDrive
Again, leading from what ecosystem you're currently lodged within, Microsoft OneDrive will prove the intuitive choice for current Microsoft users.
It's not as polished as some of its competitors in some regards - you have to go to the OneDrive site to share a file, rather than doing it from your hard drive. But it does still allow real-time collaboration and editing of Word Documents, despite the fact that it doesn't offer the range of collaboration tools than the likes of Google.
A package combining OneDrive and Office 365 business premium for £112 per user, per year, and offers 1TB of personal cloud storage.
Tresorit
Tresoritis aimed at the security conscious business user, having challenged hackers from across the globe to attempt to hack into its systems to win $50,000. According to the company, no one managed - a testament to the software's impressive safeguards. The company promises end-to-end encryption and file-sharing, important for companies sharing confidential information between employees. It lets you select any file in your hard drive for syncing.
They offer a small business package costing £12 per user per month, which offers Secure file sync & sharing for teams of between two and nine users. An upgrade to a business package costing £16 per month per user caters for teams of over 10.
Some of the features offered include zero-knowledge authentication, 1,000 GB encrypted storage per user, secure access on up to 10 devices per user, syncing of existing folder structure and deleted file restore.
Copyright © 2019 IDG Communications, Inc.
Next Up: Check out these related slideshows