Top UK universities working on AI
UK universities have played a central role in the global development of artificial intelligence and are helping to attract a lot of money to the country. Research by GOV.UK found that inward investment to the UK's AI sector has increased by 17 percent over the past year - more than the whole of Europe combined.
British universities have gained such a strong reputation for AI research expertise that Dame Wendy Hall, the government's AI skills champion and a professor of computer science at University of Southampton, said the EU had no choice but to collaborate with them. In an aim to further AI skills, UK universities are now offering industry-funded master's courses and work-based placements.
ComputerworldUKlooks at some of the top UK universities that have been exploring artificial intelligence through their research and teaching, since the days before it was an industry buzzword.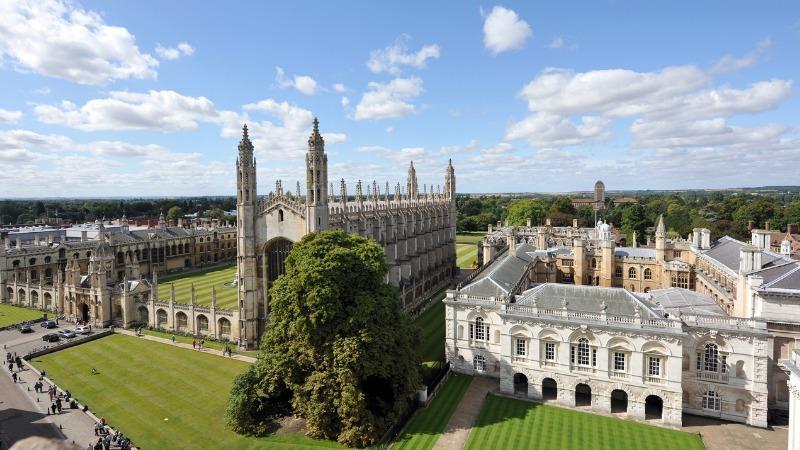 Anglia Ruskin University
In 2019, Anglia Ruskin University partnered with a number of local UK companies to help close the AI skills gap.
Following this, the university launched for new courses which will become available from September 2019. They include master's courses in AI/big data, AI with cybersecurity and intelligent systems, and machine learning, and one undergraduate course in AI.
"The government identified AI and data as one of four grand challenges we need to tackle to prevent us falling behind the worldwide industry curve, working with companies leading the way with this technology, such as Intel and Amazon, to provide people with the necessary skills to develop this industry in the UK," Dr Silva Cirstea, deputy head of the school of computing and information science said in a statement.
"Our new courses have been developed in conjunction with employers, many of which are based in and around Cambridge, and these employers have provided advice about future roles and opportunities and what they will need graduates to be able to do."
University of Nottingham
The University of Nottingham has been exploring AI in unusual ways, such as using the technology to predict the risk of early death with 95 percent accuracy.
Read next: Researcher explains how his AI system can predict when you will die
A team of data scientists and doctors developed and tested a system of computer-based machine learning algorithms to predict the risk of early death due to chronic disease.
According a study released by the university in March 2019, its AI prediction models are now able to predict early death amongst middle-aged people better than models designed by medical experts.
"We have taken a major step forward in this field by developing a unique and holistic approach to predicting a person's risk of premature death by machine-learning," said Dr Stephen Weng, assistant professor of epidemiology and data science.
"This uses computers to build new risk prediction models that take into account a wide range of demographic, biometric, clinical and lifestyle factors for each individual assessed, even their dietary consumption of fruit, vegetables and meat per day."
King's College London
In 2019, a consortium led by King's College London opened the London Medical Imaging & AI Centre for Value-Based Healthcare.
The £10m centre was launched in February, and will be used to train sophisticated AI algorithms from NHS medical images and patient data to provide tools for clinicians to speed up and improve diagnosis and care for several patient pathways, such as dementia, heart failure and cancer.
"As an Academic Health Sciences Centre, our purpose is to bring cutting-edge innovation into patient care," said Professor Robert Lechler, senior vice president/provost at King's. "Partnership working enables us to deliver this ambition by bringing together advanced technologies such as imaging and AI, with our researchers, clinicians and industry partners, to accelerate and improve diagnosis and care."
The consortium for the centre also includes Imperial and Queen Mary's University London, 10 UK-based SMEs, and the Health Innovation Network.
University of Sheffield
The University of Sheffield has been named one of 16 new centres for Doctoral Training (CDTs) in AI, with an investment of over £8 million from UK Research and Innovation (UKRI).
The university's centre will focus on speech and language technologies, whilst addressing the current shortfall for scientists and engineers with advanced training in this area.
The university has already used the speech and language technologies for three decades, gathering knowledge and best practices in automatic speech recognition, machine translation, text mining and social media analytics, among other areas.
Professor Mike Hounslow, vice-president and head of the University of Sheffield's Faculty of Engineering, said: "AI is set to change the global economy significantly, with demand outstripping supply for highly skilled PhD graduates in this area. The University of Sheffield welcomes the government's investment in AI and we are delighted that our long-standing expertise in this area is being called upon."
University of Leeds
The University of Leeds has worked on numerous areas of AI research, collaborating with universities including Oxford and Surrey to work on human pose estimation.
Researchers from the University of Leeds worked to trial AI software to make railways safer in January 2018. Together with the University of Huddersfield, the software was assessed as part of a £680,000 project called Smart Maintenance and the Rail Traveller Experience (SMaRTE).
The university, alongside the universities of Edinburgh and Oxford, was described by Theresa May as a "centre of excellence" in research to bring AI and healthcare together to save lives and create more jobs.
University of Birmingham
In 2017, the University of Birmingham partnered with the Southern University of Science and Technology (SUSTech) in China to set up an AI research centre. That year, the university was also chosen as one of four in the UK to receive a share of government funding of almost £45 million to set up new research hubs, along with Manchester, Surrey and Heriot-Watt universities.
In January 2018, Birmingham joined the Alan Turing Institute to help grow the industry network and AI research institute in the UK. In November 2018, it became the first university in the UK to deploy the largest IBM POWER9 AI cluster, to deliver increased performance for AI workloads.
Together with OCF, the UK's high-performance compute, storage and data analytics integrator, the university is expected to integrate11 IBM Power9-based power system servers into its HPC infrastructure, known as the Birmingham Environment for Academic Research (BEAR).
"It's very important to us as a research-led institution that we are at the forefront of data research which means we are always looking at ways to make AI quicker and more accessible for our researchers," Simon Thompson, research computing infrastructure architect at the University of Birmingham said in a statement.
University of Manchester
As the University of Manchester further explores AI, in November 2017 it announced that it will be leading a multimillion pound AI and robotics programme to clean the world's nuclear waste.
The new Robotics and Artificial Intelligence for Nuclear (RAIN) hub will include research and innovative technologies led by Manchester, alongside other universities like Oxford and Liverpool.
The University of Manchester was also named as one of the four hubs to receive funding from the UK government for developing research in AI and robotics.
University of Surrey
Another institute paving the way in AI research is the University of Surrey. The university announced a new multimillion-pound hub for further research in AI and robotics.
Prior to this, the university was announced as the country's lead in space AI and robotics research, with a 'Fair-Space' (Future AI and Robotics for Space) hub funded by a £6.9 million grant from the Engineering and Physical Sciences Research Council and UK Space Agency.
The University of Surrey was also awarded £230K from Innovate UK to develop a virtual assistant, named 'Onward Journey Planning Assistant' (OJPA), to offer real-time travel routes to customers and reduce commuter rage.
University of Cambridge
The University of Cambridge has a specialist artificial intelligence group within its Computer Laboratory department, dedicated to cutting edge techniques like genomics, bio-informatics, computational learning theory and computer vision.
The university also explores AI through its Leverhulme Centre for the Future of Intelligence in 2016.
The centre acts as a research centre to explore the nature and potential impact of AI on society. "With AI advancing rapidly, we need a broad coalition to manage its impact for the good of all," said Stephen Cave, executive director for the centre
University of Oxford
For a few years now, the prestigious University of Oxford has been involved in AI through its research programs and startups that have spun directly out from the institution.
One of the latest startups to rise from the university is Diffblue, which works on applying AI to software development.
In just one year after leaving university, Diffblue raised a £17 million funding, going towards three products that the company plans to release for testing bugs and more.
The university is also home to the Future of Humanity Institute (FHI), a research arm which recently joined the partnership on AI founded by Amazon, Apple, Google / DeepMind, Facebook, IBM and Microsoft.
Together with Cambridge's Leverhulme centre and other technology firms, Oxford university joined the partnership in hopes to expand their work on AI safety.
University College London (UCL)
University College London has seen its reputation for AI research take off recently as famous alumni Demis Hassabis and Shane Legg went on to found DeepMind, the AI-company which was acquired by Google in 2014 for around $500 million.
Senior staff of Google's DeepMind have since partnered with UCL's Department of Computer Science to provide a Master's level training module called Advanced Topics in Machine Learning.
DeepMind saw this as an opportunity to boost academic students towards the growing field of AI. They aimed to build the next generation of machine learning practitioners, and saw UCL as the best place to start.
University of Southampton
The University of Southampton has undertaken several research and development projects to explore AI as-of-late.
In response to the government's injection of £17 million into the UK's AI sector in February 2017, the university's Regius Professor of Computer Science Dame Wendy Hall said: "Our scientists, researches and entrepreneurs are at the forefront of the development of artificial intelligence and I'm looking forward to exploring how industry and government can work together to support the technology in the UK."
Graduates from the university's computer science department have gone on to get jobs at companies like IBM, Microsoft Research, Imagination Technologies and Google, according to it's prospectus.
Imperial College London
The Imperial College London has a tremendous reputation for AI research.
Recently the university gathered a team of psychologists, neuroscientists and engineers to developed an AI tool which models human mental skills, called Cognitron. This has been designed as the world's first AI web-server in the aim of better understanding human intelligence.
Dr Adam Hampshire, study lead from the Department of Medicine at the institute said: "We are living in an age of big data and we need AI systems that can help us to process this huge avalanche of information."
Copyright © 2019 IDG Communications, Inc.
Next Up: Check out these related slideshows