GALLERY
Companies developing 5G in the UK
These are some of the UK's top network and telecommunications providers rolling out the 5G network so far
5G has now arrived in the UK. In May, EE became the first company in the country to switch on commercial 5G, with rivals Vodafone and EE launching their own networks in the months that followed.
Deloitte predicts that UK 5G smartphone shipments will total about 50,000 in 2019, which could jump up to 3 million in 2020. Research by Barclays suggests that the technology could add £15.7 billion to the UK economy every year by 2025.
Here are the UK's top network providers are developing their 5G networks.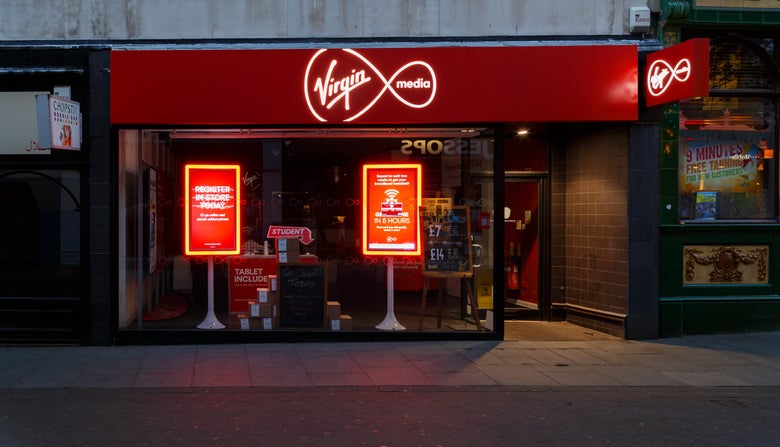 Virgin Media
Virgin Media signed a five year deal with Vodafone UK in November 2019, which means its mobile network will be powered by Vodafone's infrastructure from 2021.
The network provider, which has had an MVNO (Mobile Virtual Network Operator) agreement with BT/EE since 2017, will transition to Vodafone at the end of the agreement with full access to Vodafone's network services.
This included its future technologies such as Vodafone's 5G network. Virgin Mobile 5G is expected to launch on Vodafone's network before the agreement begins.
"This agreement with Vodafone will bring a host of fantastic benefits and experiences to our customers, including 5G services in the near future. Twenty years ago Virgin Mobile became the world's first virtual operator and this new agreement builds on that heritage," Lutz Schüler, Virgin Media CEO, said in a press release.
"It will open up a whole new world of opportunity for Virgin Media as we focus on becoming the most recommended brand for customers and bring our mobile and broadband connectivity closer together in one package for one price," he added.
Vodafone's MVNO infrastructure will provide customers with limited disruption, without the need to change their SIM cards as part of the joint agreement.
O2
O2 switched on its 5G network in six UK cities in October 2019. The cities are Belfast, Cardiff, Edinburgh, London, Slough and Leeds. Other key locations include Twickenham and the Emirates stadiums, shopping centres and train stations.
According to O2, the network will be live in a total of 20 towns and cities by the end of the year and 50 by summer 2020.
"As we switch on our network across the country, our intelligence-led roll-out prioritises the key areas in towns and cities first – the places where our customers need, and will use, 5G the most. We're also giving our customers maximum flexibility with our industry-leading custom plans, letting people adopt 5G at a time that's right for them," Mark Evans, CEO at Telefonica UK said in a press release.
O2 also announced plans to use its 5G technology to power driverless car testing in Greenwich and the Queen Elizabeth Olympic Park in London.
Brendan O'Reilly, O2's CTO, said: "We're excited to be working with the teams at the Smart Mobility Living Lab, who are driving forward our understanding how this next generation technology will fundamentally change the fabric of the cities in which we live and work as well as creating entirely new ways to travel."
In addition, O2 also launched O2 Business to bring together all product development across IoT, data and 5G to support business customers and solve business problems.
Customers include Northumbrian Water and Network Rail, which are expected to receive support from the network provider following the 5G rollout.
The company has also reached an agreement with Vodafone to share 5G active equipment, such as radio antennas, on joint network sites across the UK. The deal will speed up 5G availability to customers of both networks, lower the cost of rollout and reduce the environmental impact. Vodafone and O2 have also agreed to greater 5G network autonomy on approximately 2,700 sites in 23 of the UK's larger cities, representing just over 16 percent of combined mast sites.
Independent analyst Paolo Pescatore said the agreement was a natural extension to the existing partnership between the companies.
"It makes sense as all providers are keen to accelerate the rollout of 5G networks. Far more effective to partner to solely roll out a new generation mobile network," he said.
"Telcos needs to be wary and smarter with their network investment. Bottom line, the business model for 5G is unproven so it will be extremely challenging for telcos to recoup the huge investment in the short to medium term."
BT
BT launched its 5G mobile service in October 2019 across 20 UK cities and towns, including London, Birmingham, Cardiff and Manchester.
Rolling out the service to BT Plus and Business customers first, it promises businesses greater capacity and improved latency for a more reliable connection.
BT Plus customers will also receive a selection of 5G plans, with access to select 5G smartphones from leading manufacturers such as Samsung, OnePlus and Huawei.
"BT Plus is the UK's first converged fibre and mobile plan and comes with BT's Keep Connected Promise. If a BT Plus customer reports a fault with their home broadband, BT will switch on free, unlimited data on their BT mobiles within an hour and will also send a free 4G Wi-Fi Mini Hub to arrive the next day, with unlimited data to keep customers connected at home while their broadband is repaired. BT Plus customers also benefit from 24/7 dedicated UK and Ireland support," Marc Allera, CEO for BT's consumer division said in a statement.
BT's 5G mobile service uses the EE 5G network. The network provider plans to expand its coverage to an additional 25 towns and cities by the end of 2019.
The telecommunications firm began its 5G trials back in 2018 in partnership with Nokia.
The proof of concept project began in Bristol in March 2018 with a research trial with the University of Bristol. According to reports, BT is expected to provide the spectrum and 5G network solutions while Nokia provides radio access points.
BT confirmed at the start of 2018 that it will use Nokia's ReefShark chipset to ease the roll-out process, as well as the cost.
BT has also partnered with Huawei for a wider research project, including network architecture and IoT applications.
EE
EE became the first UK network provider to launch its 5G network in May 2019. The 5G network was launched ahead of rival Vodafone, despite its early announcements to launch 5G before the end of 2019.
The network connection is now live in six cities, including London, Edinburgh, Cardiff and Belfast. It was also trialled on BBC Breakfast, making it the first time that 5G network had been used by a live production team.
5G modems were connected to BBC News camera to embrace the new network, enabling the production teams to explore different encoding options to compress the video and decompress it for live playout.
"We are delighted to demonstrate the power and innovation that 5G can bring to the media and broadcasting industry through our trial with the BBC," Alex Tempest, MD wholesale at BT said. "Whether on the street, in a stadium or on location, 5G provides a new dimension that can deliver the speed, efficiency and reliability that outside broadcasting requires."
In October 2019, EE switched on its 5G network in Britain's busy train stations London Waterloo, Liverpool Street and Charing Cross, giving commuters the ability to access 5G to video call and download movies while on the go.
It also provides this service at Highbury and Islington, New Cross Gate and Shoreditch High Street overground station – some of the busiest transport hubs in the UK.
"Switching on 5G in more busy places will help to keep our customers connected to the things that matter to them the most. Our engineers are building new 5G sites every day, and increasing capacity on 4G sites – all part of our ambition to keep all of our customers connected 100% of the time," Marc Allera, CEO of BT's consumer division, said in a press release.
The network provider has also rolled out 5G in the West Midlands, with coverage now in over 20 UK towns and cities. It expects to launch in an additional seven cities by the end of 2019.
Vodafone
Vodafone officially switched on its 5G network in seven UK cities on 4 July 2019. Birmingham, Bristol, Cardiff, Glasgow, Manchester, Liverpool and London were chosen as the launch site, with 12 more cities to follow by the end of the year.
The network provider also now offers customers Vodafone Unlimited, with unlimited 5G data plans for consumer and business customers.
It has boosted its 5G development through a range of partnerships. They include one with O2 to share 5G active equipment, such as radio antennas, on joint network sites, and another with Qualcomm to run tests of 5G smartphones using the Qualcomm Snapdragon X50 5G modem.
The network has also confirmed in a press release that it will rely on equipment from Huawei and other providers, such as the Huawei Mate X (5G) and the 5G Gigacube home router which will launch in summer 2019.
Vodafone has logged a number of firsts in 5G. development. In 2017, the network provider became the first to test 5G in the UK, using a prototype device in a 3.5 GHz spectrum field located in Central London. The next year, it became the first commercial mobile network to carry 5G traffic across cities.
Three UK
Three launched its 5G network in August 2019, two months after Vodafone and three months after EE, but unlike those rivals, Three's network is available only in London via home broadband. The company plans to roll out the service to a total of 25 UK cities by the end of 2019.
The London 5G launch follows Three's recent unveiling of the 'world's first' cloud core network, which it developed with Nokia to provide 5G customers with scalability and capacity at speed.
Three has also been working to improve its networks in major cities like London, Cardiff, Glasgow and Birmingham, which the company claims will be twice as fast as any other network operators and offer a more reliable connection and experience for customers.
Ericsson
Ericsson has unveiled numerous enhancements to its 5G platform as it hopes to deploy 5G technology ahead of its competitors.
In October 2019, the telecommunications firm collaborated with Digital Catapult to launch a new Industrial 5G Accelerator programme to deliver demonstrations of real life use cases in industries like manufacturing, logistics and supply chain.
Ericsson hopes to give businesses the opportunity to showcase the potential of 5G applications to help deliver a 5G-enabled ecosystem and infrastructure.
"Technologies like IoT, robotics and AI, are transforming UK businesses, but the lack of consistent, high-quality connectivity is preventing them from realising Industry 4.0's full potential. With its super-fast data rates, ultra-low latency and vastly increased network capacity, 5G provides the solution to this challenge. Ericsson is a world leader in communications technology, and today in the UK, we are collaborating with mobile network operators, businesses and agencies such as Digital Catapult to ensure Industry 4.0 is capable of delivering on its promise," Marielle Lindgren, CEO, Ericsson UK & Ireland said in a press release.
In February 2019 it launched a dual-mode 5G cloud core solution to provide the required access for 5G use capabilities such as network slicing and edge computing.
Ericsson also plans to further develop its microwave portfolio to prepare for 5G rollouts in urban areas. It will also add a new MINI-LINK 6200 family of 5G-ready long haul solution of up to 10Gbps capacities.
Alongside this, it will launch nine new dual-band, triple band and high-performance Massive MIMO radios to add radio capacity for service providers.
Ericsson is also further developing its partnership with Vodafone UK and Qualcomm to conduct 5G tests using its radio equipment.
"We're making headway on mobile devices as an integral part of the 5G ecosystem. Ericsson continues to drive the commercial readiness of 5G by future-proofing this ecosystem. Together with Qualcomm, we continue to advance the testing of 5G NR networks with mobile devices and support Vodafone in deploying 5G across the UK," said Thomas Noren, head of 5G commercialisation at Ericsson.
Ericsson further displayed the capabilities of its core 5G technology as it supported Vodafone's 5G launch in London's Sky Garden on July 3, 2019, where it enabled 5G coverage of the demo floor to achieve speeds of up to 10x faster than 4G.
"We have a history of working in close partnership with Vodafone and we have done so again in 5G with fast, efficient and customer-focused delivery of Ericsson Radio System 5G technology. Our unique spectrum sharing abilities will also enable Vodafone to extend the scope of 5G in its network," Arun Bansal, president and head of Europe and Latin America at Ericsson said in a statement.
VMware
VMware has announced that its 5G-Ready cloud platform is now live in 15 countries and is powering Vodafone networks.
VMware, which is Vodafone's primary strategic partner for cloud infrastructure, will continually provide cloud infrastructure across various locations as Vodafone journeys to expand its footprint with 5G roll-outs.
It has also expanded its partnership with AT&T, providing its SD-WAN by VeloCloud 5G service for high-speed 5G network connectivity.
Cisco
Cisco was granted £4.3 million by the UK government to create a rural 5G testbed system for network trials in 2018.
The 5G RuralFirst project, led by Cisco, includes 32 organisations that will focus on testing innovative approaches and business models to ensure 5G connectivity is accessible in urban areas.
Cisco has since announced support to service providers. At MWC 2019, the company announced its sustainable wireless connectivity with Google Station, to showcase the support for network providers in different locations.
It also showcased a number of use cases for connected cars, smart communities and Wi-Fi 6, which is a newly improved network that is built similarly to 5G. Already, over 40 service providers are actively trialing Cisco 5G Now solutions.
Cisco has also confirmed that the BBC will launch live radio broadcasts over 5G mobile networks as part of the 5G RuralFirst project. The trial will run for six weeks in Stronsay, Orkney and will expand to other locations later.
"5G RuralFirst aims to identify practical use cases of how enhanced connectivity will benefit businesses and communities in rural areas across the country. It's about building a business case for 5G roll outs beyond urban areas and demonstrating the value of investing in the digital infrastructure serving rural businesses and communities for the benefit of the entire country," Nick Chrissos, Director of innovation, Europe at Cisco said in a statement.
NTT DATA
NTT DATA has announced the launch of its AW3D Telecom for 5G, an advanced 3D digital map with high-quality satellite imagery for 5G networks.
The technology is available immediately and is expected to be used by network providers and IoT companies around the world. Deployments will begin in Japan, South Korea, UK and Australia in 2019 following the expected roll-out of 5G in these countries.
Already, NTT DATA has signed a strategic R&D framework agreement with Orange. The agreement extends up to 2022 and will cover several areas including 5G, IoT and AI.
"Orange is one of the most innovative and important players to cooperate closely in various ways to progress AI, IoT and 5G. With this agreement, we will be able to enhance our capabilities and accelerate digital transformation in various industries, cities, sports and international events in worldwide," Jun Sawada, CEO at NTT Group said in a statement.
The AW3D technology will support 5G planning, with views of detailed objects such as building structures and trees on streets to build advanced datasets.
IBM
IBM and Vodafone Business have unveiled plans to launch a new business venture that will help European companies boost their digital capabilities.
With a particular focus on next-generation technologies like 5G, AI and Software Defined Networking (SDN), the venture is expected to provide all clients with the technologies required to integrate multiple clouds, enabling Vodafone customers to access IBM's cloud services.
The announcement comes after researchers at CCS Insight predicted that Europe will fall behind the US and China in the 5G rollout. The research firm estimates that Europe will only capture nine percent of 5G subscribers by 2023.
This venture will bring Vodafone's expertise in IoT, 5G and edge computing, together with IBM's multicloud and security capabilities.
"Vodafone has successfully established its cloud business to help our customers succeed in a digital world. This strategic venture with IBM allows us to focus on our strengths in fixed and mobile technologies, whilst leveraging IBM's expertise in multicloud, AI and services," Nick Read, Vodafone CEO said in a press release.
The venture, which will become operational in the first half of 2019, is expected to act like a startup, with fast response to the growing market using new digital solutions and services.
Intel
In 2018, Intel announced plans to collaborate with PC manufacturers to deliver its latest 5G modem to laptops.
The companies include Dell, HP, Lenovo and Microsoft which will deliver 5G-connected laptops powered by Intel's XMM 8000 series modem in 2019.
Copyright © 2019 IDG Communications, Inc.
Next Up: Check out these related slideshows