Head to head: Apple MacBook Air vs. Microsoft Surface Laptop 2 for Business
When every ounce and inch counts for business travel, these ultraslim laptops pack a lot of performance per pound.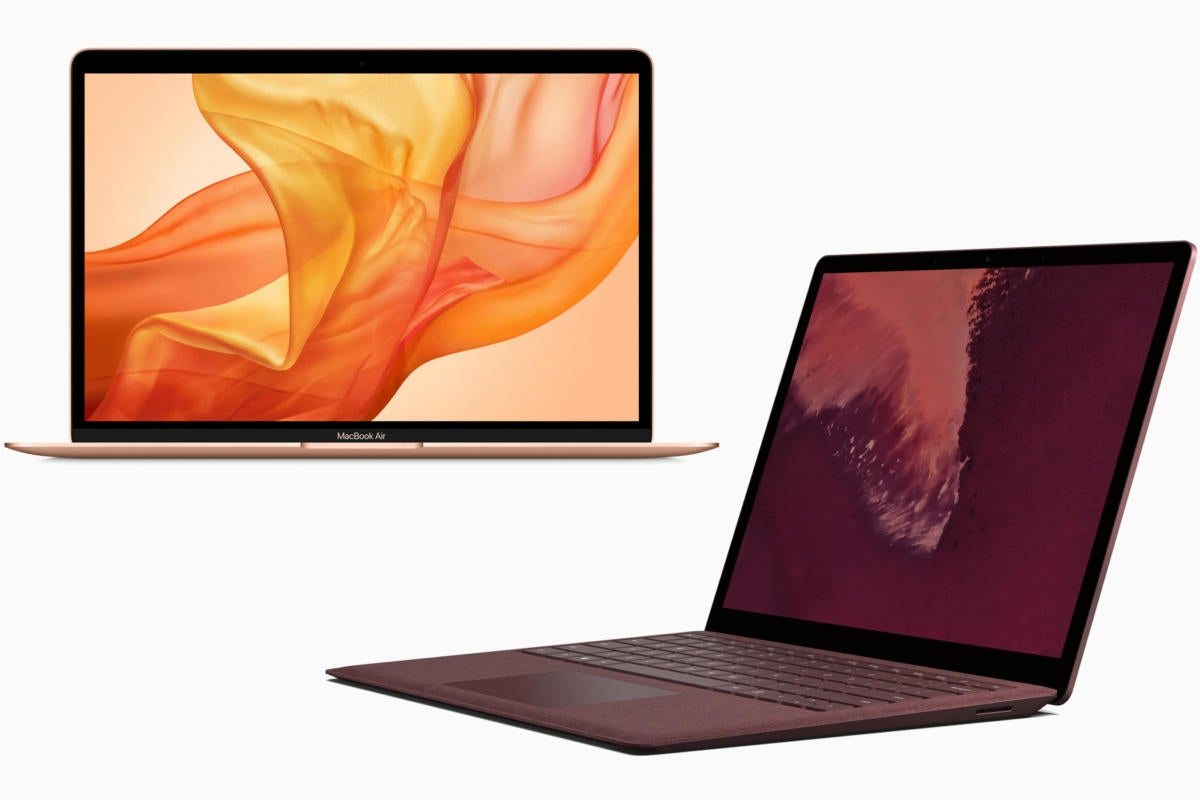 At a time when 2-in-1 tablets are coming of age in business, ultraslim laptops with traditional clamshell designs are staging a comeback with sales gains in an otherwise flat market, according to IDC. These systems deliver top performance in a thin, light, and sophisticated package.
Once luxury items meant for inhabitants of the C-suite (and often called "executive laptops" for that reason), today's ultraslim notebooks can be a cheaper alternative to high-end detachable tablets. The 12.9-in. iPad Pro tablet, for instance, starts at $1,000, but after you add a stylus, keyboard case and adapters, the up-front cost can soar to nearly $1,500.
At about $1,200, ultraslim laptops are more powerful, sport bigger screens, and have a better assortment of apps than the typical tablet. If you're deploying hundreds or thousands of computers throughout an organization, the price advantage of getting clamshell laptops can add up quickly.
I set up a shoot-out between the latest generation of thin and light executive notebooks from Apple and Microsoft. While the $1,200 Apple MacBook Air is smaller and more traditional, Microsoft's $1,300 Surface Laptop 2 for Business points to the future with a touchscreen and all-out performance.
Each weighs a bit less than 3 lbs., is powered by an 8th-generation Intel Core i5 processor, and has a 13-in. screen. While both displays show UHD resolution, the Laptop 2's is touch-sensitive and offers an optional stylus for sketching, drawing and doodling, making it the more user-friendly of the two.
I tested, measured and benchmarked their performance in the office, and they became my temporary travel mates on the road. In a series of business trips, they were my constant companions, allowing me to write emails, go through spreadsheets, develop new products, research competitors, and stay in touch with my fellow workers.
Which came out on top when the digital dust had settled? Here are the results.
Apple MacBook Air
As Apple's iconic MacBook Air enters its 8th generation, it squeezes more computer into a smaller package than ever before but seems behind the times with a non-touch display.
Available in gold, silver, and space gray, the A1932 model I looked at combines a 13.3-in. Retina screen with an 8th-gen Core i5 processor, 128GB of storage, and 8GB of RAM for $1,200. Raising its storage capacity to 256GB adds $200, while a top-end model with 16GB RAM and 1.5TB of storage goes for $2,600. Too rich for your corporate blood? A slightly heavier previous-generation Air system sells for $1,000.
As expected, the center of attention is the new Air's 13.3-in. Retina screen. Although it's slightly smaller than the Laptop 2's 13.5-inch display, its 2560 x 1600-pixel resolution means it can show 17% more detail.
While both systems show excellent images and stutter-free 4K video, the Air's display is richer, with more saturated colors that make image editing a pleasure. On the other hand, its output of 197 candelas per square meter don't match the Laptop 2's 364 cd/m2 of brightness. More to the point, it lacks the Laptop 2's supple touchscreen.
At 2.7 lbs., the Air is a lightweight whose heft rises to 3.1 lbs. with its AC adapter. The system measures 12.0 x 8.4 in., with a wedge-shaped profile that rises from 0.2 in. thick in front to 0.6 in. thick in back. Slightly lighter and smaller than the Laptop 2, the Air sports rounded edges that seem like a throwback next to the Laptop 2's more straight-edged design.
The Air is travel-friendly, easily fitting on the average airline tray table and slipping into a notebook bag with lots of room to spare for papers, magazines and the accoutrement of travel.
The Air breaks with its past by including two high-speed USB-C ports for data and power; they can double as Thunderbolt 3 ports. On the downside, you'll need adapters for using an external monitor, connecting to a wired network or working with USB 3 accessories, like an older flash storage drive. There is, however, a headphone jack.
Like the Laptop 2, the Air passed all my compatibility tests. It worked with an external monitor, USB hub, flash memory drive, and wired LAN (with a USB adapter) as well as a Bluetooth mouse and speakers. Both systems feature current 802.11ac Wi-Fi, but the Air has newer Bluetooth 4.2 technology that is more miserly on battery use. Neither, however, offers a mobile data card for instant online connections away from Wi-Fi.
The Air's new butterfly keyboard is backlit and emphasizes thinness. Its 17.2mm keys are smaller than the Laptop 2's 19.4mm keys and have a depth of only 0.6mm versus the Laptop 2's generous 1.5mm. It adds up to typing that requires a gentler touch than just banging away (my preferred style).
Its 4.7 x 3.2-in. trackpad is noticeably larger than the Laptop 2's 4.1 x 2.8-in. touchpad. I found it to be overly sensitive out of the box, registering several unintentional taps, but it took less than a minute to adjust its sensitivity in System Preferences. Those who are used to right-clicking for context-sensitive information will need to learn to use macOS' two-finger tap or Control-tap gesture. The trackpad supports Apple's much-touted Force Touch features, but only with Apple software such as Safari, Finder and Mail. I force-clicked to find the details of a flight I was booking and change the name of a file in Finder, but it hardly seemed like a computing breakthrough.
The system's user-facing 720p webcam is above the screen next to three microphones that combine for good audio in video and voice conferences. With speakers pointing up on either side of the keyboard, the Air delivers full and rich audio for a variety of musical styles, from operatic to bluegrass. It's not as good for spoken-word material, though, where the Laptop 2 took the lead.
The Air's Intel Core i5 8210Y dual-core processor runs from 1.6GHz to 3.6GHz, a wider speed range but with half as many computational cores as the Laptop 2's Core i5 quad-core processor.
As expected, the Air started out strong during benchmarking, with a 4,374 on the GeekBench 4 single-core CPU tests, 25% higher than the Laptop 2's score of 3,264. This lead vanished in the multi-core tests, where the Air scored 7,890, 6% below the Laptop 2's 8,363. By far the biggest difference was in GeekBench 4's Compute suite, where the Air's 20,930 score couldn't come close the Laptop 2's 32,625, a 56% performance gap.
Known for delivering excellent battery life, the Air's 4,400 milliamp-hour cells didn't disappoint; in my tests the Air streamed video over Wi-Fi for 9 hours and 35 minutes. That said, the Laptop 2's larger battery ran for 8 minutes 50 seconds, meaning either could work through a flight from Miami to Seattle with battery life to spare.
Equipped with the excellent macOS 10.14.2 software, the Air can quickly take and edit screenshots. Built-in apps include everything from the Pages, Numbers, and Keynote trio of productivity apps to iTunes, FaceTime and Siri. For those who rely on Microsoft Office software for business, Mac versions are available for Office 2019 and Office 365.
Rather than the Laptop 2's Trusted Platform Module (TPM), the Air's T2 Security Chip builds a protective security fence around the system. The Air can not only encrypt data in real time, but prevent the system from starting with altered firmware. It also has a Touch ID fingerprint scanner for verifying a user's identity. Cleverly built into the system's on/off switch, all you do is place your finger on it to quickly start or wake the machine up.
Over my month of using the Air daily, it never let me down for writing, web research, emailing, giving presentations, or the occasional late-night binge-watch of "The Magicians." I got used to its shallow draft keys and the lack of a right mouse-click, but must admit I kept forgetting that the screen lacked touch control and found myself frustratingly tapping and swiping its surface to no avail.
Overall, the latest version of the iconic Air is a helpful travel companion on business trips — short and long. It may not be the fastest system around or have a touchscreen, but this well-designed system doesn't disappoint.
Microsoft Surface Laptop 2 for Business
While the MacBook Air's lineage goes back a decade, Microsoft's Surface Laptop 2 for Business has a newer, sleeker design and more up-to-date features. From its touchscreen to its top performance and impressive battery life, it's a laptop that business travelers will appreciate.
The consumer version of the Surface Laptop 2 starts at $1,000 and comes with Windows 10 Home, which is not recommended for business use. The business version includes Windows 10 Pro and starts at $1,300 for a model with a 13.5-in. touchscreen, an 8th-gen Intel Core i5 processor, 8GB of RAM, and a 128GB SSD. The model I looked at bumped the storage space up to 256GB — twice the Air's capacity — for an extra $100. Configurations range up to a top-shelf $2,750 version with 16GB of RAM, 1TB of storage space and a Core i7 processor.
A big bonus is Microsoft's $99 Surface Pen stylus. Adding it to the Laptop 2 model I tested brings the cost to $1,400.
The Laptop 2's 13.5-in. display is larger than the Air's 13.3-in. screen, but with 2256 x 1504-pixel resolution it shows less detail than the Air's 2560 x 1600-pixel imaging. Still, the Laptop 2's display rendered precise images and played stutter-free 4K videos. On the other hand, the system's colors looked a little washed out compared to the Air's screen.
The Laptop 2's display pumped out 364 candelas per square meter of brightness, far ahead of the Air's 197 cd/m2. In fact, the Laptop 2 set to two-thirds brightness overpowered the Air at full brightness. 
The big difference is the Laptop 2's touchscreen. I used it every day to open and close apps, move windows around and sketch ideas. It really came into its own with Microsoft's Surface Pen, which provides 4,096 levels of touch sensitivity with an interaction that feels like a pen on paper.
Happily, the screen is stable for taps and stylus work, but the system provides no place to store the stylus. The Laptop 2's power cord is held in place magnetically; if you unplug that, you can stick the pen magnetically to the side of the laptop — but then you're stuck on battery power.
Weighing in at 2.8 lbs., the Laptop 2 is less than an ounce heavier than the Air system. Add in the power adapter and the travel package rises to 3.2 lbs., an ounce heavier than the Air and its AC adapter. The Laptop 2's AC adapter can do something the Air's can't: charge a phone, headset, or other USB accessory with its USB power port.
With straight, crisp lines, the Laptop 2 looks sleeker than the Air with its rounded design. It's available in black, platinum, burgundy and cobalt blue. At 12.1 x 8.7 in., the Laptop 2 is 0.3 in. wider than the Air and is a slightly tighter fit on an airline tray table. The Laptop 2 is 0.4 in. thick in the front and 0.6 in. in the rear and easily fits into a notebook bag with a stack of file folders and magazines.
Like the Air, the Laptop 2 has a 720p webcam but has two microphones to the Air's three. Its audio quality was excellent for video and voice conferences, but the Laptop 2's speakers are buried below the keyboard, making music sound hollow. It excelled at spoken-word audio, like the BBC World Service radio and podcasts, though.
The ports on the Laptop 2 skew toward the old-fashioned, with a Mini DisplayPort, a USB 3.0 port, a 3.5mm headphone jack, and Microsoft's proprietary Surface Connect port for charging and docking. Notably absent is a USB-C port. This setup sacrifices the next generation of USB-C accessories for compatibility with today's and yesterday's devices. The Laptop 2 worked with all six of the devices I threw at it, from a Bluetooth mouse and speaker to an external monitor, USB hub, flash memory drive, and a wired LAN (via a USB adapter).
The system can also connect via 802.11ac Wi-Fi and Bluetooth 4.1, which is a half-step behind the Air's support for Bluetooth 4.2. As a result, the Laptop 2 might run through its battery slightly faster when using a wireless speaker or headset. Like the Air, the Laptop 2 lacks an optional mobile data card.
The Laptop 2's 19.4mm keys are comfortable and responsive, with a generous 1.5mm of depth. They are backlit for night work, and the entire keyboard deck is covered with soft Alcantara microfiber material, making it as inviting as can be. Its 4.1 x 2.8-in. touchpad is sensitive to left- and right-clicks but is 30% smaller than the Air's trackpad.
The laptop's quad-core Intel Core i5-8250U processor runs between 1.6GHz and 3.4GHz. By comparison with the Air's Core i5 8210Y chip, it trades an extra pair of computational cores for a slower top speed.
The Laptop 2 was bested by the Air in single-core operations, scoring 3,264 on the GeekBench 4 single-core CPU tests, compared to the Air's score of 4,374. It redeemed itself with an 8,363 score on the multi-core CPU tests, outperforming the Air's 7,890 score. In the final Compute tests, which mimic everyday use of the computer, the Laptop 2 scored 32,625, more than one-third faster than the Air's 20,930.
Even with this much power, the Laptop 2 held its own in battery life testing. Its 5,400mAh battery played YouTube videos over Wi-Fi for 8 hours and 50 minutes — not as good as the Air's 9 minutes 35 seconds, but more than enough for most flights.
The current version of Windows 10 Pro is made for business with whole-disk encryption, the ability to load legacy software, and access to Azure Active Directory server content. As far as security goes, the Laptop 2 does without a fingerprint scanner, but its Trusted Platform Module (TPM) can ease authentication without compromising security. The system does support Windows Hello facial-recognition sign-in, but it often took me three tries to get Windows Hello to recognize my face.
Whether in the office or on the road, the Laptop 2 was always ready to help me get through my workday. It responded quickly to taps and swipes, and I really appreciated its bright display. Its combination of comfortable keyboard, touchscreen, and top-shelf performance put it in a class by itself. 
Shop Tech Products at Amazon