Head-to-head: Apple iPad vs. Microsoft Surface Go for Business
Business travelers needn't opt for pricy "Pro" 2-in-1 tablets from Apple or Microsoft; their smaller siblings are more affordable and ready for business. Here's how they stack up.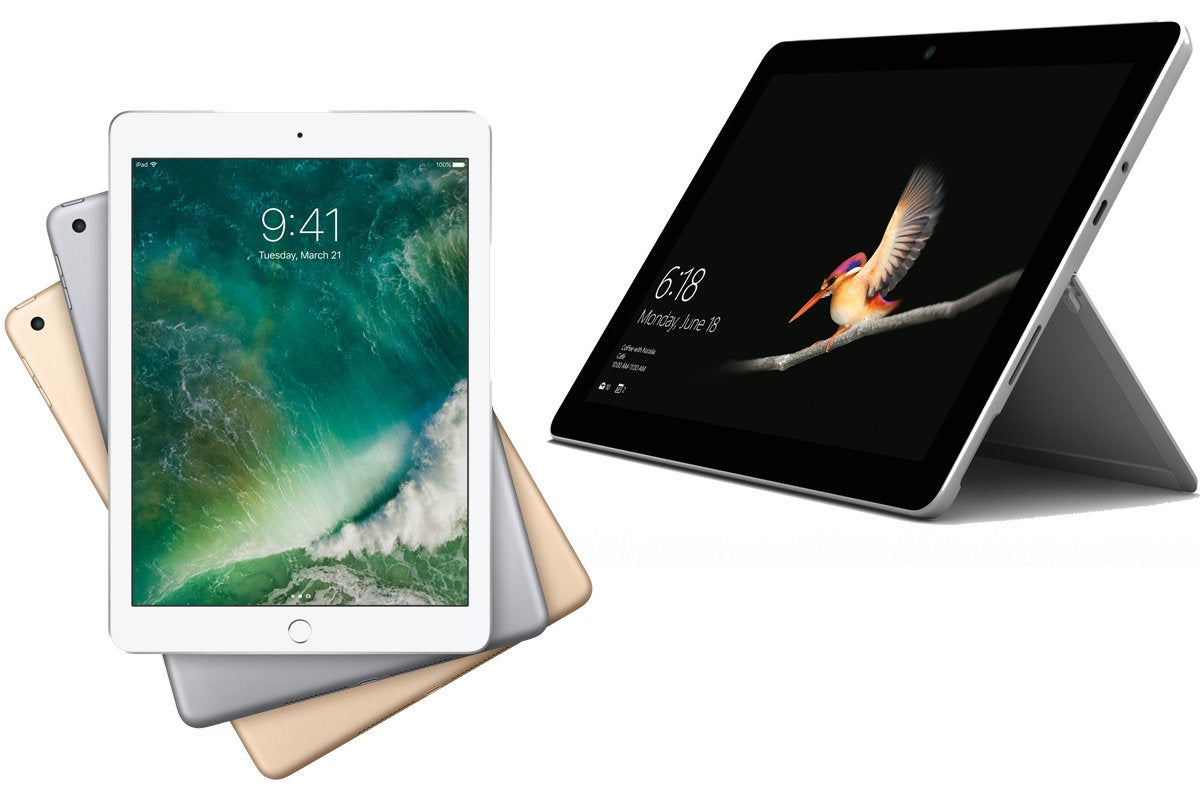 Tablets have gotten more powerful over the years, but even top-tier 2-in-1s like Microsoft's Surface Pro and Apple's iPad Pro are still a step away from replacing laptops for many business users. They do provide a very attractive alternative to lugging around a notebook on business trips, but these flagship tablets start at anywhere from $650 to $900 and can easily climb to $1,500 or more after you configure them and add in the cost of a keyboard case and stylus. That kind of expense is hard to justify for a device that's secondary to the laptop a business worker needs for everyday use.
That's where smaller second-tier tablets can come in. Apple's 9.7-inch iPad and Microsoft's new Surface Go for Business carry significantly lower price tags than the iPad Pro and the Surface Pro, yet they're still powerful, well-built and ready for business. Can they replace a laptop entirely? Not for most people, but neither can their more expensive siblings. And for short trips, they do provide a lighter alternative that lets workers get the job done without overly burdening them with gear.
After checking them out on short day trips, I took the sixth-generation iPad and the Surface Go for Business on a business trip to Europe. To see how they compare, I used them for everything from writing documents and running spreadsheets to emailing and showing presentations.
To make these tablets road-ready, I equipped each one with a stylus and a keyboard case to make typing easier than using the on-screen keypad. With the Surface Go, I used Microsoft's $100 Pen stylus and the $130 snap-on Surface Go Signature Type Cover. With the iPad, I used Apple's original Pencil stylus ($99), but for this iPad model, the company doesn't make a cover that's equipped with a keyboard. So, I used Logitech's $100 Slim Folio iPad Keyboard Case, which you can get through Apple's online store and at other outlets.
While the Surface Go for Business starts at $449, my test machine came in at around $830 with its accessories. The iPad starts at $329, but the model I tested added up to around $760 with accessories. That's still hundreds of dollars cheaper than the top-flight tablets from Apple and Microsoft with their accessories.
Both tablets weigh about a pound on their own and roughly 2 pounds with the case, stylus and AC adapter included — about half what most corporate laptops weigh in at. I found that they both hit the Goldilocks sweet spot for business travel: Not too heavy, not too underpowered, and not too expensive.
Read on to see which one came out on top in my tests.
The sixth-gen iPad takes on the business world with support for Apple's Pencil stylus, along with excellent performance and battery life. As with previous generations, there's a model that connects via Wi-Fi only as well as a mobile data option so you're never out of touch with your data.
I reviewed the Wi-Fi + Cellular model with 128GB of storage, which sells for $559. Less expensive options include a Wi-Fi + Cellular model with 32GB storage for $459, a 128GB Wi-Fi only model for $429, and a 32GB Wi-Fi only model for $329.
With a 9.7-in. display, the iPad's screen is slightly smaller than the 10-in. display on the Surface Go for Business. It makes up for that with 2048 x 1536 resolution and 264 pixels per inch. Both tablets showed excellent high-resolution images and 4K video, but the iPad's display showed more detail and had a richer appearance with more saturated colors.
It was also noticeably brighter, delivering 412 candelas per square meter of light — 20% brighter than the Surface Go. It was good for everyday business uses with the screen set to about two-thirds of full brightness.
The iPad weighs in at 1.05 lb. and measures 9.4 x 6.7 x 0.3 in., slightly smaller and lighter than the Surface Go.  In addition to a rear-facing 8-megapixel camera and a forward-facing 1.2mp camera for selfies, the iPad has a power key, Home button and volume-up and -down buttons. Unlike Apple's newer devices, the iPad 9.7-in. still has a headphone jack for audio.
Its single Lightning port doesn't stack up to the combination of power and USB-C ports on the Go for Business. Thankfully, Apple's $49 Lightning Digital AV Adapter has an HDMI port as well as a place to plug in a Lightning cable so the iPad can charge and project at the same time.
Speaking of accessories, Apple sells a $39 iPad Smart Cover that protects the iPad's screen and folds into a stand, but it lacks a keyboard, which is a must-have for business travelers. However, you can buy a variety of third-party keyboard covers that fit the iPad, such as Logitech's $100 Slim Folio iPad Keyboard Case. The case covers the entire iPad and provides more protection against damage than Microsoft's Signature Type Cover for the Surface Go.
The Slim Folio's 17mm keys can wake up the iPad, and it includes a loop to put the Pencil in when it's not being used, correcting a rare Apple design misstep. On the downside, there's no trackpad or backlighting for the keys. The Slim Folio holds the screen at either a 15- or 60-degree angle, in contrast to the Microsoft case's fully adjustable stand.  
Together, the iPad, Slim Folio case and AC adapter weigh 2.2 lb., slightly heavier than the 1.9-lb. Surface Go for Business with its travel gear. The iPad fit comfortably on economy-class tray tables during my sojourn, and it was compact, with the keyboard extending 4.5 in. from the screen, 2 in. less than with the Go for Business.
Unlike the Microsoft case, which physically connects to the Go for Business tablet, the Slim Folio case stays separate and uses Bluetooth to connect. The keyboard is powered by a pair of coin batteries and warns you when they need changing, something that didn't occur over my two months of daily use.
Another key tablet accessory for business use is a stylus. The iPad 9.7-in. works with Apple's first-gen Pencil, not the newer model. At $99, it has 4,096 levels of sensitivity and feels good for everything from sketching a product diagram to creating a flow chart to highlighting aspects of a competitor's web site. It's slightly bigger than Microsoft's Pen stylus and is powered by a rechargeable 0.339-watt-hour battery. The iPad has a Widget that shows the Pencil's and Slim Folio's battery levels; swipe all the way left to see them.
I needed to charge the Pencil twice during my trip. To do this, I plugged its Lightning connector directly into the iPad's Lightning port for a minute or used the included (but easy to lose) converter with the device's AC adapter.
There is an alternative: Logitech's $70 Crayon is a little shorter than Apple's Pencil, has a rectangular profile and works just as well. The difference is that it has a female power port so it can be charged directly with the iPad's AC adapter and Lightning cable.
Neither the Crayon nor the Pencil can match a handy feature of the Microsoft Pen, which lets you press a button for opening an app. On the other hand, if you tap on the Lock Screen with the Pencil's tip, the iPad's Notes app starts and is ready for handwriting, scribbles and drawings.
The iPad is fast and responds quickly to inputs. Inside, it's powered by a 2.3GHz Apple A10 quad-core processor and 2GB of RAM. The iPad scored 3,567 on the Geekbench 4 CPU single-core test and 6,064 on the multi-core test, blowing away the Go for Business by 41% and 38%, respectively. It was just short of the 3,654 and 6,973 results that my trusty HP EliteBook Folio G1 laptop scored on the same tests.
Even with all that raw power at its disposal, the iPad's 32.4-watt-hour battery ran for 11 hours of YouTube video playback, nearly enough for a New-York-to-Anchorage flight. By contrast, the Surface Go's smaller battery would likely run out of juice somewhere over Vancouver.
The LTE mobile data card in the iPad I tested let me safely and securely get online from anyplace there's a cell tower. Using the AT&T LTE network in the New York metro area, it averaged 32.2Mbps of throughput, compared to the Surface Go for Business's 44.9Mbps. On the other hand, the iPad was quicker to respond, with a latency of 24.6 milliseconds versus the Go's 31.8ms.
Behind the scenes, the Apple SIM let me get connected in any of 180 countries. For $15 a day in Europe, GigSky connected me and included 500MB of data.
The iPad's Home button has Apple's Touch ID fingerprint scanner that can unlock the system, approve new software, and complete purchases of videos or ebooks without the user having to type a password. On the downside, it lacks something the Go for Business has: a Trusted Platform Module (TPM), which can ease remote authentication on a corporate network. The iPad does, however, have a secure boot procedure that blocks startup if the system fails a security check.  
Day in and day out, the iPad was an excellent travel companion, with software for everything I needed. The screen was responsive and the apps well designed. The free versions of Word, Excel and PowerPoint helped me get through my work without having to convert documents to a different format. I easily saved my files to my company's OneDrive account, but I could have used Apple's iCloud instead.
On the downside, the iOS 12 software is limited to showing two apps at once in a split-screen format. If you swipe horizontally, you can swap one of the two for a third app, but it won't let you squeeze more than two apps into the display.
If you're looking for a system that is as powerful as it is long lasting, look no further than the iPad. It may seem like it's aimed at entertainment, but it's ready for business.
This summer Microsoft introduced the Surface Go tablet, the smallest in its Surface lineup. Don't be fooled by the $399 entry-level Go model: It uses Windows 10S and can only get apps from the Microsoft Store. Business users should look to the Surface Go for Business. Starting at $449, it includes Windows 10 Pro and can use any source for new apps, a big differentiator for companies using home-grown software. Still, the Go for Business feels like a work in progress with its mediocre performance and short battery life.
All the Surface Go for Business models are powered by a 1.6GHz dual-core Pentium 4415Y processor and Intel's HD Graphics 615 video accelerator. Because the models with LTE connectivity were not yet available when I traveled to Europe, on my trip I tested the $599 Wi-Fi only model with 8GB of RAM and 128GB of storage space. There's also a Wi-Fi only model with 4GB of RAM and 64GB of storage for $449.
After I returned from my trip, Microsoft began offering a Wi-Fi + LTE model with 8GB of RAM and 128GB of storage space for $729 (which I tested at that point) and a Wi-Fi + LTE model with 8GB of RAM and 256GB of storage space for $829.
Regardless of which one you get, the Go for Business has a 10-in. display that shows 1800 x 1200 resolution. Its 217 pixels-per-inch density is 20% lower than that of the iPad's 9.7-in. screen. The Go's display rendered high-resolution images and 4K video without a problem, although it lacked some of the extreme detail the iPad was capable of and its colors weren't as rich and saturated.
It was also significantly less bright, achieving a brightness score of 328 candelas per square meter compared to the iPad's 412 cd/m2, a 25% deficit. On the road, it was good for everyday use set at two-thirds of full brightness.
The Go's design is thoughtful, innovative and places an emphasis on everyday use, including its pull-out kickstand that props the screen at any angle between 10 and 70 degrees. At 1.13 lbs. without accessories, the Go for Business is a little heavier than the iPad, and at 9.8 x 6.9 x 0.3 in., it's wider and longer by fractions of an inch. With its AC adapter, keyboard case, and pen (more on those in a moment) the Go hits the road at 2.0 lb., several ounces lighter than the iPad-Slim Folio case combo.
An essential accessory is the $130 Surface Go Signature Type Cover. It's covered in Alcantara fabric, which makes using and carrying it a sensual experience far superior to the plastics and rough fabrics used by others. The cover connects with the tablet via eight pins, so the keyboard doesn't need its own power or battery. It has 17mm keys, a 4.5-in. touchpad, and is backlit with three brightness settings – perfect for late-night work.
The Type Cover worked well on economy-class tray tables, but with the keyboard extending 6.5 in., it took up more table space than the Slim Folio keyboard cover I used with the iPad. On the other hand, the Surface Go's kickstand allowed me to adjust the screen to any angle when I encountered screen glare.  
Shop Tech Products at Amazon