Google Workspace vs. Microsoft Office
Google Slides vs. Microsoft PowerPoint: Which works better for business?
PowerPoint has long been the tool of choice for creating business presentations, but Google Slides is worth a second look. We compare their strengths and weaknesses.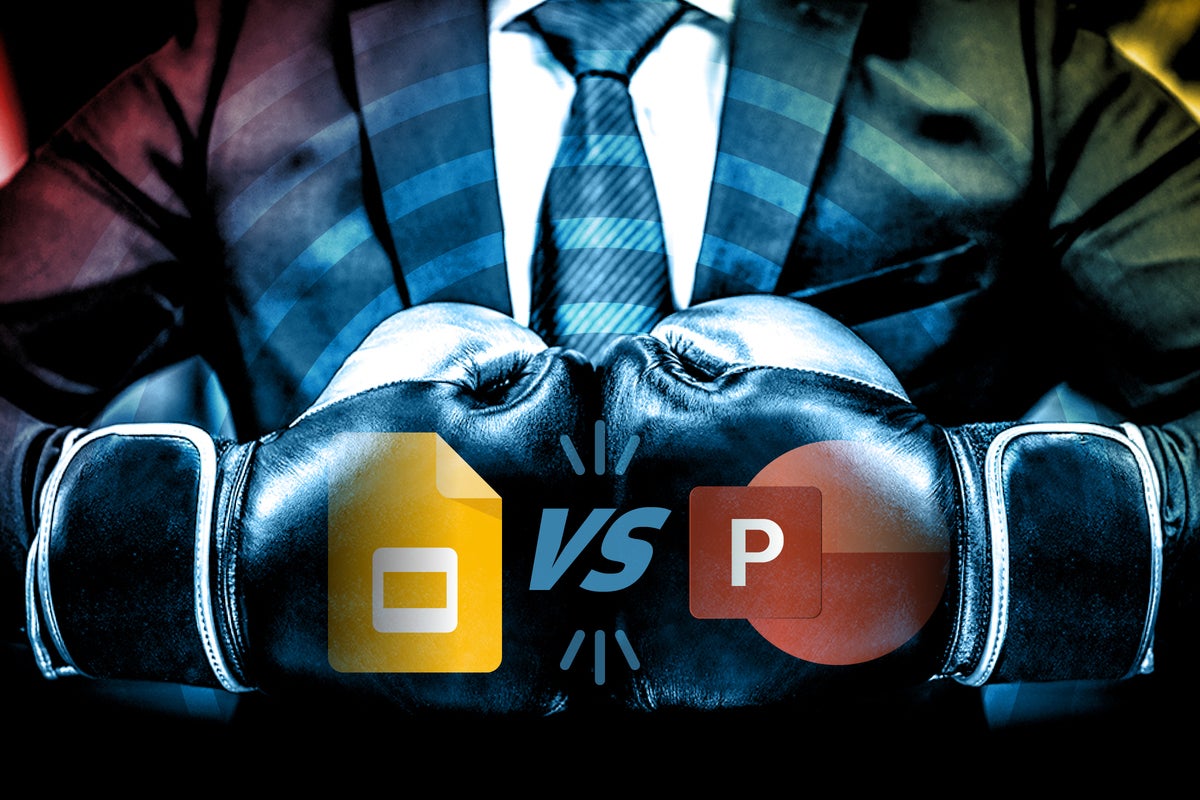 If you're going to give business presentations, odds are you'll be choosing between Microsoft PowerPoint and Google Slides, the two best-known presentation applications. They're both solid, useful tools — and both have changed a great deal over the years. Given all their changes, you may want to reconsider what you're using today.
To help you choose, I put them through their paces by building a presentation that many business professionals might create: announcing a new product or service line. In each program I started by looking for suitable templates, then created a new presentation; added slides; juiced them up with graphics, video, and animations; collaborated with others on it; and finally, gave presentation itself.
One difference between Slides and PowerPoint is price. Although Google Slides is part of Google's licensed Google Workspace (formerly G Suite) subscription for businesses, it remains free for individual use. PowerPoint is part of Microsoft Office, which has a variety of different iterations for personal or business use and is available as either an annual Microsoft 365 or Office 365 subscription or as a one-time purchase (what Microsoft calls the "perpetual" version of Office). Individuals can use the online version of PowerPoint for free, but its functionality isn't as robust as the desktop client's.
This review focuses on the PowerPoint desktop application for Windows in Microsoft 365/Office 365. Individuals and businesses who use the perpetual version of PowerPoint may not have all the features covered here. Because it's a multiplatform world, I also tested PowerPoint's macOS desktop client, its web version, and its Android and iOS mobile apps. Google Slides is web-based, and I used it in my Edge and Chrome browsers; Google also offers Slides apps for Android and iOS, so I tested those as well.
With all that in mind, let's get started.
Starting a presentation
Getting started on a presentation can be the toughest part of its creation. What kinds of slides should predominate — simple text-based ones or those with graphics and multimedia? How should the entire presentation be organized? What kind of content should be in it? Also important is the look and feel of it, including backgrounds, colors, font sizes and more.
I decided my test presentation would be for a company launching machine learning as a service (MLaaS) for customers who don't have the infrastructure or programming know-how to make use of machine learning themselves. I began by getting as much help as possible from Slides and PowerPoint, looking for a suitable template and any other help they could offer. If no suitable template was available, I decided I would start from scratch.
Google Slides
Don't look for much help to start your presentation when you use Google Slides. It offers only 26 templates, and a mere handful of those are useful for business, such as a consulting proposal and a status report. Most templates are personal ones, such as for creating a party invitation, photo album, yearbook, lesson plan and similar purposes. Odds are you won't find a suitable one for your business needs.
To test out how useful the few business templates are, though, I created a consulting proposal presentation, even though it wasn't one I wanted. The design was simple and right to the point, and the Slides template included a variety of pre-created slides, such as one titled "Problems to solve" and another titled "Market trends." That's useful, but somewhat generic and not particularly creative. And it certainly didn't help in my planned presentation.
So instead I chose to create a blank presentation. And that's exactly what I got: a single white slide with the words "Click to add title" and "Click to add subtitle" beneath it. There was a bit of design help, though. A right-hand frame appeared with suggested design themes. In other words, not much help with content or design.
The upshot: Google Slides gives business users very little help in getting a jump-start on their presentations. If you use it, you'll have to start from scratch.
Microsoft PowerPoint
Procrastinators, take heart: PowerPoint has your back. Its QuickStarter feature is one of the presentation app's best features and makes use of Microsoft's research into artificial intelligence.
With it, you start by typing in the topic of your presentation, and it displays a variety of subtopics from which you can choose. Select the one most suitable, and it suggests a set of slides you might want to use. (It gets the suggestions based on Bing searches and data, and information gleaned from Wikipedia.) Select the ones you want to keep. Then select a look for your slides from the next screen, which includes a theme complete with background graphics.
In my instance, I typed in machine learning and it showed me seven potential topics, ranging from the general "machine learning" to "artificial intelligence," "adversarial machine learning" and others. I chose "machine learning" and it suggested nine slides, starting with an overview and then moving through a history and relationship to other fields, theory, approaches, applications and more.
I then had a choice of eight templates. I selected the one I wanted. Voila! What is for many people the hardest part of creating a presentation — putting together an overall outline and choosing a look and feel — took me about three minutes with QuickStarter. I'd need to add new slides, and the slides that QuickStarter came up with were a bit too generic for my needs, but they gave me a great jumping-off point for my presentation.
Not that QuickStarter works well with every topic — it's hit or miss. For example, when I typed in budget proposal, the suggestions for subtopics ranged from "United States federal budget" to "2018 United States federal" to "The Path to Prosperity" and others, including one simply titled "Proposal." Artificial intelligence, clearly, has its limits. Still, when QuickStarter gets a hit, it's a great jump-starter. And if it's a miss, you haven't lost anything by trying it.
If you don't want to use QuickStarter, you can instead select a template and theme, which control the look and feel of a presentation rather than its content. By default, you get a choice of only three themes, but you're not limited to that number. Type in a search — for example, business or industry — and you get plenty more. When I typed in business, for example, I found 167 matches. Many of them included not just themes, but also started with suggested slides, in the same way QuickStarter does. You can also click on any of the suggested searches just beneath the search box for a list of themes.
And even if you don't choose to start with a pre-built theme, when you create a new presentation, a pane appears on the right of the screen titled "Design Ideas" that are in essence themes.
 The upshot of all this: PowerPoint excels at suggesting themes and even content.
Starting a presentation: Bottom line
The choice can't be any clearer: If you want help getting started with your presentations, choose PowerPoint. Its QuickStarter feature might not be perfect, but it's a great way to get you going. And even if you don't use QuickStarter, PowerPoint's impressive choice of templates means you'll find a design and look and feel for your presentation easily. Google Slides offers little help.
Creating and editing slides
The overall look and feel of a presentation are important, but the content on individual slides is what will get your message across. So I tested out how easy it was to create and edit slides for my presentation.
Google Slides
Unlike with PowerPoint, with Slides I had no initial slides or pre-made presentation. So I had to create everything from scratch. That's the bad news. The good news is that it's simple to do. If you're starting a new presentation, click the + button at the upper left of the screen to create a new blank slide and a new presentation. When you do that, not only do you create a new presentation and a new slide, but you get to choose from different themes as well.
If you're already in a presentation, click the + sign at the far left of the toolbar. A new, basic blank screen appears. To change its layout or theme, right-click it and choose what you want to do from the drop-down menu.
There's placeholder text, such as "Click to add title" and "Click to add text," that makes it easy to add text. But adding other content, such as graphics, video, charts, and more isn't quite so simple. Rather than clicking directly on an icon embedded in the slide, you click an icon at the top of the page to add some content, such as an image or a line, or else click the Insert menu to add other types of content, such as a chart or a video. This makes it slightly more difficult than with PowerPoint to add this type of content, but not in any significant way.
Even though Slides doesn't have a full complement of templates, it does have 23 pre-built themes you can apply to your presentation, which include backgrounds, colors, and slide designs. They show up by default in the right pane when you're creating a presentation. Just click any theme to apply it to the entire presentation. But you don't get the same kind of power to customize the theme's font, background, and other aspects as you do in PowerPoint.
Microsoft PowerPoint
Because I used QuickStarter to start my PowerPoint presentation, I chose to edit several of my existing slides before creating any new ones. That's because QuickStarter had done an excellent job of creating slides that I could easily use by simply editing their existing content.
I started by updating the title slide for the presentation by editing the existing text. Next, I turned to the second slide in the presentation, titled "Contents," which had bullet points for each slide in the presentation. I deleted bullets for slides I wasn't going use, added bullets for slides I planned to add, and kept bullets for existing slides I planned to use. Next, I edited a slide titled "Overview," which had placeholder text that I only needed to edit.
Doing all that took me less than five minutes. So with very little effort and a minimal amount of time, I now had the first three slides for my presentation created. And not only that, it was slick and professional-looking, with the kinds of graphics and background I would have never been able to create by myself. Rather than being worn out by this part of the presentation, I felt I was only getting started.
Next it was time to add new slides. There are several ways to do it. You can right-click an existing slide and select New Slide — or choose Duplicate Slide from the menu that appears if you want to mimic the existing slide's layout but edit its content. You can also select Add section to create a new section for your presentation, or Layout to choose a specific slide layout — for example, a title slide, a slide to show a side-by-side comparison, and others.
For those who feel comfortable editing slide backgrounds, select Format background, and you'll be able to hack at it to your heart's content, including changing the fill (solid fill, gradient fill, and so on) and changing the color and the color transparency. You can also create a new slide by clicking New Slide on the Ribbon's Insert tab. When you do this, you see a list of slide types you can use. Click the one you want to use.
Adding content to slides is a breeze. "Click to add text," "Click to add title," and similar suggestions are placed where you should type new content. To add objects, such as charts, slides, pictures, and videos, click the suitable icon, then follow the instructions. It's all simple and straightforward.
It's also exceedingly easy to change the overall look and feel of your presentation — its colors, backgrounds, fonts, and more. Click the Design tab and you'll see 43 themes from which to choose. If those aren't enough, each one has four variants that appear to the right of them, so you can choose one of those. As you hover your mouse over one, you see the effect it has on your presentation. Want to customize your presentation's look and feel even more? No problem. Click beneath the variants, and a menu appears that lets you change colors, fonts, effects and background styles. Fiddle to your heart's content.
Because of all this, PowerPoint makes it easy for you to focus on the content of your presentation and slides, without having to spend any time wrestling with the application itself.
Creating and editing slides: Bottom line
Once again, PowerPoint comes out far on top here. QuickStarter gives you a head start by creating slides that you can edit, which is a big plus. PowerPoint also makes it easier to add content such as graphics and multimedia, and you get a wider selection of themes, which you can more easily customize.
Adding graphics, transitions, animations, and multimedia
Graphics, photos, and video add visual interest and useful information to any presentation. Animations on slides and transitions between them add visual pop and keep your audience engaged. So I tested how easy it was to add them to my presentation.
Google Slides
When it comes to inserting and editing graphics and video, and using animations and transitions in Google Slides, you get only the basics and not much more. Insert graphics and video from the icons at the top of the screen, or else from the Insert menu. To insert a picture, for example, click the image icon at the top of the screen. You get a choice of uploading from your computer, from the cloud-based Google Drive storage, from your Google Photos collection, via a Google search for images, by using your device's camera, or by pasting in the URL of an online image.
It's simple and straightforward to do all of that, with one exception: Unlike when you use PowerPoint to search for images and insert them, you are not given any information about the legal rights that accompany the use of the images.
Once you insert the pictures, you don't get the plethora of editing features you do in PowerPoint. You do get the basics, though, such as cropping or resizing them. To do more, when your cursor is on a photo, select Format options and a menu appears that lets you alter the color; change the transparency, brightness and contrast; add and customize a drop shadow; or add and customize a small reflection of the image. But that's it. Essentially, when you insert a photo, what you see is what you'll get, with only a few changes you can make.
To search for and insert a video, click the Insert menu and select Video. A menu across the top lets you search YouTube for a video to insert, search Google Drive, or type in a video's URL. There's no option, though, for inserting a video from your own hard disk, a surprising choice that limits what you can insert. As a workaround, you can copy a video from your hard disk to your Google Drive and insert it from there. But why force people into such a kludgy workaround?
You get very few tools for formatting the video or controlling its playback. You can choose when to start the video and when to end it, change its size and position, add a drop shadow, and choose whether to mute the audio or autoplay it. But that's it.
As for transitions and animations, don't expect much. You get a choice of only seven very basic transitions between slides. Similarly, you can use only simple animations on slides, such as fading in and out, flying in and out, and similar choices.
As with PowerPoint, you can insert other types of graphics or media, including what Google calls Word Art, which lets you format text in creative ways. You'll also be able to insert lines and shapes, as well as diagrams. They're all straightforward and utilitarian, with no particular flair.
Microsoft PowerPoint
To add graphics, photos or videos to a PowerPoint presentation, you can click directly on the appropriate icon on a slide or else select Insert from the Ribbon and make your choice from there. You can select pictures or videos on your PC or search for and insert online pictures or videos.
If you choose Pictures, for instance, you can browse your hard disk and select the picture you want, and it gets inserted. If you choose to search online for a picture, you'll see more than 50 pre-set categories of pictures you can browse through from Bing, Microsoft's search engine — everything from airplanes to animals, houses, people, cars, and more. If that doesn't lead you to what you want, you can launch a Bing picture search for a more targeted search. Choose the picture you want and insert it.
All pictures you find this way adhere to the Creative Commons license for free use. However, if you want to search for photos without the Creative Commons license, you can uncheck the "Creative Commons only" box that appears just below the search box.
You can also set filters for what photos to search — for example, photographs, line art, clip art, black-and-white, color, square, wide, small, large, and so on. To do it, click the small filter icon just to the left of the "Creative Commons only" checkbox, and select your filter.
What makes PowerPoint stand out is what happens after you insert a picture — you get a full suite of picture-editing tools. For a start, you can correct a photo's brightness, contrast and sharpness, and change color saturation and other color attributes. You can also choose from among 28 pre-set styles that frame the picture in multiple ways, such as making it an oval, including different-sized black backgrounds, setting the picture at a 3D angle, and more.
If you're not satisfied with that, customize it even further by choosing specific border effects, picture effects (adding a glow, softening the edges, and so on), and layouts that include layering text on top of pictures. There's more as well, such as adding artistic effects to make the picture look like it was painted with watercolors, drawn as a pencil sketch, and plenty more. You can even mark background areas you want removed, and PowerPoint will do that as well. You'll likely never touch the surface of all that its picture editing can do. It's like getting image editing software for free.
When you choose to insert a video, a screen appears that lets you browse your hard disk or your OneDrive cloud storage or search through online stock videos for videos to embed. You can also paste the video embed code from an online video to insert video from a website. Once videos are inserted, you get a set of tools for editing them similar to the ones you get for editing pictures, including customized frames, the ability to change video brightness, contrast and color, and video effects such as softening the video's edges.
That's only half the tools you get for video editing, though. When your cursor is on the video, a Video Tools tab appears on the Ribbon, with two sections: One titled Format with the tools I just described, and the other titled Playback, which lets you control how the video will play inside the presentation. You get plenty of options here, including fading in and fading out, setting the volume, trimming the video, inserting captions, and more.
There are other types of graphics you can add to your presentation via the Insert tab. From here you can draw shapes and insert icons. And you can also insert what Microsoft calls "SmartArt," which lets you create a wide variety of graphical content to present information, such as graphics representing hierarchies, diagrams, and more. There's also a very confusing option to create a photo album. When you choose this, you don't create a photo album inside your presentation. Instead, it creates a separate photo album as its own presentation.
PowerPoint also does a great job of letting you quickly add transitions to slides. Click the Transitions tab and you get a choice of nearly four dozen transitions in three categories: subtle, exciting, and dynamic content. You'll find pretty much anything you need here, whether you want your slide to look as if it's coming down like a Ferris Wheel car, fracturing like a piece of glass, spinning out of a vortex, or more. You can then choose whether the effect should come from the left, right, top, or bottom, as well as set the duration of the transition and what sound, if any, to play to accompany it.
Similarly, PowerPoint has a selection of nearly four dozen animations you can add to slides. You can make slide elements fly or float in and out, have them swivel, bounce, pulse, shrink and grow, and much more. Once you choose an animation you can customize it by choosing the path the animation should take (straight line, arc, and so on), selecting a trigger to start the animation (clicking a picture, a word, etc.), and much, much more.
The upshot: You'll likely never plumb all the depths of the way PowerPoint lets you work with graphics, video, animations, and transitions. Just about any feature you want, you've got.
Adding graphics, transitions, etc.: Bottom line
When it comes to working with graphics, video, animations and transitions, PowerPoint is a runaway winner. It has far more tools for working with these elements than you'll likely ever need. Google Slides is fairly bare-bones.
Adding charts and tables
Charts and tables... what's a presentation without them? Any presentation package worth its salt needs to be able to include charts and tables to visualize data in easy-to-understand ways. So I put both Google Slides and Microsoft PowerPoint  through their data visualization paces. Here's what I found.
Google Slides
It's easy to create a table in Google Slides: Select Insert > Table, choose how many rows and columns you want it to be, and it gets built. To edit the table's layout, right-click in any cell to see a menu with options such as Insert row above or Delete column. Choosing Format options in that menu calls up a sidebar that lets you adjust the table's size and rotation, position, and text fitting. And that's about it. You don't get the array of tools for customizing the way that tables look that PowerPoint offers (more on that in a moment).
You create charts in a similar way. Select Insert > Chart and choose a chart type (bar, column, line, or pie). A chart of that type with sample data is inserted into the slide. To put in your own data, click the Linked chart options icon in the upper right corner of the chart, then choose "Open source" from the menu that appears. This opens a new browser tab with the sample data and chart in Google's spreadsheet app, Google Sheets. That tab also shows your chart, so that as you make changes to the data or design, you see how the chart will look. When you're done, go back to the tab that has your presentation and click the Update button; the changes you made in the Sheets document will be reflected in the Slides chart.
Note that when you insert a chart, you also have the option of importing an existing chart from a Google Sheet (choose Insert > Chart > From Sheets). You can link the chart to the sheet so that when the Google Sheet is updated, the chart will be as well, or else not link it.
When create a chart in Google Slides, your selection of chart types is limited to a handful of bar, column, line, and pie charts. But when you edit the chart in the separate spreadsheet tab, you get a much larger selection, including a scatter chart, histogram, area chart, combo chart, and stepped area chart.
As for customizing how the chart looks, you only get a few tools for doing that in Google Slides. If you right-click on the chart in Slides and choose Format options, you'll see a sidebar that lets you change the chart's size and rotation, recolor the chart, add effects like drop shadows, and make other minor adjustments. If you customize the chart in the spreadsheet tab, however, you get considerably more capabilities, including changing the style for titles, axes, gridlines, and so on. Even so, these tools don't hold a candle to the chart customization options you get with PowerPoint.
I found having to switch between a separate spreadsheet tab and Google Slides awkward and confusing. PowerPoint, in which you do it all in one place, is much easier to use.
Microsoft PowerPoint
As in Google Slides, inserting a table in PowerPoint is a breeze. Click the table icon on a slide or select Insert > Table, then choose how many rows and columns you want it to have. Once you've inserted it, you get plenty of ways to customize it via special Ribbon tabs that appear when your cursor is in the table: Table Design and Layout. In Table Design, you can choose a table style, colors, shading, borders, special effects, and more. The Layout tab lets you fine-tune the layout to a remarkable degree, including changing cell heights and widths, the way text in them should be aligned, cell margins, and other options.
Similarly, when you insert a chart, click the chart icon on a slide or select Insert > Chart in the Ribbon, and you'll come to a full complement of 17 chart types, including the familiar column, line, pie, bar, and area charts; complicated ones such as radar, surface, and histogram; and some known mainly to data professionals, like box & whisker. Most chart types have multiple subtypes — for example, among the bar charts you'll find clustered bar and stacked bar, and each of those has three variations. Rest assured, if there's a chart type you want to use, it's in PowerPoint.
When you insert a chart, a mini version of Excel appears underneath it with sample data. Simply edit the numbers and text in order to finish the chart. When you're done, close the mini spreadsheet. Once it's done, you've got countless options for editing and customizing it and changing the chart type. When your cursor is in the chart, the Chart Design and Format tabs appear. Use Chart Design to change colors, change the appearance of the chart using pre-built styles, change the layout, change the chart type, and more. You get similar choices by right-clicking the chart. The Format tab lets you alter the colors in the charts — for example, the color of slices in a pie chart — add effects to shapes in the chart, and turn text in the chart into editable art, among other capabilities.
What makes all this even more powerful is that the chart and table tools are the same you'll find in Excel and Word. So if you use those programs, you may already know how to use the tools in PowerPoint before you get started.
In short, PowerPoint gets Excel's considerable chart-making capabilities to make sure you can get the precise chart you want to get your point across exactly as you want it — and you can make it look exactly like you want it to as well.
Adding charts and tables: Bottom line
Once again, no contest: PowerPoint gives you many more types of charts and far better editing and customizing tools for both charts and tables, and it's easier to use as well.
Google Workspace vs. Microsoft Office
Shop Tech Products at Amazon