Review: 5 digital whiteboard displays for business collaboration
Meetings are made more productive by interactive displays that you can write on and share with remote participants. We review five devices from Google, Microsoft, Cisco, Samsung and InFocus.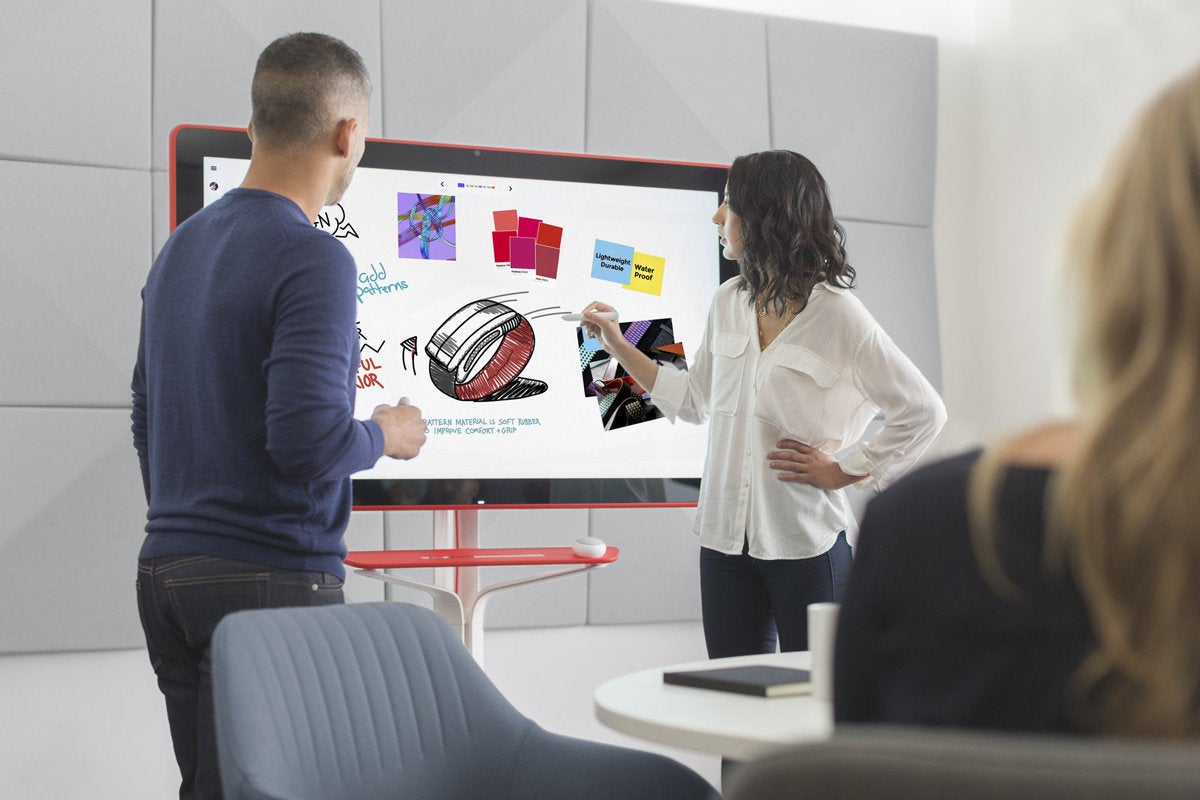 Whether your business team is designing a next-gen widget or developing an online campaign, you need a place to get together, brainstorm and map out a strategy. In years past, a dry-erase whiteboard was typically where such ideas were recorded, with some obvious drawbacks. For starters, somebody had to capture all those great ideas from the whiteboard before it got erased. Worse, remote meeting attendees couldn't see the on-board action.
Today, however, such collaboration can be done with a special large display that users can present from, write on and share with meeting participants halfway around the world. With a laptop or mobile device connected wirelessly or via video cable, the touch-sensitive display acts as a giant tablet where participants can interact with each other and an array of digital materials — and easily save the results to turn into action items.
Instead of just going through a canned slideshow about how your product stacks up with a competitor, you can highlight your company's recent sales dip while showing the two products' web campaigns next to a checklist of differences. Go a step further and open CAD models of each product that can be rotated to show differences.
All the while, you can use your fingers or the included styluses to write, draw, tap, swipe and drag items around. In a very real sense, a world of creativity and collaboration are at your fingertips.
For this review, we looked at five top digital whiteboard displays suitable for conference rooms, huddle rooms or open areas in the office: the Cisco Webex Board (formerly Spark Board), the Google Jamboard, the InFocus Mondopad 6522, the Microsoft Surface Hub and the Samsung Flip. All of them support local and remote access, document sharing and on-screen drawing. All but the Flip can set up audio or videoconferences directly from the screen; the Flip requires an external computer to do this.
A few notable differences: The Mondopad runs on Windows 10 Pro, the Surface Hub uses a special Windows 10 Team operating system, the Jamboard uses a customized version of Android, the Webex Board uses Cisco's Webex Board OS, and the Flip is based on the company's Tizen software. At this point, you won't be able to add any apps to the Jamboard, Webex Board or Flip, and the Surface Hub is limited to installing software from the Microsoft Windows Store. The Mondopad, by contrast, lets you add any apps that run on Windows 10.
After five weeks of using these displays every day, running conferences and connecting remote participants, I'm convinced that this is the way to bring people and ideas together. Be warned: Priced between $2,700 and nearly $10,000 (plus the cost of a stand), these displays can be budget-busters, particularly if you deploy dozens of them throughout an enterprise. That said, they can reduce travel costs and increase participants' efficiency, which goes a long way toward making up for their steep price tags.
Here's how these essential 21st-century business tools compare.
Cisco is rebranding and revamping its collaboration display family, formerly known as Spark Boards, as Webex Boards to integrate them into the company's Webex videoconferencing and document-sharing service. While this offers great potential, the Webex Board lacks several basics, like a web browser or the ability to do much in the way of adjusting the image.
I looked at the Webex Board 70. At $9,900 for a 70-in. screen, it's a tad expensive but could be worth it if Cisco delivers on its plans.
With a shape that's smooth all the way around, the black and white Webex Board is bland enough to not stand out in any corporate conference room or huddle space. At 64.1 x 40.1 x 2.4 in., the Webex Board is the largest display tested (albeit only slightly thicker than the 2-in.-thick Flip), but it offers the largest screen of the five.
It's also quite heavy at 140 lb., more than twice the weight of Samsung's smaller Flip display. In other words, have three people on hand to move it around and set it up. Too big? Cisco also makes a less expensive 55-in. Webex Board that sells for about $6,000.
Cisco includes a wall mounting kit but doesn't sell a wheeled cart for the Webex Board. (You can find rolling carts made for Webex Boards at third-party outfitters such as Salamander Designs and Avteq.) Cisco does sell a beautiful $1,800 brushed aluminum stationary stand that's sturdy but doesn't tilt, move up or down, or rotate the screen.
With a 60.4 x 33.7-in. display, the Webex Board 70 yields a 69.2-in. (diagonal) image, the biggest of the five. Its super-sharp 4K resolution (3840 x 2160 pixels) matches the Google Jamboard and Samsung Flip and offers more than four times as much detail as the HD displays on the InFocus Mondopad and Microsoft Surface Hub.
The Webex Board's matte surface reduces reflections, and its images are vivid and crisp, while color gradients are smooth. On the other hand, at 203.4 candelas per square meter, it was one of the least bright of the five and can't compare with the Surface Hub's 356.7 cd/m2.
The system's speakers are along the display's bottom edge and point down. They are strong enough to fill even a large conference room. There's also an audio-out jack for a room-wide sound system. Along the top, the Webex Board has a 12-microphone array that uses beamforming technology to focus on the participant speaking in order to reduce noise and echoes and to maintain a consistent volume, regardless of whether the speaker is next to the screen or 10 feet away.
Unlike the other displays, the Webex Board has a 4K camera rather than an HD one or, as is the case with the Flip display, none at all. Its 86-degree field of view can take in a large group around a table.
Instead of an Intel processor (like the Mondopad and Surface Hub) or Marvell processor (like the Flip), the Webex Board comes with two Jetson TX1 modules, doubling down on the Jamboard's processing hardware. Each of the two modules has 4GB of RAM and 16GB of storage space. The computing workload is divided equally between them, but the design opens the possibility of dedicating one of its modules to specific tasks (like graphics intensive work) while the other runs the board's communications.
Based on Cisco's Webex Board OS (formerly Spark OS), the display can't run Windows programs, and there are no add-on apps for the platform yet. The company wants to create an app ecosystem with home-grown and third-party software to expand Webex Board's abilities. Cisco intends to release a software development kit in the coming months.
Unlike the Surface Hub and Mondopad, the Webex Board does without both a Trusted Platform Module (TPM) for authentication purposes and Intel's vPro management extensions. Still, the Webex Board is among the most secure systems. Rather than saving meeting notes as images, each stylus stroke is sent as an encrypted vector equation to Cisco's cloud servers. To a hacker or digital eavesdropper, this would appear as gibberish. These vectors are reconstituted as an image on demand when needed — if the appropriate encryption keys are provided.
Compared to the likes of the Mondopad and the Surface Hub, the Webex Board's ports are basic: HDMI (for laptop screen mirroring), audio-out (for driving speakers) and gigabit Ethernet. It can also tap into a company's 802.11ac Wi-Fi network or connect with Bluetooth accessories. There's a USB 3.0 connection, but it is for service technicians to diagnose problems.
Unlike the Surface Hub and Mondopad, the Webex Board lacks a video-out port, which would have let the display accommodate larger rooms with a second mirrored screen or projector.
Using the Webex Board
While at any time you can connect a computer or mobile device via the Webex Board's HDMI port, participants can also use the Webex Teams app, available for Windows, Mac, iOS and Android devices. The app integrates text messaging, calling and marking up the board remotely. Webex Board's conferences also have a back door: a web browser-based interface.
The first connection with a local system using the Teams app requires an ultrasound-based handshake between a computer and the board. The board sends a silent (at least to non-canines) high-frequency audio pulse to the computer, tablet or phone to create a connection profile that's used on later connections. After that, connections take only a second. In my tests, the process worked on five different clients, but you need to make sure the device's microphone is turned on.
The Webex Board's interface is simple and straightforward. There's no power switch on the display, which automatically wakes up when you're about 10 feet away. (There's a Welcome button below the screen that you can press if it doesn't wake up automatically.) When it awakens, the display shows circular buttons for making calls (audio and video), using the whiteboard or sharing the screen.
Tap the Whiteboard circle and a clean screen appears with four digital inks and an eraser at the bottom; Cisco is working on a custom color utility. Based on capacitive multi-touch technology, the Webex Board can work with two inputs. It comes with a rubber dome stylus that doesn't require batteries; a three-pack of replacements costs $149.
The pen has the feel of a marker on paper and doesn't skip, as was the case with the Mondopad's stylus. The marking is not pressure-sensitive, so all lines appear to be the same thickness regardless of how hard you press. The Webex Board also lacks the Surface Hub's handy straight-edge ruler and protractor as well as the Jamboard's Post-It note app, which Cisco says is coming later this year.
There's no tray to hold the stylus, but the Webex Board has magnetic spots on the right side and top of the display to hold the pens when they're not being used. You can't plug a keyboard directly into the display.
The Webex Teams software integrates a thoughtfully designed instant messaging app to invite participants, video chat, and follow up afterwards. You can bring up images, spreadsheets and video locally. The screen responds quickly, and the pen's action is nearly instantaneous.
Calls work with landlines as well as SIP connections, allowing outsiders using Skype for Business to be added. It worked well for four calls over a couple of weeks of daily use with local, remote and audio-only participants using iPads, Android phones and laptops.
The board can also display screens from nearby and distant computers. After opening the Webex app, select the display you want to show on the big screen, tap Share Screen, and it will appear in a few seconds. At the top of the app is a handy Stop button to end the sharing.
When the meeting is over, tap the Save link in the lower-right corner, and all the screens are encrypted and saved to the Cisco account online. In a few seconds, all data on the board is wiped clean, but you can call the conference notes up using the Teams app or directly on the board.
When it comes to using the Webex Board day in and day out, the biggest frustration is the lack of even a basic web browser, which Cisco says will be added later this year. In fact, you can't do things as basic as searching for and grabbing an online image or visiting a company's web page. As with the Samsung Flip, you'll need a connected computer to get the most out of the Webex Board.
The Webex Board consumed 215 watts when in use and 34 watts when idle. This makes it the power hog of the five, but it has the largest screen, so it seems worth it.
While the Webex Board lacks a traditional manual or user's guide, it is easy to learn to use by, well, using it. Using the on-screen controls for functions like ultrasound pairing and adjusting brightness was a breeze. The display does include a cheat sheet for actions like adding and disconnecting participants as well as calling outsiders.
Microsoft and Google charge $500 to $600 a year for software, calling and online storage space for their collaborative displays, while InFocus and Samsung forego such a fee. By contrast, Cisco charges a whopping $200 a month, or $2,400 a year, for software and storage. (Multiyear contracts can reduce this fee to $170 a month, or $2,040 a year.) On the plus side, companies concerned about security can store all the data that the board generates locally. The system does require log files to be sent to the cloud, though.
Most of the other displays come with a one-year warranty, but Cisco comes up short here with a mere 90-day warranty. That said, most businesses will purchase an extended warranty for an extra year for $750.
Bottom line
With strong security, solid software and 4K video, Cisco's Webex Board is a strong contender in the collaborative display space. It's hindered, however, by its high usage fees, skimpy warranty period and lack of basics like a web browser.
Shop Tech Products at Amazon