Review: Asus VivoBook W202 with Windows 10 S
Although it's aimed at the education market, this sturdy laptop -- and the locked-down Windows 10 S operating system it runs on -- has potential for business as well.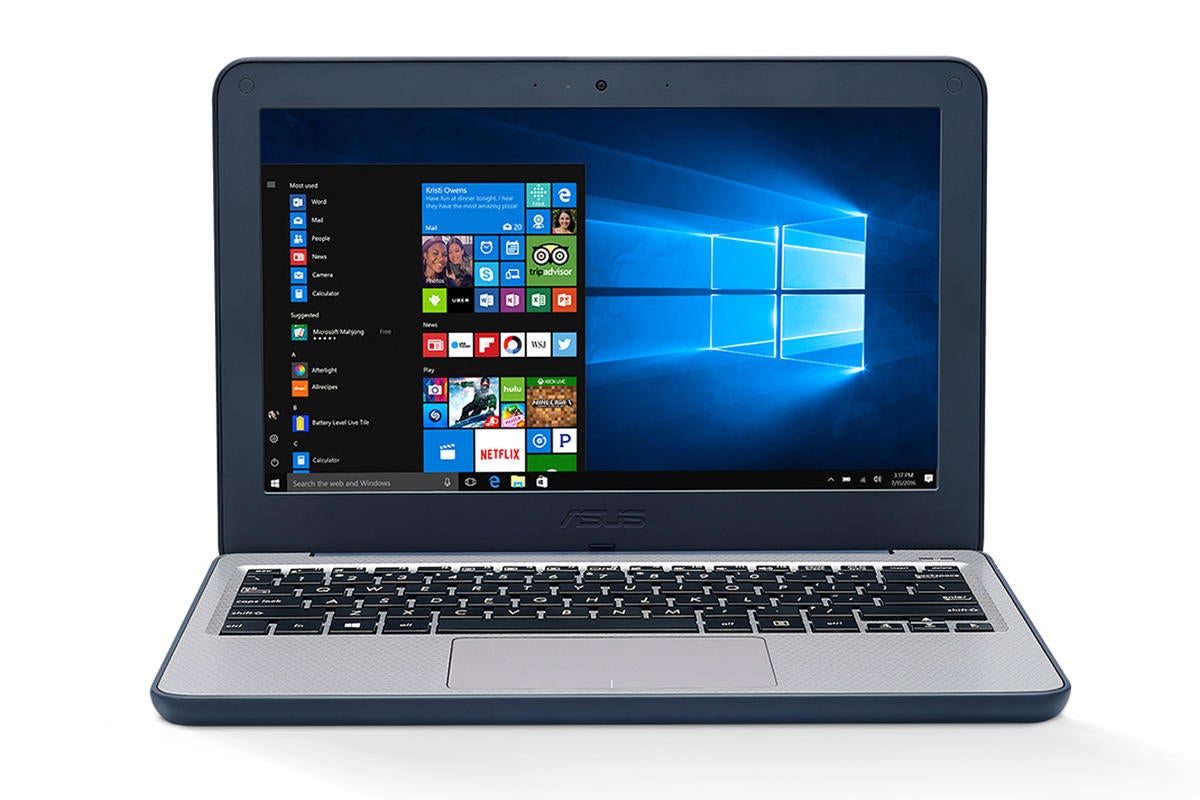 When Microsoft announced its new Windows 10 S operating system in May, the company put security front and center. To keep rogue programs from entering an organization's digital ecosystem, the OS runs all software in a protected container and allows only apps that have been vetted by the Microsoft Windows Store and comply with Microsoft's Universal Windows Platform (UWP) standards to be installed.
Although Microsoft pitched Windows 10 S as an OS for the education market (think of it as Microsoft's answer to Google's Chrome OS), IT leaders and analysts immediately saw its locked-down nature as promising for business as well. The value-add for companies is lower-priced systems that operate in the familiar Windows environment while restricting the software an employee can load.
Windows 10 S is currently available on only a handful of devices, including Microsoft's Surface Laptop, which starts at $999 and certainly doesn't fall in the "lower-priced systems" category. Much more affordable systems are available from HP, Dell and Acer, with more on the way from Samsung, Toshiba and others. We got our hands on the $279 Asus VivoBook W202, to see how it — and Windows 10 S — performs for business.
Design
Measuring 11.6 x 7.8 x 0.9 in. and weighing 2.7 lb., the Asus VivoBook W202 may not be the thinnest laptop in the office, but it is surprisingly small, light and easy to carry from room to room. With its small two-prong AC adapter, the W202's travel weight is a modest 2.9 lb.
Its 11.6-in. display shows wide-XGA (1366 x 768-pixel) resolution, and the matte finish reduces stray reflections, such as from an office's overhead lighting. There is no HD (1920 x 1080) option. Although the hinge opens to 180 degrees so the device can be laid flat on a tabletop, its display is not a touch screen.
The dark blue and gray plastic case has a sealed keyboard and soft rubber inserts around the case's edge to absorb some of the shock of an impact. According to the company, it's tough enough to survive 47-in. drops and 2.2 oz. of liquid spilled on the keyboard.
Should something break, the VivoBook W202 is easy to service. It took me 5 minutes to remove the 10 screws underneath to open the system up for repairing or replacing the battery or keyboard.
Basic and meant to keep costs down, the device is powered by a Celeron N3350 dual-core processor that runs at between 1.1GHz and 2.4GHz, depending on what the system is doing. The system does without the Intel vPro manageability extensions on more expensive processors, but it has a second-generation Trusted Platform Module (TPM). The system comes with 4GB of RAM and 64GB of solid state storage.
Its connections include two USB 3.0 ports, an audio jack, an HDMI video port, an SD card slot, 802.11ac Wi-Fi and Bluetooth. There are neither high-speed USB C ports nor a wired Ethernet port; however, it worked with an USB-to-Ethernet adapter. It also worked well with a USB mouse, a USB flash drive, a Canon WUX500ST projector and a networked Brother HL2270 printer.
The system has a microphone array above the screen meant to reduce echoes and extraneous noise on videoconferences. I found the sound OK but a little flat. There were no echoes, but a fan was whirring in the background. Unfortunately, the webcam is limited to VGA (640 x 480-pixel) resolution, so you might look a little pixelated to others.
Performance
Over a week of daily use, I took the VivoBook W202 with me on a short business trip and performed typical office tasks with it, using my Office 365 account to work with Word, Excel and PowerPoint files. The system never froze, lagged or let me down.
Due to its software restrictions, the VivoBook W202 can't run FutureMark's PCMark 10, the benchmark I typically use to test Windows system performance. The Windows Store does offer TouchXPRT 2016, a performance benchmark that emphasizes image, audio and video editing. The W202 scored a 103, putting it halfway between two other devices I tested, a Surface 3 tablet powered an Atom X7 Z8700, which scored 90, and an Asus X550 laptop powered by an Intel Core i3 5005, which scored 125.
This middle-of-the-road performance translates into long battery life. The VivoBook W202 continuously played a series of HD and UHD videos for 8 hours and 15 minutes on battery power. That's nearly three hours longer than the 5 hours and 20 seconds that the Surface 3 could muster playing the same clips.  
Limitations for the enterprise
As a locked-down system, Windows 10 S is appealing for IT pros looking to protect an enterprise infrastructure. But a key factor in its security scheme — the fact that only Windows Store apps can be installed — brings some big drawbacks too.
For instance, users are limited to certain web browsers, and probably not the ones they want. There's Microsoft's Edge browser (and the obligatory Bing search engine), plus a handful of alternative browsers such as UC Browser and BlueSky Browser in the Windows Store. But at the moment, Chrome, Firefox, Opera and even Internet Explorer are unavailable for Win 10 S systems.
What about other software that businesses rely on? The Asus VivoBook W202 and other Windows 10 S systems do include full versions of the programs in the Microsoft Office suite, but they require activation. Other business-friendly apps such as Adobe Photoshop Express and Evernote are available in the Windows Store, which also has client software available for Citrix, VMware and SAP systems. Plus, any cloud-based application that operates in a web browser should work fine on a Windows 10 S system.
Unfortunately, though, there are no apps for tapping into many other corporate standbys such as IBM's Cognos business intelligence software. And companies that rely on custom apps are out of luck as well. Win 10 S doesn't allow a company to load the legacy programs it doesn't want to update to UWP or proprietary programs it doesn't want to share with the world.
There's one other limitation that may be a showstopper for some enterprises: Windows 10 S systems can't join an on-premises domain via an Active Directory server for single log-in across corporate assets. To do this, you need to use Microsoft's Azure Active Directory infrastructure.
So it's clear that Windows 10 S systems like the Asus W202 are not appropriate for many business users. But they might do nicely for employees with limited software needs, such as hospitality, reception and customer support help desk workers. In fact, Windows 10 S has potential for any role that doesn't require custom software.
And Microsoft does provide an escape hatch: If these restrictions prove to be too onerous, any Windows 10 S system can be upgraded to Windows 10 Pro for $49; schools can do it for free.
Bottom line
At $280, the Asus VivoBook W202 is a reliable general-purpose system. It's a bargain for deploying to those who rely on off-the-shelf software, but you might find that its software and networking restrictions make it a nonstarter in your company.
Copyright © 2017 IDG Communications, Inc.
Shop Tech Products at Amazon