Register to download the Computerworld Digital Magazine, then refresh this page.
Here's what you'll find in the issue:
Special Report: The 100 Best Places to Work in IT 2017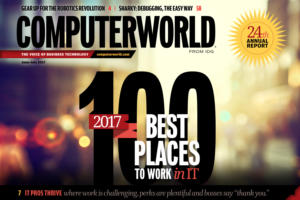 The 2017 Best Places to Work in IT results are in! Our 24th annual report highlights 100 top organizations across the country that attract skilled tech professionals by offering robust salaries, great benefits and flexible, fast-paced work environments. We also reveal what nearly 24,000 IT workers think of their benefits, training, office morale, workplace stress levels and more.
Here are the top organizations for 2017:
The No. 1 Large Employer: Quicken Loans
A strong corporate culture gives tech pros at every level of the organization the courage to take risks, innovate and grow their skill sets.
The No. 1 Midsize Employer: Ultimate Software
This company's "people-first" culture offers IT employees challenging assignments and family-friendly policies.
The No. 1 Small Employer: Axxess
Challenging work, supportive colleagues and a culture that prioritizes collaboration keep IT professionals engaged at this fast-growing startup.
The special report also includes profiles of all 100 Best Places honorees; shows which organizations are tops for benefits, training, career development and retention; provides quick facts and figures about the employers that made the list; and gives insight into what benefits, perks and intangibles matter most to the IT pros who work at the Best Places companies.
Also in this issue:
News Analysis
Enterprise IT gears up for the robotics revolution -- here's what IT managers need to know to be ready.
Shark Tank
Read the latest exploits of hapless bosses and clueless users.