J.P. Morgan has created what is arguably one of the largest blockchain payments networks to date: the Interbank Information Network (IIN). The financial services company announced that the Royal Bank of Canada and Australia and New Zealand Banking Group Ltd. have joined INN, "representing significant cross-border payment volumes."
J.P. Morgan created the blockchain network to significantly reduce the number of participants needed to respond to compliance and other data-related inquiries that can delay payments.
"IIN will enhance the client experience, decreasing the amount of time - from weeks to hours - and costs associated with resolving payment delays," said Emma Loftus, Head of Global Payments and FX at J.P. Morgan Treasury Services. "Blockchain capabilities have allowed us to rethink how critical information can be sourced and exchanged between global banks."
Mastercard, meanwhile, is launching its own blockchain network to enable partner banks and merchants to make cross-border payments faster and more securely. The Mastercard blockchain service can be used to clear credit card transactions and eliminate administration tasks using smart contract rules, thus, speeding up transaction settlement.
Blockchain in energy
Residents of the Park Slope area of Brooklyn are able to sell power generated from rooftop solar panels via a microgrid enabled by a blockchain ledger that records every transaction made with a local utility.
The physical microgrid, set up by Siemens Digital Grid Division, includes network control systems, converters, lithium-ion battery storage and smart electric meters. In case of another hurricane like Sandy in 2012, residents on the microgrid would continue to have power for a time – even during a blackout – as they could switch to battery reserves.
The Brooklyn Microgrid blockchain database is a web-based bookkeeping system that uses cryptographic technology to save energy data in a way that is both inexpensive and forgery-proof, the companies said.
Sun Pacific Holding Corp. also just unveiled plans to buy 60 acres of land to build a solar and wind farm that will use a blockchain distributed ledger to monitor the new grid, handle load balancing, and increase the life of electrical equipment by addressing issues in real time.
The Manalapan, N.J. company also wants to link its many microgrids, including the new renewable energy system, to the larger national grid system and manage it through a blockchain ledger. In the long run, the company said, that could allow customers to sell energy back to the grid, avoid blackouts through energy sharing and switch energy providers without hassle.
In order to participate in the blockchain system, a business or household will be required to purchase a node or computer. The nodes will be used to validate and share information throughout the microgrid, minimizing the amount of human interaction needed to operate the system.
Overall, a system balanced on blockchain has the potential to be far more efficient than the current energy system, the company said.
"We believe the future of energy lives on the blockchain and we're excited to be using blockchain technology to make managing the grid more efficient." Sun Pacific Holdings CEO Nicholas Campanella said in a statement.
Blockchain and mobile payments
Prior to rolling out a blockchain-based electronic exchange, peer-to-peer foreign exchange provider KlickEx was limited in scale by the company's own infrastructure; it served about 1 million users per day across eight countries, or about 80% of households in its Pacific region. Today, the monetary exchange handles about 90% to 95% of all electronic payments for the region that are for $200 or less. When not overtaxed, the old KlickEx exchange system was able to clear payments in between 90 and 200 seconds. But a common processing issue often slowed the process: payments received would outpace payments issued, forcing the exchange to use batch processing. That caused payments to enter queues and created a delay that could take days.
A new blockchain-based payment system that KlickEx has created can process cross-border payments in seconds.
The Polynesian payments system provider partnered with IBM to create an open-source payment network as a new international exchange based on a blockchain electronic ledger. The new network uses IBM's Blockchain Platform, a cloud service, to enable the electronic exchange of 12 different currencies across Pacific Islands as well as in Australia, New Zealand and the United Kingdom.
"In bringing IBM in to mature the technology, we think we're pushing something like 8 million...payments per day capacity, which is a long way up from where we started," KlickEx CEO Robert Bell said. "So the new real-time system based on blockchain means payment happens immediately, rather than in batch files."
Blockchain for healthcare
Blockchain can also act as a collaboration network, enabling varying parties to exchange and add to information, such as a patient's electronic healthcare record, in real time. The blockchain acts as a verification tool, ensuring only those authorized users — such as a physician, insurance provider or patient — to make changes to the ledger.
MintHealth, a portable, personal health record, was recently announced as a mobile platform based on a blockchain exchange. MintHealth will be rolling out the platform to commercial health insurance plans to help patients with chronic conditions, such as heart failure, diabetes, hypertension, and other conditions that account for more than 90% of healthcare costs today. In addition, patients at risk for, but not yet suffering from, chronic conditions will also benefit by having access to their medical records and control of their own health data by entering data such as vital signs or blood glucose levels.
Blockchain-enabled data allows for real-time movement of clinical and behavioral data between existing physician and patient data siloes; and machine learning on a growing patient database can help identify predictors of diseases and poor health.
"The initial step of digitizing health data in electronic health record systems (EHRs) moved us towards value-based care. Blockchain technology holds great promise for enabling the data liquidity necessary to execute on our vision of improved population health, and at lower cost," said Tee Green, executive chairman of Greenway Health, an electronic health record vendor that has partnered on the MintHealth app.
IBM Watson Health and the U.S. Food and Drug Administration are also exploring the use of blockchain for secure patient data exchange, including sensitive electronic medical records, clinical trials and data culled from mobile devices and wearables.
How is blockchain likely to evolve?
Regardless of who developed it, businesses should always take a pragmatic approach when adopting any new technology, according to Gupta. "You can't ignore it, but you can't just blindly adopt a new technology. The key is to see if it makes sense for your business problem."
More than 15 blockchain distributed ledger platforms are being developed in parallel, with specialist applications on top of them, according to Gupta. The industry will need further standardization to encourage widespread adoption.
"Such challenges are common with new technologies," he said, "and even with this concern, blockchain is seeing a lot of interest."
According to Angus Champion de Crespigny, Ernst & Young's Blockchain Leader, blockchain distributed ledger technology is well suited to propagate security policies and identity access management, which can traverse a myriad of markets. The fact that each blockchain record contains a unique cryptographic hash that is used to track that block, as well as others in the associated chain, means data cannot be modified. That makes it perfect for record keeping and auditing purposes, he added.
de Crespigny noted that more vendors are now producing business-specific products, "which is really what's needed."
Blockchain careers are taking flight
Blockchain developers now rank second among the top 20 fastest-growing job skills, and job postings for workers with those skills have more than doubled this year.
Taking second fiddle only to robotics specialists, blockchain technologists are advertising their services for as much as $115 per hour, according to Upwork, an employment site that specializes in freelance workers. Next in the list of fastest-growing job skills is another blockchain-related topic: Bitcoin cryptocurrency developers.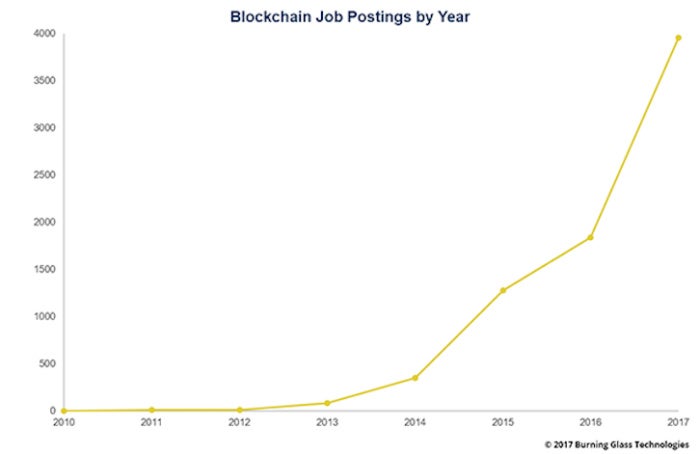 Topcoder, a company that creates computer programming contests, just announced its new Blockchain Community with partner ConsenSys. The community aims to teach programmers and engineers how to build blockchain applications.
The same thing that makes blockchain attractive - its distributed nature - also makes it a potential security threat. In the enterprise, centralized control can translate into security. With blockchain being inherently decentralized, the technology works best when information sharing is a necessity across multiple, often disparate, parties.
Central control, as in a single administrator, can also be a double-edged sword since a single point of control is also a single point of failure, according to Serguei Beloussov, CEO of Acronis, a cloud backup and file synchronization vendor. While Beloussov himself believes blockchain is secure, he has several computer scientists on his staff that believe it's not - and say it can be penetrated.
Questions about blockchain security usually point to Satoshi Nakamoto, the pseudonymous programmer who developed the Bitcoin system after releasing a white paper on the technology in 2008. The Bitcoin network, launched in early 2009, uses peer-to-peer software to transfer bitcoins. Satoshi Nakamoto could be one person's name or a pseudonym for a group of developers, no one appears to know for sure. But Nakamoto holds 1 million bitcoins, or the equivalent to $1.1 billion.
That has led some in Beloussov's company to speculate that the whole thing could be a giant Ponzi scheme, without evidence to indicate that.
Blockchain and hacks
To date, however, a blockchain network has never been hacked, and it's not likely to happen in the future, said Bruce Schneier, a cryptographer and security expert.
"That's not how this sort of thing will get broken. It'll get broken because of some insecurity in the software," Schneier said, referring to the fact that there are already many versions of blockchain. One such version, Ethereum, is a custom-built platform introduced in 2013 by developer Vitalik Buterin, who was 19 at the time.
Harvard's Lakhani, however, is not concerned about the mysteries around blockchain's and bitcoin's beginnings. "Their motivations for inventing it is not clear, but whoever they were who created it gave a great gift to the world by making it available," he said.
Most have yet to fully appreciate the use cases the distributed ledger can unleash simply because of its ability to share verified records across disparate groups, reduce costs and speed up transactions.
The future of blockchain
"Blockchain inverts our logic of how and where information resides, who has access to that information and what you can do with that information," Lakhani said. "The reason some of these organizations feel angst - [is because blockchain] goes to the heart of how we organize our information and our records-keeping infrastructure... But it's not going to happen overnight. In the case of TCP/IP - the world that we now take for granted - it took 30 years to develop.
"When we started this in the 1970s, no one anticipated I could be in Boston and FaceTime with my mobile device with someone in Shanghai. That was science fiction," Lakhani said. "My sense is this will again take time. We need both business logic and technical logic to be figured out, the applications to be developed and people to be trained to use it; then we'll adapt our institutions to the new way of sharing information."