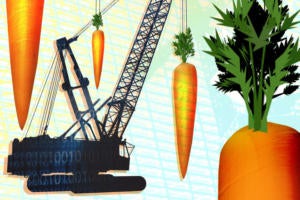 As a Midwest insurance brokerage navigating digital transformation, Ash Brokerage is committed to pulling out the stops to attract and retain the right IT talent. Because its Fort Wayne, Ind., location isn't a draw compared to other metropolitan areas, Ash offers competitive salaries in addition to bonuses. But compensation alone isn't enough to keep a deep bench happy and engaged, says CIO David Threm.
To heighten its appeal, the 400-person company offers its 26 IT staffers flexible work schedules and opportunities to attend conferences and take part in leadership training programs. In June of 2016, Ash moved into new headquarters in downtown Fort Wayne. The firm now occupies modern offices featuring millennial-friendly perks like foosball, Ping-Pong and video game setups. It all plays into a corporate culture that puts an emphasis on technology and tries to prioritize individual employees' needs — themes that Threm says have bolstered IT recruitment and retention efforts.
Despite rising salaries, companies are still having a hard time filling tech positions. Just over half (52%) of IT managers who responded to Computerworld's 2017 IT Salary Survey said it takes three months or longer to fill open positions.
"The war for IT talent continues to rage, and the talent pool just can't keep up with demand," says Jason Hayman, research manager at IT staffing and services provider TEKsystems. "Salary and bonuses are one way to attract people . . . but it's critical to have a variety of perks and benefits to make [your company] stand out from the crowd."
Keep reading for ways that even organizations without deep pockets can attract, motivate and retain skilled IT employees.