Chromebook Reviews
Review: Acer Chromebook R 13 -- a Chromebook with class
This sleek, nicely-designed Chromebook offers a touch screen, convertible display and the ability to use Android apps.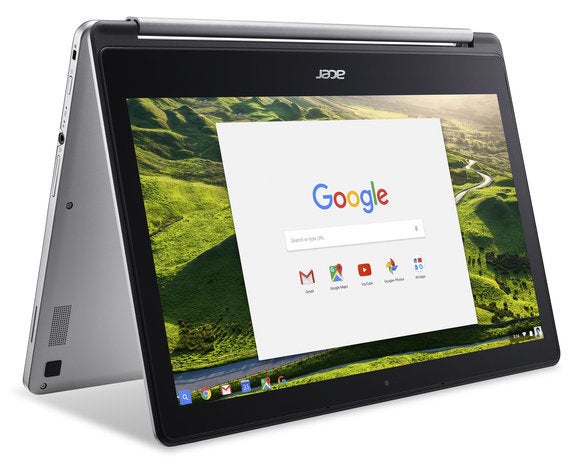 Chromebook Reviews
There's been a lot of doom and gloom talk lately about how badly PCs -- both desktops and laptops -- are selling. According to a recent report from IDC, "Worldwide PC shipments are forecast to decline by 6.4% year over year in 2016." 
However, the same report goes on to say that "overlap in usage and converging designs is accelerating the shift in notebooks to ultra slim and convertible designs, which are now expected to account for almost 63% of notebook shipments by 2020."
In other words, buyers are looking with favor on convertibles: Laptops with displays that can be moved to a variety of different positions, so that the system can be used not only as a keyboarded computer, but as a presentation device or tablet as well.
One of the more recent convertibles to hit the market is the Acer Chromebook R 13, a recent addition to Acer's line of laptops using Google's Chrome OS. The R 13 has the same moveable display as last year's Acer Chromebook R 11 -- its hinges allow it to be moved almost 360 degrees, from a "closed laptop" position around to an open laptop, further back so that you can prop it up on a desk, and finally so that the display rests face-up on the back of the keyboard, allowing it to be used as a tablet.
The new Chromebook R 13 is a slightly larger, slightly improved version of the R 11; and while I liked the R 11 when I tried it out about a year ago, I was even more impressed with the new device -- with a few caveats, it is one of the better Chromebooks available today.
The smaller R 11 offered an 11.6-in. 1366 x 768 IPS display; the R 13's IPS display has been upgraded to a 13.3-in. 1920 x 1080 resolution. The improvement is obvious; although the R 13 isn't going to compete with the latest MacBook or Surface as far as image quality is concerned, it is certainly quite good enough for viewing videos and other graphics. I tried it with several movies (and varying levels of action) and had only one complaint: the colors were a bit washed out when compared to more high-end displays. Sound comes from two speakers on the other side of the keyboard, and while the audio is  adequate, it won't blow any walls down.
The unit measures 12.8 x 0.61 x 0.6 in. and weighs 3.28 lb., which puts it on the edge of the "lightweight" category. It has a much more solid feel than most Chromebooks, although there is some flex if you lean on the top of the lid or push on the hinge. That being said, I got the impression that this one will last for the long haul.
I was extremely impressed with the keyboard, which has a very good feel; the keys have just enough give to be comfortable for long periods of typing. The touchpad isn't as large as the ones you'll find on some high-end laptops, but it was quite big enough for me (although I still have trouble remembering that there is no "right click" on a Chromebook touchpad; you have to tap it with two fingers instead). My only regret is the lack of backlighting on the keyboard.
The other specs are pretty impressive. The R 13 is equipped with a MediaTek MT8173C processor and 4GB of RAM (the minimum amount that you want it you're going to do any serious work on a Chromebook). It is powered via a USB-C port and includes a micro-USB port as well, allowing you to use it with older add-on devices and not have to worry about a dongle (unlike some devices I could mention). There is also an HDMI port and a microSD slot, which means that you can add to the system's storage (the R 13 comes in a 32GB and 64GB version).
One of the selling points of this machine is that it is one of the few Chromebooks currently capable of running Android apps, although at the time of testing, you could only access them in Chromebook's beta channel. I tried it with a couple of apps, and they installed smoothly and worked fine. I'm not sure what the advantage is, short of leading the way to merging the two operating systems, but it's certainly an interesting experiment.
Other features? There is an HD webcam (1280 x 720) that offers 720p HD audio/video recording. The 4.670mAh battery is listed as good for up to 12 hours; while I didn't perform any formal testing, it certainly lasted over a day's worth of use with power to spare.
Bottom line
Chromebooks are still thought by many to be inferior second cousins to macOS and Windows systems. However, considering how many users do most, if not all, of their work online, Chromebooks are a becoming a more realistic and even desirable alternative -- they tend to be less expensive, less complicated and more trouble-free.
The Acer Chromebook R 13 is an excellent example of a solid, mid-level system. It's got a very good display, great battery life, a comfortable keyboard, and (because it has 4GB of RAM)  enough power to run a video or a reasonable number of tabs without pausing for breath. Not to mention its touch screen, moveable display and ability to use Android apps. If you're shopping for a Chromebook, this would definitely be one to consider.
At a Glance
Acer Chromebook R 13

Pros

Display revolves to convert from laptop, to presentation mode, to tablet
Good performance
Can use Android apps (on beta channel)
Well designed, with excellent keyboard

Cons

Colors on display a little washed out
Audio volume not impressive
Copyright © 2016 IDG Communications, Inc.
Shop Tech Products at Amazon