Review: The iPhone 7 Plus is the best iPhone yet
Even without an audio jack, the iPhone 7 Plus is packed with a host of new features, top-notch specs and welcome updates.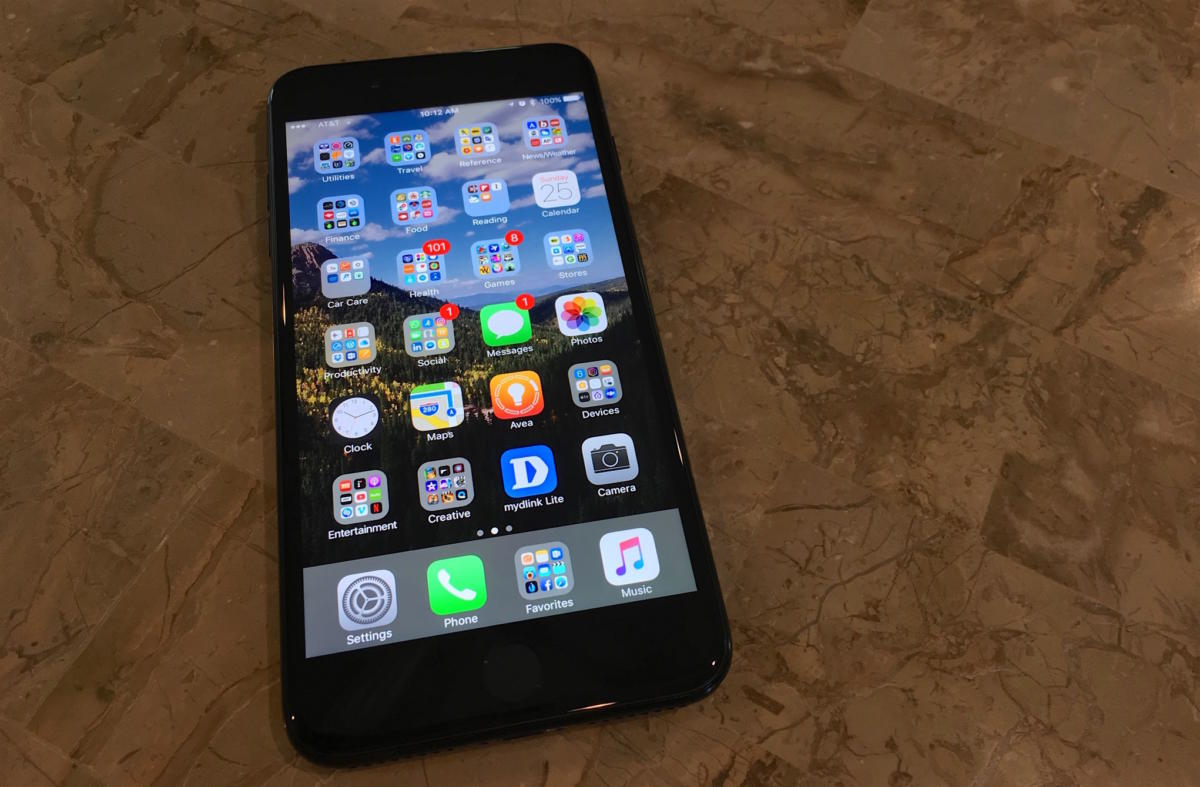 Let's get this out of the way about the biggest change to the iPhone 7: The elimination of the old-style audio jack doesn't mean Apple is trying to force users to buy wireless AirPods. The iPhone 7 comes with wired headphones (that plug into the Lightning connector port), and it comes with a free adapter if you have your own headphones you'd rather use.
If you're hung up on the missing audio jack, which you shouldn't be, then the iPhone 7 isn't for you. For everyone else, I'll be clear: The iPhone 7 is the best iPhone I've ever used - and I've owned every single version, dating back to 2007.
That this year's model is the best shouldn't be a surprise. Apple has to out-execute itself (and its rivals) every year if it's going to coerce millions of current users to upgrade and draw in Android users looking to switch. The iPhone 7 and 7 Plus, unveiled on Sept. 7 and in users' hands since Sept. 16, look much like the iPhone 6S and 6S Plus, but looks are deceiving.
The iPhone 7 features a water-resistant housing; a new, non-mechanical Home button that relies on haptics for feedback; major updates to the camera system; a notably better display; faster system performance and up to 256GB of storage capacity. Battery life, too, should be improved, despite the demands of the faster system architecture.
In hand, I have the 256GB version of the iPhone 7 Plus in jet black - the shinier of the two new black options. I've been using the phone since it arrived Sept. 24 after a variety of shipping delays. And yes, I got up at 3 a.m. to pre-order like millions of others. But jet black supplies were constrained from the get-go.
Hardware look and feel
For the third year in a row, Apple has kept the look and feel of the iPhone the same. This is a break from the company's every-two-year-redesign cadence, and has led to speculation that next year's 10th-generation model will represent a radical new look. The iPhone 7 sports a smooth casing made from 7000 series aluminum shaped to meet the all-glass front; build tolerances are tight enough to give a seamless appearance.
The iPhone 7 - the smaller of the two models - has a 4.7-in. LCD screen and weighs 4.87 oz.; the Plus model has a 5.5-in. screen and weighs 6.63 oz. Apple doubled the entry-level storage to 32GB, with 128GB and 256GB versions available for an extra $100 with each jump. (The jet black model is only available with 128GB and 256GB of storage.)
The iPhone's high-resolution Retina HD display is flanked by either a white or a black bezel; the rear case comes in silver, gold, rose gold, jet black and matte black. (Sorry, space gray fans - the iPhone 7 isn't offered in that color.) The most noticeable change is that the antenna lines have been moved to the top and bottom of the case, giving the iPhone 7 an unbroken, smooth finish. On the darker colors, the antenna lines pretty much disappear (unless held to the light at certain angles).
The Power button, mute switch and volume buttons are unchanged, and the Home button/ Touch ID fingerprint scanner is still centered at the bottom of the display. But it's no longer a mechanical button that you press down. It now uses a haptic sensor - Apple's Taptic Engine - that is pressure sensitive and gives click-like feedback when pressed.
The new Home button takes some getting used to; it's not any harder or easier to use than before, but it does feel different. The response to pressing the Home button is more akin to a thump than a click. One of the benefits of the new design is that you can adjust how much of a response you'll feel. Just go to Settings: General: Home Button.
Same design, but improvements abound
Why would Apple take what's become an iconic design routinely copied by competitors and tweak the Home button and headphone jack? For one thing, both changes help make the iPhone 7 more resistant to dust and water.
How resistant? Apple states that the iPhone 7 has an IP67 rating under the IEC standard 60529, which is legalese meaning it can survive for 30 minutes under three feet of water. It's fine if you drop it in the sink or get caught in the rain, but try to avoid scuba diving. (One tester actually did take it scuba diving while recording 4K video with its built-in camera. But you shouldn't.) If it does get immersed, Apple recommends waiting about five hours before attempting to charge the phone again.
Internally, the iPhone 7 is built around Apple's custom-designed A10 Fusion chip. In normal use, the iPhone 7 is responsive and quick to load, as was the iPhone 6S. The 64-bit A10 Fusion chipset is rated 40% faster than the A9 found on the 6S, so anyone upgrading from an iPhone 6S will notice a speed bump for everyday tasks like loading apps, browsing the web and loading content. That speed boost will be more dramatic if you're upgrading from an iPhone 6 or earlier. Apple boasts that the A10 is twice as fast compared to the A8 chipset in the iPhone 6, which itself was dramatically faster than previous models.
That's speaking subjectively. Geekbench 4 CPU scores rate the average iPhone 7 (and 7 Plus) score for multi-core CPU at approximately 5600 (and a single-core CPU score at around 3440). How does that translate into real-world performance? This video shows how the iPhone 7 and 6S stack up. In this test, rows of apps and games are launched, loaded, and closed in succession for two laps. The first lap is a good indicator of system speed as apps are loaded; the second lap shows how well the operating system handles resource management as it reloads each app. I like this test because that's what everyone does on their phone every day: open and close and reopen apps.
The iPhone 7 naturally bests 6S. And the 7 Plus tops the smaller 7, especially in the second lap. That's because the 7 Plus comes with 3GB of memory; 1GB more than what's in the iPhone 7. Because the iPhone 7 Plus can store more in memory, reloading apps is faster. That's not the only thing the additional memory is used for; I'll get to that below in the Camera section.
(For the curious, here's how the iPhone 7 stacks up against the Samsung Galaxy Note 7.)
Fast performance is important, but it shouldn't come at the expense of battery life. I'm pleased to report that I'm getting more life out of my new phone than I did with the iPhone 6S. I've been averaging between 20% and 40% of remaining battery life, having used the iPhone constantly between the hours of 8:30 a.m. and 5 p.m. (During my commute, I recharge both my Apple Watch and iPhone, so both start my work day at 100%.) With the iPhone 6S, I was having to re-charge by the time 4 p.m. rolled around each day.
So Apple delivered better performance and better battery life. How? At least some credit has to go to the A10 Fusion chipset. Fusion isn't just a slick marketing name; this CPU has four cores, one pair for high-performance work, another pair of lower-clocked cores for non-intensive tasks like fetching email. An Apple-designed performance controller determines which processes use which cores.
The Taptic Engine has also been updated. It's stronger, and can react faster in an expanded range of frequencies. For that reason, Apple tweaked iOS 10 to trigger haptic feedback for some specific actions. When activating 3D Touch (where you press down harder on the screen and get a pop-up menu) or using the Home button, this haptic feedback is useful; at other times -- when pulling down the Notification drawer or spinning the roulette interface like the Timer in Clock app -- it's just a fun addition.
The camera: Something to smile about
The iPhone 7 flat out takes better pictures than previous iPhones, especially in lower- light situations. That's true for both the smaller iPhone 7 and the larger iPhone 7 Plus, which has a new two-camera system.
In the iPhone 7, the rear camera has optical stabilization, an ƒ/1.8 aperture, and a six-element lens; it takes 12-megapixel photos. In low-light situations, photos still show some digital noise, but the new system is able to pick up more details and colors than before, and the optical stabilization helps reduce blur due to light camera shake. Not everyone has steady hands.
An updated True Tone flash system relies on four LEDs to compensate for low-light cases when a flash is needed. These LEDs are brighter than before (Apple says 50% brighter), and help bring out more natural colors (such as skin tone) compared to a traditional flash.
The rear camera also records video at up to 4K resolution at 30 frames per second and can capture better footage in low-light situations. As before, the iPhone 7 can also record Time Lapse and slow-motion footage.
Shop Tech Products at Amazon