---
Shopping links may be manually or programmatically inserted into this content, and our site may receive payment for activity generated through them. They should not be interpreted as editorial endorsements.
Best Deals of the Week, September 26th - September 30th - Deal Alert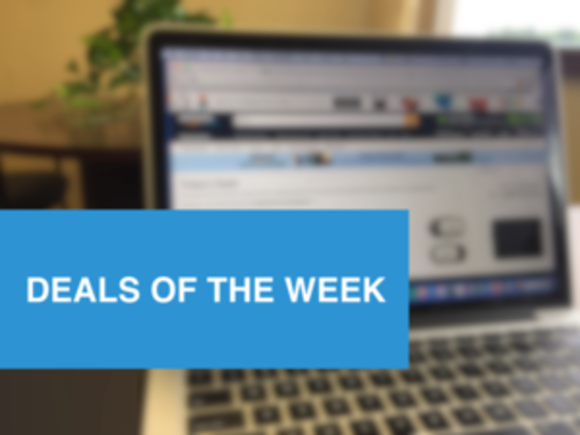 Best Deals of the Week, September 26th - September 30th - Deal Alert
Check out this roundup of the best deals on gadgets, gear and other cool stuff we have found this week, the week of September 26th. All items are highly rated, and dramatically discounted.
Discounts on New Amazon Echo Dot (2nd Gen) Bundles
Echo Dot is a hands-free, voice-controlled device that uses Alexa to play & control music (either on its own, or through a connected speaker/receiver), control smart home devices, provide information, read the news, set alarms, and more. Right now Amazon is discounting 3 bundles featuring an all new Echo Dot:
17% off Echo Dot + Philips Hue Starter Kit
14% off Echo Dot + Bose SoundLink Mini II
17% off Echo Dot + ecobee3 Smart Thermostat
33% off Kinivo 5 Port HDMI Switch With Auto-Switching & Remote
This highly rated splitter from Kinivo takes 5 HDMI inputs from your various devices, and outputs them to one HDMI connection. Ideal for TVs that just don't have that many HDMI inputs. The item currently averages 4.5 out of 5 stars on Amazon from over 9,000 customers (read reviews) and its list price of $59.99 is currently discounted 33% to $39.99.
63% off Etekcity 3 Pack Portable Outdoor LED Camping Lantern with 9 AA Batteries
Whether used for camping, trick or treating, or power outages, this lantern will provide up to 12 hours of bright omnidirectional LED lighting to see your surroundings. When the battery power of the lantern runs low, the brightness will dim to an energy saving mode to provide longer lasting illumination (up to 4 hours of low power usage). It's lighter, brighter and more portable than most flashlights while still featuring the rugged durability to withstand the outdoors. The military grade exterior is water resistant for more practical use in a high range of environments. Ideal for children, the lantern needs no setup or prepping with fires and oil. The design provides full omnidirectional lighting for clear vision no matter where you may turn. The fold-out collapsible handles make for easier portability and hanging.  This lantern averages 5 out of 5 stars on Amazon (read reviews) and the 3 pack's list price of $45.99 has been reduced to $17.99. (See it on Amazon)
63% off Anker Compact Car Jump Starter and Power Bank
This device from Anker is small enough to fit in your glove box, but packs enough power to jump start your 3L gas or 2.5L diesel engine a whopping 15 times on a single charge. Advanced safety features ensure total protection against reverse polarity, surges and short circuits. So there's no risk in hooking it up wrong or backwards like with traditional jump starters. It also has two built-in USB charging ports for your mobile devices, and comes with an 18-month warranty. It averages 4.5 out of 5 stars from 1,000 people on Amazon (read reviews), and its list price has been reduced to just $59. See the discounted Anker car jump starter on Amazon.
Up To $65 In Digital Content When You Purchase Fire TV Stick With Alexa Control
The next generation of the bestselling Fire TV Stick. The most powerful with the fastest Wi-Fi and most accurate voice search of any streaming media stick–now with the Alexa Voice Remote. Enjoy over 7,000 apps, games, and Alexa skills including Netflix, Hulu, HBO NOW, YouTube, Amazon Video, NBC, WatchESPN, Disney, and more. Launch and control content with the included Alexa Voice Remote. Simply say, "Play Game of Thrones" or "Launch Netflix" and Alexa will respond instantly. Plus, play music, find movie show times, order a pizza, and more—just ask. Activate your All-New Fire TV Stick with Alexa Voice Remote by October 31st and receive 1 month of Sling TV, 2 Months of Hulu, and a $10 Amazon Video Credit. See this deal now on Amazon.
42% off Corsair Waterproof Shockproof 256GB USB 3.0 Flash Drive
Military-style data transportation. That's how Corsair describes their Flash Survivor Stealth series of USB flash drives. Its anodized, aircraft-grade aluminum housing is waterproof to 200 meters, vibration-resistant, and shock-resistant while small enough to fit on your keychain. USB 3.0 offers read speeds up to four times faster than traditional USB 2.0 drives, so it's fast enough to play most videos directly from it, without having to transfer to a hard drive first. The drive is backwards compatible to 2.0 as well. Just plug it in, and it works with Windows, Mac OS and Linux without any additional software or drivers. This product also comes with a limited 5 year warranty. It averages 4.5 out of 5 stars from over 170 people on Amazon (read reviews), many of which report it's still alive after years of hard use. The 256GB model's list price of $156 has been reduced to $101.. If 256GB is more storage than you need, they have a 32GB model that's currently discounted 25% ($20.73 -- See it on Amazon).
24% off Sphero 2.0, The App-Enabled Robotic Ball
Sphero 2.0 is the app-enabled ball that does it all. Intelligent and well-rounded, Sphero lets you play, learn, and explore. Create obstacle courses, turn your living room into a video game with augmented reality apps, upgrade family game night with multiplayer fun, or learn to program with their free SPRK lessons. This virtually unstoppable companion is waterproof, pet-proof, and ready for any adventure. It averages 4 out of 5 stars on Amazon from over 300 people (read reviews) and its list price of $130 is currently discounted 24% to $99. At sub-$100, maybe a fun option to kick off the inevitable holiday shopping you're trying not to think about.
Have you seen Darkside by Sphero? It's described as deviant, defiant, diobolocal and dangerous. And it's discounted right now as well (12% off, $114 on Amazon). Command Darkside from your smartphone or tablet at speeds of up to 14mph. Darkside's durable shell means you don't have to worry about crashing and built-in LED's with customizable settings let you drive at night.
And don't forget Ollie. At a slightly lower pricepoint, it's currently discounted 31% to just $69 (See it here). Spin, drift, and flip with app-powered tricks. Then switch up your ride with custom tires and hubcaps. Ollie is engineered for speed, programmed for tricks, and is ready for your customizations.
34% off Master Lock Bluetooth Keyless Outdoor Padlock
Use your smartphone to open this padlock from Master Lock. Share access, monitor access history and receive alerts if someone is tampering. Designed for outdoor use, its shackle offers 2 inch vertical clearance and is made of boron for maximum resistance to cutting and sawing. The lock features alternate methods of access for when Bluetooth isn't available or the replaceable battery dies. Its typical list price of $89 has been reduced 34% to $59 (see on Amazon). An indoor version is available, also at a discount (28% off, $48 -- See on Amazon).
39% off iClever Backlight Bluetooth Folding Keyboard for Smartphone, PC, or Tablet
This lightweight and super portable keyboard from iClever features a compact design with full standard-size keys, but folds down into ⅓ of the size. This model has a convenient backlight feature with red, blue, or green selectable at two brightness levels, so you can type in every environment from a dimly-lit classroom to a dark airplane cabin. Its Broadcom Bluetooth module has a generous operating range of 30 feet, and connects quickly with your devices when you simply unfold the keyboard. The iClever backlit folding keyboard averages 4.5 out of 5 stars from nearly 150 people (read reviews) and its typical list price of $89.99 has been reduced 39% to $54.99. See it now on Amazon.
16% off ChargeTech 27,000mAh Portable Battery Pack with AC Outlet & USB Ports
Take the power of an AC Outlet with you wherever you go. This battery pack from ChargeTech is the first battery pack not to be limited by USB ports. Compact enough to fit your purse, backpack, or briefcase, it can handle laptops, lights, projectors, and even medical devices up to 85 watts -- almost anything you can think of. The included international adapter allows ChargeTech to work in any country around the globe. Take it on your travels or let your friends from other countries use it while they visit. This product averages 4 out of 5 stars from over 300 people on Amazon (read reviews). Its typical list price has been reduced to $185. See the discounted ChargeTech portable battery pack now on Amazon.
26% off American Red Cross Blackout Buddy, The Emergency Nightlight
Just leave the slim and trim Blackout Buddy in your wall socket and you'll never be in the dark. It automatically turns on when the power goes out so that you can easily locate it. Then, fold away the prongs and you've got yourself a flashlight. A very bright idea from the American Red Cross. Flip a switch and the Blackout Buddy also doubles as an LED nightlight, so you can keep your kids' rooms, hallways, or kitchen always illuminated. The Blackout Buddy keeps itself charged and provides up to 4 hours of light when needed. It averages 4.5 out of 5 stars from over 1,300 people on Amazon (read reviews). Its typical list price of $17.50 has been reduced to $14.
22% off ThermaCELL Mosquito Repellent Pest Control Outdoor and Camping Lantern
The Thermacell Mosquito Repellent Lantern effectively repels mosquitoes and other biting insects in a 15 x 15-foot zone. It has no open flames, operates on a single butane cartridge, and is perfect for a deck, porch or campsite. It averages 4.5 out of 5 stars on Amazon and is currently discounted to $31.02. See it now on Amazon.
Next Up: Check out these related slideshows