First look: Samsung Galaxy Note7 adds enterprise features to a consumer phone
A great new design and impressive specs add to what could turn out to be a top new smartphone.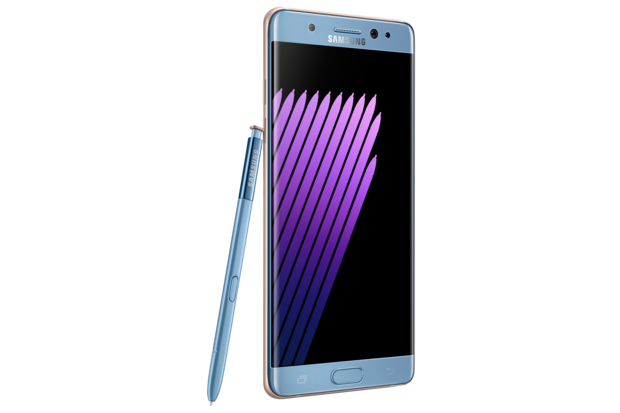 For several years now, the consumerization of IT -- the use of personal devices and services at work -- has been an issue in the news and in the boardroom. With its latest phone, the Galaxy Note7, Samsung has almost literally reversed the trend and brought the concerns of business -- specifically, data security -- to a consumer phone.
The Note7 starts presales on Wednesday and ships on Aug. 19. (At the time of this writing, prices were not yet available; the phone was expected to be available from major carriers with an unlocked version being offered sometime in the future.) It offers two new security features, one of which -- the Secure Folder -- offers the kind of container solution that has, up until now, been available almost solely for enterprise use.
Secure Folder uses Samsung's Knox platform to create a separate area for any data that you want to keep private: financial data, work email and/or contacts, work social networking accounts, medical records, etc. For those who use their phones for both work and personal tasks, and who have been reluctant to cede the administration of their phones completely to IT (which is often required), this could be a good solution, since Secure Folder is completely within the control of the phone's user.
The second addition is iris recognition, which (as demonstrated by Samsung reps) could make it even simpler to maintain the security of your smartphone's contents. Only a single person can use iris recognition at one time; other security measures, such as fingerprint recognition and the ever-faithful PINs, are also available.
These two security features are the icing on what, on first glance, looks to be a very good-tasting cake. The Galaxy Note7 has a 5.7-in. quad HD Super AMOLED display (2560 x 1440 resolution) that not only looks great but also includes the same slight curve as Samsung's Edge phone. However, what most impressed me initially was the feel of the phone; at 6.0 x 2.9 x 0.3 in., the device fits in the hand in the way that phones with much smaller displays used to. For example, it was much more comfortable to hold than my Huawei Nexus 6P, which has the same size display.
The rest of the specs are equally impressive. The U.S. version of the phone comes with a Qualcomm Snapdragon 820 processor with 4GB of RAM and 64GB of storage (and a micro-SD card slot); a 12MP rear camera and 5MP front camera; a 3,500mAh battery (no word yet on the estimated battery life) that offers fast charging via a Type-C USB connector along with NFC wireless charging; and, as mentioned before, both fingerprint and wireless sensors.
Samsung's S-Pen has been tweaked as well: It is smaller with a narrower tip; the button has been moved up to prevent accidental presses; and it is equipped with the same IP68-rated water and dust resistance as the phone (so you can write on your phone underwater, if you've got the urge).
There are a number of other additional features as well, including enhancements to the user interface and a simplification of Samsung's Android overlay. We'll be examining all these and more in our upcoming deep-dive review of the Galaxy Note7, once we've had a chance to do a real-life test of the device and find out whether Samsung's new flagship is as impressive in the long term as it seems at first glance.
Copyright © 2016 IDG Communications, Inc.
Shop Tech Products at Amazon