Say hello to Fedora 24, a Linux OS for a containerized world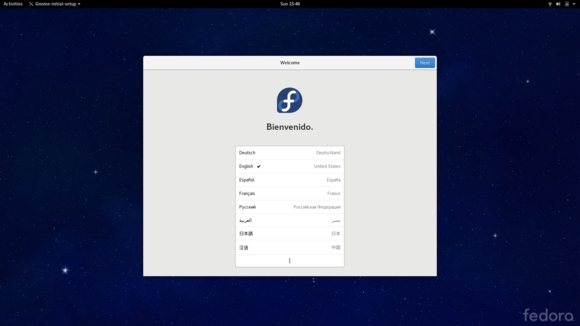 Say hello to Fedora 24, a Linux OS for a containerized world
Fedora 24 is the first 2016 release from the Red Hat-sponsored Fedora Project, and it made its debut on Tuesday. Included in the software are several key new features for enterprises. Here's a look at some of the highlights.
Three distinct editions
Like previous releases of the free and open-source operating system, Fedora 24 comes in three editions, each tailored for a distinct set of users: Fedora 24 Workstation, Fedora 24 Server, and Fedora 24 Cloud.
OpenShift Origin
One of the most notable new additions in Fedora 24 is the cloud edition's inclusion of OpenShift Origin, a Kubernetes distribution for application development and deployment. "Fedora users now have an additional powerful tool to not only build but also deploy and orchestrate many of the latest innovations in Linux containers," said Fedora Project Leader Matthew Miller.
New tools for developers
OpenShift Origin should make it easier for users of Fedora 24 Cloud to build and launch containerized applications. Also promising a smoother experience for users of the cloud edition, meanwhile, is a new developer mode for Fedora Atomic Host.
GNOME 3.20
Fedora 24 Workstation includes version 3.20 of the GNOME desktop environment. Also included is a technology preview of Wayland, offering a glimpse at what the project team describes as "the next-generation display server protocol and the graphical future of the Fedora desktop."
A dash of Cinnamon
Numerous alternative desktops are also available to users of Fedora 24's workstation edition, including Cinnamon, which was originally developed for Linux Mint.
All the apps you'll need
Fedora's workstation edition comes with a host of applications, including Mozilla's Firefox browser. Other notable changes in Fedora 24 include glibc 2.23 for better performance and improved POSIX compliance and GNU Compiler Collection (GCC) 6. All base packages have been rebuilt with GCC 6, the project says, providing better code optimization across all Fedora 24 editions and improving overall stability.
A world of choices
The MATE desktop is another option for Fedora 24 Workstation users as an alternative to GNOME 3.20. Shown here is the software's built-in file manager. Other desktop choices include KDE, LXDE, and Xfce.
A leaner, meaner server edition
There's a new Domain Controller role for Fedora 24 Server thanks to FreeIPA 4.3, offering smoother replica installation, segment creation and topology visualization. Fedora Server has also been slimmed down by eliminating unneeded packages, the project team says.
Topic-specific extras
Fedora Labs is a selection of curated bundles of purpose-driven software and content for areas including robotics, security, and scientific computing. These packages can be installed as standalone full versions of Fedora or as add-ons to existing Fedora installations.
Copyright © 2016 IDG Communications, Inc.
Next Up: Check out these related slideshows