Invasion of the tabtops: The new hybrid tablets reviewed
The Surface Pro, iPad Pro, Pixel-C and Galaxy TabPro S all seek to merge the tablet and the laptop, with mixed success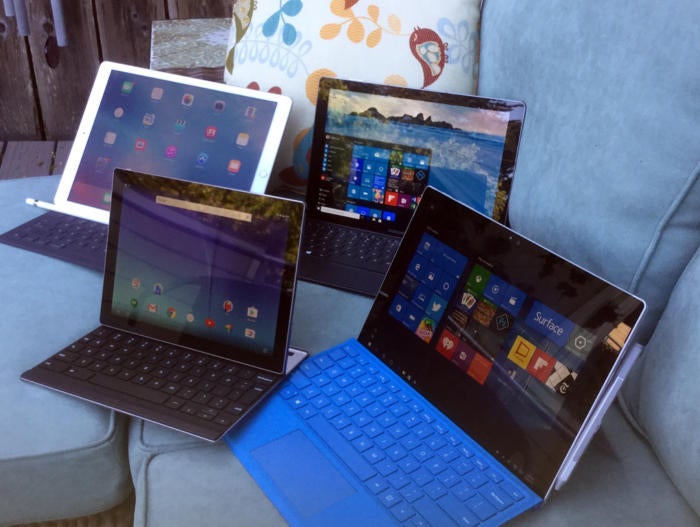 Tablets were the big thing a few years ago, purportedly soon to displace PCs. It didn't happen, and tablet sales have been dropping for several years. Except for one kind of tablet: the kind with a detachable keyboard, epitomized by Microsoft's Surface Pro. They're the rising star, both for IT organizations and for computer makers. 
Recent IDC data shows that more companies have deployed these devices -- let's call them "tabtops," since "laplets" sounds like the return of the netbook and "detachable tablets" doesn't quite ring true -- than have deployed slate-style tablets like the iPad. In fact, per IDC, nearly as many companies have deployed these "tabtops" as have deployed regular laptops or touchscreen laptops. (To be clear, IDC's survey isn't about the number of actual devices deployed, but about the types of devices that businesses deploy. The actual number of individual tabtops deployed is tiny compared to the number of traditional laptops or even iPads.)
The Surface Pro has matured into a capable and attractive product, and you need look no further for proof than Apple's iPad Pro, a clear response to the Surface Pro.
Google is now in the act, too, with its Pixel-C Android tabtop. Plus, Google plans to bring Android apps to its Chrome devices this fall -- by which time Android N will support multiple application windows, as iOS 9 and Windows 10 already do. Chrome devices are already available with detachable keyboards and touchscreens, so the infusion of multiwindow Android to both Android tabtops and Chrome tabtops will complete Google's journey to where Microsoft first ventured and Apple followed.
But what's the point of these devices? iPads and Android tablets have long supported Bluetooth keyboards and keyboard covers, which function very much like the detachable keyboard that largely defines a tabtop. (Never mind that both Microsoft and Apple make you pay extra for the detachable keyboard they presume you will use with their tabtops.) And why not simply use a MacBook Air or lightweight PC laptop if a keyboard is so essential?
That's the question this comparison seeks to answer: What's the point? Can these devices usefully straddle the worlds of tablet and laptop? Can a tabtop truly serve as both agile handheld and productivity powerhouse? Let's start with the devices themselves: the Microsoft Surface Pro 4, Apple iPad Pro, Google Pixel-C, and Samsung Galaxy TabPro S for Business.
Microsoft Surface Pro 4
The biggest selling point of the Surface Pro 4 (available from Amazon) is that it runs the full Windows 10 operating system and, therefore, nearly all Windows applications. It comes with a stylus, but you have to buy a detachable keyboard yourself, such as Microsoft's $130 Type Cover or its $160 Type Cover with Fingerprint ID.
The Surface Pro has a beautiful, responsive 12.3-inch touchscreen, and it's sized more like a laptop than some other tabtops (a good thing). Like a laptop, the Surface Pro has built-in Wi-Fi, Bluetooth, an audio port, and a USB 3 port, as well as a Mini DisplayPort, a proprietary keyboard attachment connector, and Microsoft's proprietary SurfaceConnect port. It weighs nearly 1.8 pounds, to which the Type Cover adds 0.6 pound. Prices range from $899 to $1,799, depending on the processor (m3, i5, or i7) and amounts of flash memory (128GB or 256GB) and RAM (4GB, 8GB, or 16GB) installed.
The Surface Pro is awkward as both a laptop and as a tablet. When used as a laptop, the Microsoft Type Cover is unsteady because of its thin, flexible backing, so typing is more difficult than it should be. The Type Cover's trackpad is also not smoothly responsive. You'll want a real keyboard and mouse when at your desk. The Type Cover is suitable only for occasional use such as when on the road.
The Surface Pro also works poorly as an on-the-go laptop, in what I'll call tabtop mode. With the Type Cover attached, the device doesn't fit on a lap; its kickstand will hang over your knees, causing the screen to fall backward. You need to do your work on a table, desk, or other work surface.
Or ditch the Type Cover and work all-touch as you would with a traditional tablet. Unfortunately, the Surface Pro is too big and heavy to use that way for long. The Surface Pro is uncomfortable to hold with one hand and tap with another. And it's hard to tap-type BlackBerry-style with two thumbs when holding it with two hands; you'll definitely want to use the split-keyboard feature of the onscreen keyboard when doing so. (Long-press the Keyboard key on the onscreen keyboard to get this option.) But note that the split keys are awfully small, and their placement at the bottom can make it hard to thumb-type the lower keys.
When used as a tablet, Windows 10's Tablet Mode, if enabled, makes the screen items larger, so you can actually read and touch them. But due to Tablet Mode's overall design, it's an unpleasant experience. For example, Tablet Mode hides the taskbar's pinned applications and the Start menu by default -- two of the most convenient and frequently accessed interface elements in Windows 10. You can reenable the taskbar's pinned applications in Settings, and you can display the Start menu by first pressing the Windows button, then the Start Menu button that appears above it in the Start screen. 
Tablet Mode also hides the window controls for apps, making them single-window. You can move among open windows using the Multitasking button, similar to how Android works. Or you can slide your finger inward from the left edge to display all open windows, similar to how OS X's Mission Control feature and iOS 9's swipe-from-right feature work.
To work in multiple windows simultaneously, you have to exit Tablet Mode. That's a poor design choice; you should be able to arrange windows side by side in Tablet Mode, as you can on an iPad with iOS 9 or a recent-model Samsung Android tablet.
But the worst part of Tablet Mode is that the onscreen keyboard doesn't always appear when you tap in a text field or area. I experienced that in Microsoft's own applications, such as Word and Excel. This was an issue in Windows 8's Tablet Mode as well.
Tip: Long-press the Multitasking button in the Tablet Mode, then withdraw your finger. A menu will appear; select Show Touch Keyboard Button, so when Windows doesn't display the onscreen keyboard when it should, you can tap the Keyboard button in the taskbar to force its appearance.
The Surface Pro does comes with a stylus, an adequate device that's easy enough to hold and responsive at almost any angle. It's fine for signing documents, drawing in notes, or using as you would a typical stylus -- which is what it really is. But don't expect pressure sensitivity or similar professional illustration capabilities. Do be glad it magnetically attaches to your Surface Pro when not in use, so you're less likely to misplace it.
All in all, the Surface Pro 4 is a poor merger of tablet and laptop, mainly due to poor ergonomics in both modes. It's OK as a laptop and OK as a tablet, but don't try to use it on your lap or other in-between environment. You're better off getting a 2-in-1 device that has a substantive detachable keyboard or simply using a laptop. 
Apple iPad Pro
After it became clear that the imperfect Surface Pro had struck a nerve with some corporate users -- and more important, with IT departments hoping to restandardize on Windows across all devices -- Apple did its own version, the iPad Pro (available from the Apple Store). The iPad Pro is basically an iPad Air with a pressure-sensitive stylus option, a faster processor, a detachable keyboard option, and a better screen. If a Surface Pro is a slimmed-down laptop, an iPad Pro is a bulked-up tablet.
The iPad Pro comes in two models: one with a 9.7-inch screen and one with a 12.9-inch screen. They both offer fingerprint unlocking, Wi-Fi, Bluetooth, an audio port, and the proprietary Smart Connector (used for the detachable keyboard). Both versions come in 32GB, 64GB, and 128GB models, and in models equipped with an LTE cellular radio.
The smaller version comes in four colors, weighs 1 pound, and has a better screen and cameras than the larger version; its prices range from $599 to $1,029. The larger model comes in three colors and weighs 1.6 pounds; its prices range from $799 to $1,229. The optional Smart Keyboard weighs 0.5 pound and costs $149 for the smaller iPad Pro and $169 for the larger model. The optional Apple Pencil stylus costs $99. 
The iPad Pro doesn't have the huge Windows software library of Windows available to it, unlike the Surface Pro, but it can draw on the Microsoft Office suite and Apple's own iWork suite, which both excel at productivity work. Microsoft's Outlook client for iOS is not as good as Apple's own Exchange clients, but both are available. And iOS has really good business apps: GoodReader, Grafio, iThoughts HD, OmniFocus, and Scanner Pro, to name a few. Plus, the likes of IBM and SAP offer apps designed for specific industries. It's a mistake to think the iPad can't do real business work.
The smaller iPad Pro is comfortable to use as a tablet, whereas the larger iPad Pro is not -- it's too big to hold for long in one hand and tap with the other. You can hold the larger iPad Pro in two hands and tap BlackBerry-style with two thumbs using iOS's split-keyboard feature, but its 1.6 pounds will discourage extended sessions. (Most people can tap BlackBerry-style on the smaller iPad Pro without needing to split the keyboard.) iOS nicely positions the split keyboard partway up the screen so that your thumbs can more easily reach the lower keys (you can move it if desired), but those keys are awfully small.
As a tabtop, both iPad Pros are awkward on a lap, because the Smart Keyboard isn't that stable on nonlevel, noncontinuous surfaces like your legs. It also will not fit on many laps, and the screen angle -- which is not adjustable -- may be too steep for people with short torsos. The iPad Pro is better than the Surface Pro for such on-the-lap usage, but it suffers ultimately from the same design flaw: the assumption that you will type only when using it on a desk or table.
The iPad Pro is worse than the Surface Pro in another ergonomic regard, both for tabtop and laptop use: The lack of a trackpad on the Smart Keyboard means you have to keep adjusting between fairly horizontal keyboard position and fairly vertical touchscreen position for gestures. That can really slow you down.
As a laptop, the iPad Pro is merely adequate. The Smart Keyboard is a mediocre keyboard: It has little key travel, so there's very spare feedback unless you type very deliberately and more forcefully than usual. It also tends to flex when you type, causing the attached screen to jiggle. The lack of a trackpad means you're constantly moving your hand from the keyboard to the vertical screen and back. The screen angle when the keyboard is in use is not adjustable, though the angle imposed by the Smart Keyboard is decent for most people.
There's a least one third-party keyboard cover available for the iPad Pro, the Logitech Create, but it has its own trade-offs.
The larger iPad Pro's beautiful screen not only gives you more real estate but -- like the smaller iPad Pro and its equally beautiful screen -- also displays text large enough to be read when used as a laptop (where the screen is further away than when you hold it for use as a tablet). Many laptops -- both Windows and OS X models -- cram too much on their screens to be readable, forcing middle-aged and older adults to adjust the resolution down or to wear magnifying glasses.
iOS 9's split-screen mode is nicely designed, and you can work in the two windows simultaneously for most apps (the app needs to support this feature, but many do now). You can also change the split to one-third or one-half the screen width. It's easy to open a different app in the right-side split, but you can't easily change the app in the left-side split; you have to exit to the Home screen and launch a new app, then reopen the split-screen mode. (The good news is your last right-hand split-screen app is automatically reloaded on the right side.)
The larger iPad Pro is definitely the better choice if your usage will be mostly on work surfaces, as a laptop. The smaller iPad Pro is definitely the better choice if your usage will be more handheld, as a tablet.
The Apple Pencil is a great stylus, with a very natural feel. Artists and architects I know simply love it, saying it's the first stylus they've ever used (including the Wacom pens that have long been those industries' standard) that feels as fluid and responsive as a real pen or pencil. The reason: The Apple Pencil has the same size, weight, and dimensions as a real pen, so your fingers already know how to use it even for fine motions. Most styli differ significantly in size, weight, and feel from real pens and pencils, so you have to learn to use them. The Apple Pencil especially shines if your app supports pressure sensitivity and tilt drawing (when you tilt it, the brushstroke gets larger, as would a real brush).
Shop Tech Products at Amazon