Register to download the Computerworld Digital Magazine!
In the May 2016 issue:
Cross-Border Data Blues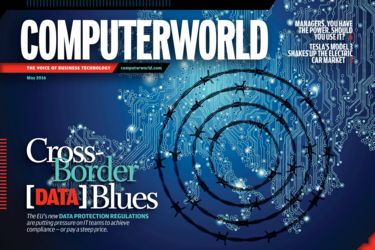 The EU's new data protection regulations are putting pressure on IT teams to achieve compliance -- or pay a steep price.
Busting Application Bloat
Trimming applications can save money, but be prepared for a potentially tedious inventory process -- and for users with emotional attachments.
7 Ways to Get the Most From Your Vendors
Vendor management strategies have changed dramatically in the past few years, with new approaches like consolidating your vendor lineup and choosing smaller vendor partners.
The Grill: Hervé Coureil 
This CIO's business-focused résumé includes a stint as a CFO on his way to building a global IT operation at Schneider Electric.
News Analysis
The rush of pre-orders for Tesla's Model 3 -- which will cost at least $35,000 and won't be available for a year -- prompts comparisons to the consumer frenzy sparked by iPhone announcements.
Opinions
Thornton May says "known knowns" are becoming a smaller percentage of our knowledge set, so the best path forward is to amplify your capacity to anticipate the unknown unknowns. And Paul Glen says even though managers may not feel so powerful in their day-to-day interactions with staffers, they are -- and they should use that power wisely.
Security Manager's Journal
Our manager's company has an official password vault, so why are employees sharing a spreadsheet that contains scores of passwords?
Shark Tank
S
Read the latest exploits of hapless bosses and clueless users.