Deep-dive review: For the iPad Pro, smaller is big
Apple's newest 9.7-in. tablet marries high-end hardware with a more manageable size.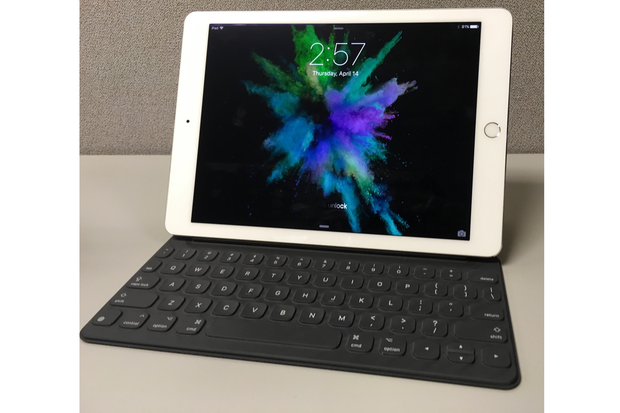 Over the last few years, Apple's mobile product cycle has revolved around "bigger and thinner." Now that mantra has been flipped on its head by Apple's latest releases -- -- that emphasize the notion that smaller might just be better.
First up is the new iPad Pro, which Apple unveiled on March 21st. This iPad Pro starts at $599 (vendor price), $200 less than its larger 12.9-in. sibling.
I've been an iPad user from 2010, when it first shipped; the 9.7-in. screen has been a hallmark of the iPad since it was introduced by then-CEO Steve Jobs. Since then, the screen has undergone numerous revisions and improvements, most notably, adopting the Retina display technology that first appeared on the iPhone.
This latest model not only gets many of the architecture advances from the larger iPad Pro -- such as an updated processor and a new, much-improved speaker design -- but also a better camera and what may be the most advanced display Apple has shipped. That's no small feat considering how advanced the larger iPad Pro was when it was announced last fall.
Second verse, almost the same as the first
This particular model is officially known as the 9.7-in. iPad Pro. Built around a 2048 x 1536-pixel Retina display, it weighs just 0.96 lbs. and is 6.1mm thick. It borrows some features (such as the camera system) from the iPhone 6S, and comes with all of the advances that made the 12.9-in model so compelling: a custom 64-bit A9X processor with an M9 coprocessor, as well as a graphics system that's twice as fast as the iPad Air 2 it replaced; a four-speaker setup that automatically shifts higher frequencies to the top speakers and lower frequencies to those at the bottom, no matter which way you orient the tablet; a Smart Connector for attaching accessories and for providing power and data without physically plugging anything in; and Apple Pencil support. (This last involves dynamically switching to 240 scans per second for low-latency onscreen drawing with the Pencil, along with palm- and finger-rejection technology to avoid inadvertent input while sketching or taking notes.)
The particular model I've been testing is a 256GB version in silver and white with Wi-Fi and cellular/GPS capabilities, priced at $1,029 (without the cellular/GPS, it costs $899). I'm glad 256GB of storage is now an option -- I like to have with me my entire library of music as well as all of the video projects I have worked on; it's like a digital life resume. (A similarly configured 12.9-in. iPad Pro is now also available for $1,229.)
While, on the whole, the iPad looks pretty much like the iPad Air 2, the cellular model sports a new look. The back side now has antenna lines like the iPhone instead of the black plastic patch Apple used on previous models of its tablet. This gives the rear of the iPad a much cleaner look.
Out of the box, I couldn't believe my eyes. After spending the past few months with the 12.9-in. model, the 9.7-in. iPad felt and looked like an iPad mini. I even felt comfortable two-thumb typing with the split keyboard in the Messages app, as if the iPad was a slightly bigger iPhone Plus. (Like an iPhone Plus Pro SE?)
Moving from one Apple device to another is pretty seamless on the Apple mobile platform. I was able to restore my apps and data from a backup, allowing me to just pick up from where I left off on the other iPad. Everything successfully synced over: bookmarks, notes, contacts, documents and apps were correctly restored from the iCloud backup. (To bring over my movies, music and TV shows, I had to connect the iPad to my Mac via iTunes.)
An even better display
I brushed this off as just another great iPad display during my Mingis on Tech chat (see video above), but boy, do I wish I had a do-over. This display is better than I originally gave it credit for, featuring a screen that's up to 25% brighter than the Air 2 and 40% less reflective, according to Apple.
I thought the iPad Pro's Retina display was bright and crisp, offering vibrant colors and great pixel density. I was more right than I realized. According to DisplayMate, a company which evaluates displays, "It is the most color accurate display that we have ever measured. It is visually indistinguishable from perfect, and is very likely considerably better than any mobile display, monitor, TV or UHD TV that you have."
One new display feature that I really like is called True Tone. It dynamically adjusts the display's white point and intensity based on readings from four ambient light sensors. The idea is to replicate the behavior of surrounding light on a piece of paper; in reality, I found that this feature works really well and is largely invisible. I didn't really recognize it was working until I turned the feature off in a warmly lit room and the display shifted back to a cooler color spectrum.
Having now grown accustomed to this feature on this iPad, I really wish my Mac, iPhone and 12.9-in. iPad Pro had it too.
Cameras and other neat features
The 9.7-in. iPad Pro borrows the iPhone's 6S's color scheme and camera. The new models come in four color options: silver, gold and rose gold with a white bezel around the screen; and space gray, which continues to be the only model with a black bezel.
Although the larger iPad Pro ships with an 8MP iSight (rear-facing) camera and a 1.2MP FaceTime HD (front-facing) camera, the 9.7-in. model comes with 12MP iSight and 5MP FaceTime HD cameras. Both cameras support Live Photos, and the iSight camera supports tap to focus with Focus Pixels (for faster focusing), 63-megapixel panoramas (up from the 12.9-in. model's 43 megapixels) and True Tone flash (for more natural colors when using the flash).
It also has better video support for the iSight camera: 4K HD recording with 240fps at 720p (and 120pfs at 1080p), cinematic stabilization and continuous autofocus. The front-facing camera also supports Retina Flash: A hardware design that allows the display to instantly operate at three times the typical brightness to act as a flash in low-light situations.
Rounding out this iPad's features: There's TouchID (for securely authenticating apps and unlocking your phone using fingerprints); up to 10 hours of battery life; ApplePay support (within apps, though, so don't expect it to work in stores like the Apple Watch and iPhone do); always-on Siri; and, for $130 over the base cost, Wi-Fi/cellular with built-in GPS.
As for those cellular models, the new iPad supports 23 LTE bands (three more than before) and offers a maximum of 300Mbps LTE Advanced download speeds. That's double the 150Mbps LTE speeds offered in the 12.9-in. iPad Pro.
No need for more speed
Apple boasts that the new iPad is almost twice as fast as the iPad Air 2 in processing speed and says graphics performance is fully double that of the Air 2. That's certainly how it's felt using it day to day, though the Air 2 continues to be a smooth running tablet, even with hardware that arrived in 2014.
Even though the larger tablet has 4GB of RAM and the 9.1-in. version has 2GB, I saw no discernible difference in performance. The 9.7-in. iPad felt as responsive as its larger sibling. Games, tasks and even editing 4K drone-produced video on the fly worked without issue. And the four-speaker design sounds really rich, with better highs and lows than the Air 2.
I also used the Apple Pencil ($99), the Lightning to USB 3 Camera Adapter ($39), the Lightning to SD Card Camera Reader ($29) and the Smart Keyboard ($149). These are the accessories that truly make an iPad Pro, big or little, a competitor. That said, the Apple Smart Keyboard for this model requires some getting used to due to the keyboard's smaller size. On the other hand, it doesn't add much bulk.
For videographers on the go who don't want the bigger iPad Pro, this one serves nicely in the field for quick editing. I used the SD card reader to transfer 4K video taken with my Phantom drone directly to the iPad and then edited it in iMovie. The process was all very seamless, very well executed.
Bottom line
With this latest update, Apple again shows that each generation of iPad is edging closer to the capabilities that not long ago were limited to traditional desktops and laptops. The iPad actually surpasses a PC in some ways with features like the True Tone display; support for the Apple Pencil as a note-taking and sketching accessory; automatic backups to iCloud; the one-two security punch built into iOS 9 and TouchID; the still-growing App Store; and a burgeoning hardware accessory ecosystem.
If you're looking for a tablet, and the 12.9-in. iPad Pro is too big for you, this one is highly recommended.
Copyright © 2016 IDG Communications, Inc.
Shop Tech Products at Amazon