Detachable laptops
Hands on: Samsung's Galaxy TabPro S is a 2-in-1 worth considering
Samsung's new Windows 10 detachable could be a real challenger to Microsoft's Surface Pro line of tablets.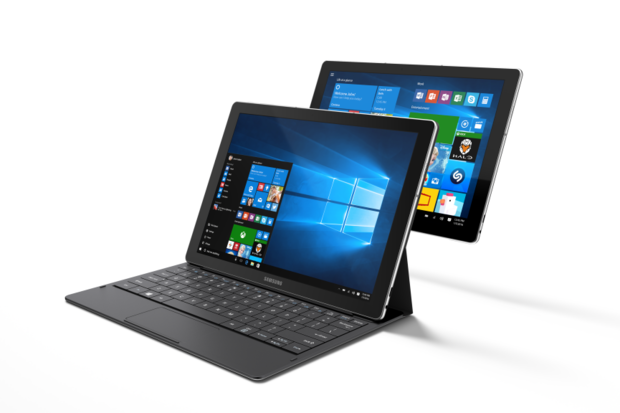 According to a recent IDC study, 2-in-1 devices -- tablets that convert to laptops by adding detachable keyboards -- are a growing trend, especially among Windows detachables, which make up 53% of the market.
The best-known product in this category is, of course, Microsoft's Surface Pro 4. However, never slow to pick up on new mobile technologies, Samsung has just introduced its contribution to the 2-in-1 Windows 10 market: the Galaxy TabPro S, a slim, lightweight 12-in. tablet/keyboard combo that goes on sale today for $900.
I've been trying out the TabPro S since yesterday, and if given the choice, I find I'd have difficulties choosing between that and the Surface Pro 4. Not because they are so similar -- but because each has its own separate pros and cons.
But first, the facts. If you just look at the specs between the TabPro S -- which currently comes in a single model -- and the least expensive version of the Surface Pro 4, there are a lot of similarities.
Samsung Galaxy TabPro S vs. Microsoft Surface Pro 4
| | Samsung Galaxy TabPro S | Microsoft Surface Pro 4 |
| --- | --- | --- |
| Processor | Intel Core m3 | Intel Core m3 |
| Display | 12-in. Super AMOLED, 2166 x 1440 resolution | 12.3-in. PixelSense, 2736 x 1824 resolution |
| Size | 11.43 x 7.83 x 0.25 in. | 11.50 x 7.93 x 0.33 in. |
| Weight | 1.53 lbs. | 1.69 lbs. |
| Battery life | 10.5 hours | 9 hours (video playback) |
| Memory | 4GB | 4GB |
| SSD storage | 128GB | 128GB |
| OS | Windows 10 Pro | Windows 10 Pro |
| Speakers | 2 stereo speakers | 2 stereo speakers |
| Ports | 1 USB-C, 1 headset jack, 1 cover port | 1 USB 3.0, 1 headset jack, 1 mini DisplayPort, 1 cover port, 1 SurfaceConnect (docking), 1 power port |
| SD-card reader | No | 1 microSD |
| Keyboard cover | Included | Optional |
| Cameras | 5MP front-facing/5MP rear facing | 5MP front-facing/8MP rear-facing |
| Pen | Optional | Included |
| Vendor price: | $900 | $899 ($1,029 w/keyboard cover) |
There are several other iterations of the Surface Pro 4, up to an Intel Core i7 with 8GB RAM and 256GB storage (which would run you $1,799 with the type cover). But these are the two most comparable in specs.
Slim, light and lovely
The 11.43 x 7.83 x 0.25 in. TabPro S is indeed slim, impressively so, and at 1.53 lbs. is very easy to carry around. The power button and volume toggle are on the top edge ("top edge" in this case being the side on top when you're using the keyboard). There are two stereo speakers, one on the left edge and one on the right; also on the right edge is a single USB-C port and a headset jack.
It's interesting that Samsung has decided to go with the new USB-C protocol here when it is still using the older USB 3.0 format with its new Galaxy S7 and S7 Edge smartphones. Perhaps this is because the TabPro S is essentially something new for Samsung and doesn't need to be backward compatible with existing peripherals.
Along with its keyboard cover (which, unlike the Surface Pro 4's, is included with the tablet), the TabPro S comes with a USB-C cable and an AC adapter that allows for Adaptive Fast Charging (which uses the Qualcomm Quick Charge technology). If you want to charge the tablet and plug something into the USB drive at the same time, you'll have to get yourself a USB hub.
You will also need the hub and an adapter if you want to use an SD card; unlike the Surface Pro 4, the TabPro S does not come with an SD-card port. What it does come with is a 2.2GHz Intel Core M3 processor with 4GB of system memory and 128GB of storage. Samsung claims up to 10.5 hours of battery life.
The display is, as promised, impressive; the 12-in. Super AMOLED display (which is capable of up to 2166 x 1440 resolution) delivers striking colors in great detail. I watched a nature special and was able to pick out the detail and colors in an owl's features and the surrounding forest very nicely. I also spent some time with a couple of fast-moving science fiction films and didn't observe any pauses or other indications of performance issues, although some of the scenes seemed a bit darker than they had to be.
(As somebody who has already managed to trash one high-end tablet, I was a little dismayed to find that it Samsung does not use Gorilla Glass. However, a representative assured me that the device will stand up under reasonable usage.)
The two stereo speakers aren't bad either -- for tablet speakers. They provide a nice sense of stereo and are capable of reasonable -- although far from overwhelming -- volume. You'll still want a separate speaker for some real kick, but they'll do nicely otherwise.
Working with the keyboard
The keyboard cover that comes with the TabPro S is an ingenious piece of engineering, although it may take a few minutes to get used to it. Unlike the Surface, which attaches to its keyboard cover at one end, the TabPro S's cover protects both the front and the back of the unit.
To use it, you open the cover and move the bottom of the tablet slightly forward until it clicks into the keyboard's port; the back of the cover attaches magnetically to the back of the tablet. The back cover folds so that tablet leans against it, either nearly upright or in a much lower position. This isn't as flexible a setup as the Surface's, where a built-in kickstand allows you to put it in nearly any position.
When you're done, you lift the TabPro S slightly from its port and slide it back; the process takes a bit of getting used to.
All that being said, the experience of actually typing with the TabPro S keyboard cover is not at all bad. It feels much more like a desktop keyboard than the more rubbery typing cover that came with the Surface Pro 3 (the newer keyboard that works with the Surface Pro 4 is supposed to be an improvement). I became comfortable with it a lot sooner than with the Surface, and was able to come up to speed fairly quickly. However, it doesn't angle as the Surface does (which can be helpful when tuyping) and lacks the backlighting.
The typing area is also narrower than the Surface Pro 3's; the result was that, when I used it on a desktop, my palms rested on the desk itself rather than (in the case of the Surface) the keyboard.
One of the marketing factors with a 2-in-1 is the ability to use it in any circumstance -- including the ability to type while it's sitting on your lap. As somebody who attends a lot of events where I need to do a lot of quick typing without a surface to lean on, that's a real factor for me. The Surface Pro 3 was pretty good in that regard; I was able to use it as a real laptop computer without much difficulty (much to my surprise).
The TabPro S experience is slightly different. The keyboard is more rigid, which works better on a soft surface (such as a lap). However, the weight of the tablet pulls it back somewhat so that, when I lift my hands off the keyboard, I feel as if the device could easily tip back and down.
The TabPro S as a business tool
Samsung has made no bones about making inroads into the enterprise. The TabPro S will be equipped (as of April, according to representatives) with Samsung Flow, software that lets you use a Samsung smartphone as an authentication device. According to Samsung, phones installed with the app (back as far as the Galaxy 6) will be able to automatically connect to the table and use the phone's fingerprint reader to unlock the tablet (thus providing multiple authentication -- both with the fingerprint reader and the presence of that specific phone). Flow will also automatically sync your data.
Flow will only be available to users of Samsung laptops (including the Galaxy TabPro S) and phones -- a way, in other words, to persuade businesses to invest in the Samsung ecosystem. Whether this will work in an economy that still seems to be caught up in BYOD is an interesting question.
There are also a number of peripherals for the TabPro S that weren't available yet at press time. Samsung's S Pen is being replaced by the TabPro Pen, which will clilp magnetically to the cover and, according to Samsiung's literature, will provide "a realistic pen experience." And a multiport adapter for the USB-C port will include extra USB ports and an HDMI port.
Bottom line
Would I choose the TabPro S above the Surface Pro 4? That would depend on a variety of factors.
The TabPro S is definitely a good alternative to the Surface Pro 4 if you're already invested in the Samsung ecosystem -- and especially if your company wants to use Flow as a security strategy. (We hope to report on how well Flow works next month, when it becomes available.)
While I have only used the tablet for a short time so far, performance seems quite satisfactory -- and the display is really excellent. The keyboard cover is a bit more awkward to use than the Surface Pro's, but offers a very satisfactory typing experience -- and doesn't have to be purchased separately. You get both the tablet and the keyboard cover for $900, which is $129 less than you'd pay for the equivalent Surface Pro 4.
Keep in mind that there are other 2-in-1 devices available or on their way, including Apple's iPad Pro and the Huawei MateBook -- so there isn't a lack of choice out there.
But whoever else decides to enter the ring, there is no denying that the Samsung Galaxy TabPro S is a real contender.
Copyright © 2016 IDG Communications, Inc.
Shop Tech Products at Amazon