CES quick take: Omnity offers a new type of online research
If Googling doesn't help you find the information you need, there may be an alternative: A research application based on context.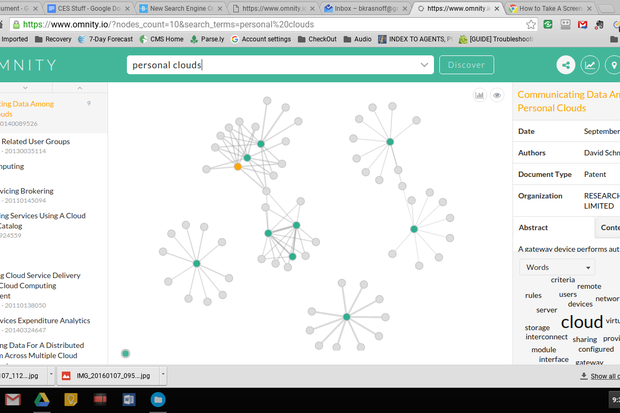 Research is not a simple task, nor is it always fruitful. Sometimes, it can take hours trying out keywords, seeing where those keywords lead and following up those leads until you've finally gotten the information you were looking for. Sometimes, those threads can finally lead you to conclusions, or down paths you weren't aware of to begin with.  
A new application called Omnity, which was being shown in the Eureka Park section at this year's CES, tries to help in that quest by allowing users to search for information through context rather than simply via keywords. Sponsored by the National Science Foundation, Omnity uses algorithms that find connections between the rarely shared words in a sentence or paragraph and then research those connections.
"You don't have to know exactly what you're looking for," said Warris Bakhari, a physician and one of the company's representatives. The idea, he went on to explain, is to ignore taxonomy and discover associations that might not have come from a direct search.
While I haven't extensively explored the application, just a few minutes searching some phrases showed how interesting the results could be. When you start a search in Omnity, you get not only documents directly associated with your search terms, but a set of secondary documents which, in Omnity's terms, "share vocabulary with a primary document." A graphic, which shows how those documents are connected, can be used to explore the results. You can generate a report of your search; click on any document to see information about it in a right-hand windows and then open that document in a separate page.
Omnity promises a more thorough and creative search -- but can it deliver? Currently, while it is still in development, the service is free. It will remain free to individuals and academics, while eventually companies that wish advanced services -- such as searches through professional documents and other less common resources -- will be offered various subscription tiers.
Meanwhile, it may be worth trying out for yourself.
Copyright © 2016 IDG Communications, Inc.
Shop Tech Products at Amazon