Cool tech at CES 2016
All the cool and interesting tech making a splash at CES 2016.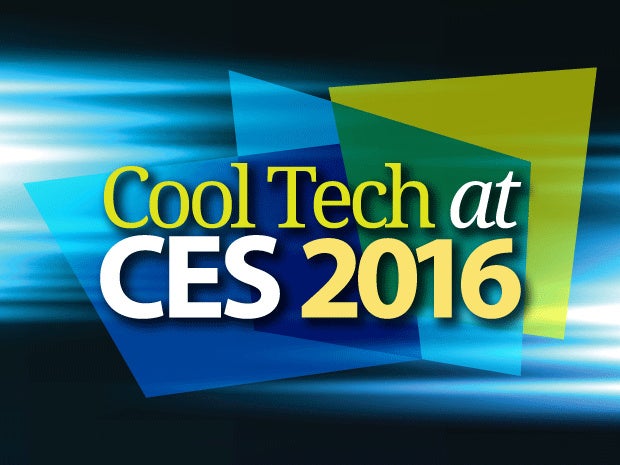 CES 2016
CES 2016 is off to a strong start, with lots cool tech and new gadgets on display. Here is a look at some of the highlights of the show.
We'll be updating this slideshow throughout CES (with the newest slides at the beginning) to continue to bring you the most interesting tech that CES has to offer, so check back regularly. 
The Egg hatches a personal cloud
There are a number of personal clouds being introduced into the market for families, small businesses and individuals who want to share music, photographs and other files among people and devices over the Internet, but would rather avoid public cloud services. The Egg is a modest but interestingly-designed personal cloud device that looks like a hard-boiled egg that's been cut in half, with the flat "center" offering a small LCD screen so you can review some of your content. It offers apps for iOS and Android devices.
The Egg has just begun shipping; it offers a 64GB version for $199; 128GB for $299; 256GB for $399. It comes in several colors, including one that resembles a robin's egg.
-- Barbara Krasnoff
An all-electric concept car that has been likened to the Batmobile
Faraday Future's FFZero1 all-electric concept car was one of the most awaited "unveils" of CES. The car manages 0-60 mph in less than 3 seconds thanks to over 1,000 total horsepower and a top speed of more than 200 mph. There's also the distinctive styling that had many likening the car to the Batmobile. It's promised in two years. You probably can't afford it.
-- Martyn Williams, James Niccolai, IDG News Service
The dashboard of the future
Denso's dashboard of the future is quite something. Imagine sitting in front of this high-tech curved screen and the car adapting the display to you. For example, glance at the entertainment controls and they pop up. You can make selections with controllers built into the steering wheel so you never take your hands off the wheel. It also includes live feeds from rear-facing cameras.
-- Martyn Williams, James Niccolai, IDG News Service
Behold, a car from the future
It's a concept but could it be the future? Toyota's FCV Plus is the automaker's idea of a future environmentally friendly urban transporter. It's powered by hydrogen and can do double-duty as a power generator, supplying electrical power to a home or office if needed.
-- Martyn Williams, James Niccolai, IDG News Service
The Flic works at the press of a button
Sometimes it's the simpler products that can catch your attention -- the ones that do one thing, but do it well. The Flic, which is described by its vendor as "the wireless smart button," is a small (about the size of a checker piece) button that sticks to a surface or clips to your belt. It responds to a click, a double click or a hold; you program it via an iOS or Android app to start any of a variety of functions via your phone -- for example, start your music, take a selfie, make a call, start GPS directions, etc. Flic will also work with a number of smart home devices (according to a rep, the company is "in dialogue" with Nest).
The Flic is currently available for $34 plus $5 shipping.
-- Barbara Krasnoff
Phree-hand writing
Want to make a few notes on that awful presentation your colleague just sent you? Feel awkward working with a stylus? Phree is a new digital pen that lets you "write" on your screen -- using any handy surface. You can use Phree on your desk, your lap, or a nearby wall and it will use its 3D optical tracking engine to direct your movements to your iOS or Android device. According to the company rep, it will work with any app that allows handwritten input. Pick it up from the surface and it can also act as a cursor; use it with the Google Handwriting Input app and you can switch your handwriting to text.
Phree is slated to launch in the middle of 2016; it is projected to cost $250.
Kangaroo gives you a jump on a Windows PC
One of the more talked-about devices at this year's CES is the Kangaroo, a $99 computer developed by InFocus that connects to a TV, monitor or iPad Air and lets you use it as a Windows 10 computer. (Yes, you can use Windows on an iPad. Yes, that looks as strange as it sounds.)
The small 2 in. by 3 in. system offers an Intel Cherry Trail processor; it comes with 2GB RAM and 32GB SSD storage (which can be expanded via a micro SD card). An included dock adds HDMI and USB ports; a new case with more inputs is on its way.
-- Barbara Krasnoff
The Typhoon H is a drone that dodges obstacles automatically
Intel's CEO whipped out a collision-avoidance drone in his keynote Tuesday night and said it was priced for the masses, though at close to $2,000 that's up for debate. Still, it's a pretty impressive piece of technology, using Intel's 3D depth-sensing RealSense technology to avoid trees and other obstacles a sit flies around. It also has a 4K camera on board and the wings fold up to make it portable. It's due in the first half of the year.
-- Martyn Williams, James Niccolai, IDG News Service 
Sunglasses that coach you through your workout
Oakley's Radar Pace sunglasses are a personal fitness coach for athletes. Slip them on, say "Hey Radar" and you're off. A Siri-like voice tells you your workout for the day and offers helpful advice like "I can tell this is easy for you, push a little harder." The glasses are equipped with Intel's minature Curie chip, which has a motion detector and Bluetooth radio. They're due to go on sale in the first half of this year. Pricing wasn't announced.
-- Martyn Williams, James Niccolai, IDG News Service 
Sony's trip back in time
With the resurgence in interest in vinyl, record players are making a comeback at CES, and one took pride of place at Sony's press conference Tuesday. The turntable, coming in the next few months, will let you digitize records into Hi Res Audio files in WAV or DSD format. Perfect for those albums from the 1970s you thought you'd never play again.
-- Martyn Williams, James Niccolai, IDG News Service 
Samsung's smart-looking smartwatch
Samsung has fancied up its Gear S2 smartwatch. There are two new versions, one in 18-karat rose gold or shiny platinum. The specs are unchanged: 1.2-inch rounded Super AMOLED display, 512MB of RAM, 4GB of onboard storage, and a 250mAh battery pack.
-- Martyn Williams, James Niccolai, IDG News Service 
A more compact LIDAR for your autonomous car
You might not have heard of Velodyne, but the company provides the type of all-seeing laser imaging sensor that's key to most self-driving cars. At CES, it showed off its third-generation unit (in the front), which is small enough to fit in the housing of a wing mirror. That means your future autonomous vehicle won't have a goofy spinning sensor on the roof.
-- Martyn Williams, James Niccolai, IDG News Service 
Samsung goes after the Surface
The Samsung Galaxy TabPro S is the Korean electronics maker's first foray into the Windows 10 tablet market, sporting a 12-inch Super AMOLED display and a keyboard cover that lets people use it like a laptop. It should be available in February.
-- Martyn Williams, James Niccolai, IDG News Service 
Copyright © 2016 IDG Communications, Inc.
Next Up: Check out these related slideshows