Register to download the Computerworld Digital Magazine!
In the January 2016 issue:
When Is It Time to Leave?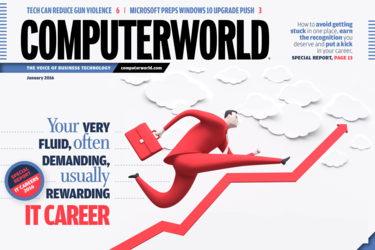 As IT paychecks grow, tenure is growing shorter among today's top techies. That trend is leaving many to wonder whether loyalty still pays.
How Do You Fast-Track Your Career?
Many IT professionals say they would go all-out to land the best jobs, with the best benefits at the best companies. All it takes is up-to-the-minute skills and a whole lot of drive.
How Do You Get a Fair Assessment?
You're killing it at work, but does anyone notice? A large percentage of IT workers think the answer is no. Here's why.
The Grill 
DHL Express Americas CIO Pablo Ciano uses community service to help his team bond through social responsibility and hard work.
Career Watch
"I broke my arm reaching out to catch a falling sandwich" . . . and other creative reasons for calling in sick.
News Analysis
As uptake of Windows 10 slows, Microsoft appears to be laying the groundwork for an aggressive effort to convince consumers to move on from Windows 7 and 8.1.
Opinions
Preston Gralla says technology holds out some hope to stop at least some deaths caused by gun violence. Paul Glen argues that poor communication isn't a problem that can be fixed -- at least not in the way that techies think of problems.
Shark Tank
Read the latest exploits of hapless bosses and clueless users.