Top 10 social media misfires of 2015
From upscale department store Bloomingdale's to downscale beer-maker Budweiser, many leading brands stumbled embarrassingly on social networks in 2015. Here's a list of 10 of the most egregious social media marketing mistakes.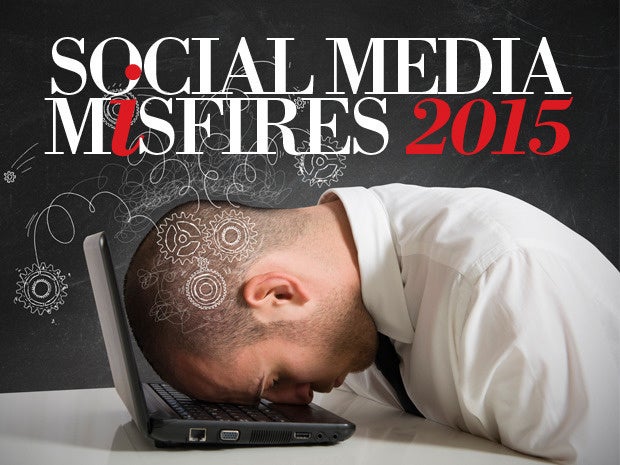 The year's worst social media gaffes
When a brand is in the middle of an ongoing PR nightmare, it's generally not a great idea to hold an open Twitter Q&A session. However, that's exactly what one well-known theme park did earlier this year. This is just one example of the kind of hard-to-believe, what-were-they-thinking social media mistakes that took place in 2015.
Slurs against women, a suggested act of violence on a beloved animal, a false report of a monarch's death and the boneheaded hijacking of Martin Luther King, Jr. Day are all among the biggest social media missteps of 2015. Here's a look back at 10 gigantic gaffes from major brands on Twitter and Facebook, along with some lessons learned that can help other companies avoid similar fates in 2016.
An offensive tweet from IHOP
IHOP's "flat but has a GREAT personality" tweet is one of the most frequently cited social media mistakes of 2015. The tweet was supposedly meant to refer to pancakes but was also seen as a thinly veiled reference to flat-chested women, according to critics. "IHOP does a good job of being crudely funny and almost immature, but sometimes they take it too far," says Jesse Till, a social media coordinator with Chatter Buzz Media.
The tweet was offensive "because of gender discrimination in the workplace and body image issues," says Cortney Hickey a social media account executive from The Buzz Agency. IHOP deleted the tweet and apologized but not before it received widespread, negative media coverage. The incident is a reminder "to use humor wisely," because it can be simultaneously amusing and offensive, according to Hickey.
#AskSeaWorld Twitter campaign backfires
It was a monumental mistake, according to Till of Chatter Buzz Media. "From animal activists to Internet trolls, everybody joined in on the party to scrutinize and humiliate the theme park." PETA, for example, posted this question: "Why do you lie and tell guests collapsed dorsal fins are normal when only 1 percent suffer this in the wild?"
SeaWorld said its Q&A had been hijacked by "bots and bullies," according to CNN. Today, the #AskSeaWorld hashtag still elicits loaded questions.
Tinder blasts Vanity Fair
In August 2015, Vanity Fair published "a sensationalist, one-sided article about the superficial hookup culture of dating apps," according to Matt Ehrmann, a social media manager with BeCreative360. Tinder responded "with a flurry of incensed tweets" blasting the magazine and the author, in a tirade that AdWeek and others now believe to have been an orchestrated publicity stunt.
The proper reaction "would have been a calm, point-by-point response article with case studies posted in a timely fashion on the Go Tinder blog and shared repeatedly on all its social media accounts for the blogosphere to pick up at its own pace," Ehrmann says. "Instead, this volcanic rant only solidified Tinder's reputation as [being] run by egomaniacal men of questionable mental health and morals."
BBC journalist falsely reports queen's death
In June, a BBC journalist tweeted that Queen Elizabeth "has died." The journo apparently believed a BBC rehearsal for the woman's death was the real thing. Part of the rehearsal coincidentally occurred at a hospital that England's monarch was visiting for an annual check-up.
The journalist, realizing her flub, deleted the tweet and issued a "false alarm." She also claimed the mistake was the result of a "silly prank." The false news spread across social and traditional media, however, and some news organizations had to withdraw their related stories.
The incident could have been avoided if the journalist hadn't used her personal Twitter account to report the "news," according to Rohit Valia, founder and CEO of Cafyne, Inc. BBC's official Twitter account would presumably have been more properly managed to prevent such gaffes, he says.
ESPN analyst links to porn video
In January, ESPN recruiting analyst Gerry Hamilton reported via Twitter that the sports network's 29th-ranked football recruit, Roquan Smith, had scheduled an official visit to Texas A&M. Hamilton apparently meant to include a link to a highlight video in his tweet but instead accidentally posted a link to a pornographic video.
Hamilton deleted the tweet within minutes, but screenshots of the message had already circulated online. The "mistake is an excellent example of how the real-time nature of social media can easily backfire, and how nothing can truly be deleted once posted on the Internet," says Valia of Cafyne, Inc. It's also a good idea for brands to slow down and double-check status updates before posting them, he says.
Bloomingdale's 'date rape' ad
Bloomingdale's 2015 Christmas catalog features a photo of a male model leering at a young woman, who is laughing and oblivious to the creepy glare. The image caption reads, "Spike your best friend's eggnog when they're not looking."
Though the photo originated in print, social media users quickly took it online, and the image — which some say encourages date rape — went viral, according to George Gracin III, a sales and marketing associate with neoRhino. One offended woman tweeted: "Hey Bloomingdales, it's over. I'm sorry, it's not me, it's you and your #rape ad."
The department store issued a statement on its Facebook page and apologized for the "error in judgment."
Bud Light #UpForWhatever
Bloomingdale's wasn't the only brand accused of encouraging date rape in 2015. Last spring, Budweiser's #UpForWhatever hashtag campaign appeared to urge beer drinkers to get drunk, let loose, and maybe even take advantage of someone. The tagline, "The perfect beer for removing 'no' from your vocabulary for the night," was printed on Bud Light beer bottles.
The Twittersphere ignited accordingly. One woman tweeted that she simply could not believe "Bud Light didn't know it was making a rape joke."
"It might have been better to change the hashtag to #UpForAnything," according to Dannielle Blumenthal, cofounder of All Things Brand. Budweiser "could have hinted at the concept of letting loose, but in a way that doesn't scare people," she says.
Target's Facebook page gets hijacked
After Target made a controversial decision to post gender-neutral signage in its children's departments, upset customers voiced their anger on the company's Facebook page for what they perceived to be political correctness run amok.
One Facebook user created a fake account, used a Target logo for a profile picture, and posed as a Target customer service representative. For 16 hours, the man "trolled" the angry customers and shot back sarcastic responses of his own, such as: "Kevin, there's no real nice way to put this … You're a real dick."
Target eventually responded with a statement, saying "clearly this individual was not speaking on behalf of Target," but the company "took way too long to fix the problem," according to neoRhino's Gracin.
Seattle Seahawks Martin Luther King, Jr. Day fail
In early 2015, the Seattle Seahawks used the Martin Luther King, Jr. holiday to force a connection between football and the slain civil rights leader. A day after the Seahawks defeated the Green Bay Packers and progressed to the Super Bowl, the team tweeted: "We shall overcome #MLKDay." The tweet also featured a photo of Seahawks quarterback Russell Wilson in tears, accompanied by a quote from King. Many followers cried foul, and the Seahawks quickly deleted the tweet and issued an apology.
Brands should be particularly wary of exploiting holidays with emotional connotations, according to Jonathan Harrop, a communications and marketing manager with Yvolver. John Jiloty, social media director of Martin Davison Public Relations, says tweets like the one from the Seahawks are "tasteless, insensitive, and unfortunately common amongst big brands."
Houston Rockets 'horse shooting' tweet
Inappropriate use of emojis on social media can get people fired. Just ask the guy who used to manage the Houston Rockets' official Twitter account, who got the boot after one of the team's tweets went viral — for all the wrong reasons.
During the fifth game of their first-round playoff series against the Dallas Mavericks, the Rockets took to Twitter and tweeted emojis of a gun aimed at a horse's head. The text read, "Shhhhh. Just close your eyes. It will all be over soon."
After a backlash, the team apologized on Twitter and admitted the tweet was "in very poor taste and not indicative of the respect we have" for the Mavericks. Sporting News later reported that the Rockets had fired the man who posted the problematic tweet.
Copyright © 2015 IDG Communications, Inc.
Next Up: Check out these related slideshows