Register to download the Computerworld Digital Magazine!
In the December 2015 issue:
Special Report: Forecast 2016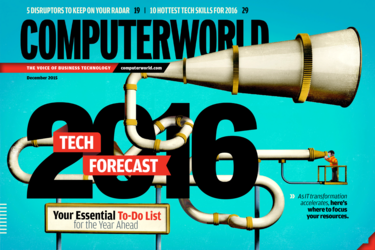 Your Essential To-Do List for the Year Ahead
5 Fast-Track Trends to Tackle Now
IT will drive business change in 2016 thanks to these key tech developments. 
5 Disruptors to Keep on Your Radar
Savvy tech execs can't afford to ignore these developments, which stand to remake the future of IT.
Security Takes Center Stage
After a year of high-profile hacks, security is top of mind for tech execs in 2016.
10 Hottest Tech Skills for 2016
Gunning for a banner year in IT? Make sure you have these skills in your toolbox.
News Analysis 
IBM buys the Weather Co., betting big on data and the Internet of Things. The deal shows that Big Blue is serious about beefing up its abilities to collect and synthesize data — and turn it into useful real-time information for companies.
The Grill
Schindler Group CIO Michael Nilles uses digital transformation to capture new market opportunities.
Security Manager's Journal
Security initiatives will languish if staffers have no incentive to work on them. Solution? Tie them to bonus pay.
Opinions
Paul Glen urges tech professionals to get over their "auto-petulance" and tackle the tough projects. Thornton May makes the case that IT can create, or destroy, an organization's ability to be entrepreneurial.
Shark Tank
Read the latest exploits of hapless bosses and clueless users.