Hands on: The iPad Pro -- It's a laptop! It's a tablet!
Deciding whether Apple's new super-sized tablet suits you really depends on how it'll be used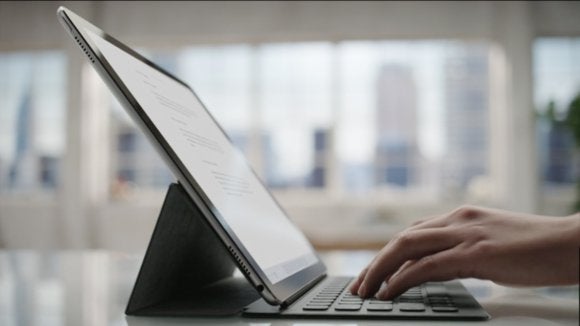 The iPad Pro is dauntingly big. It's also surprisingly thin -- 6.9mm thin, which is slimmer than an iPhone 6S.
It's not very heavy, clocking in at 1.57 well-balanced pounds. But that weight will become noticeable pretty quick if you're carrying Apple's newest, biggest and most expensive tablet around with you all day long. Add in the weight of a Smart Cover and Smart Case -- you're not really going to walk around with this tablet unprotected, are you? -- and the iPad Pro feels almost like a laptop.
Emphasis on almost. It's not a laptop, unless you decide to buy the optional Apple keyboard for $169. With that attached, it's sort of like a laptop, but not exactly.
Confused yet?
That's natural, since the iPad Pro, which went on sale yesterday, really is more of a hybrid device that should work well for a variety of niche uses. For Apple, the question remains as to whether it'll goose sales in a meaningful way at a time when tablet interest seems to be waning. (Maybe that's why Apple executives have been offering very public pronouncements of late about how good the iPad Pro is.)
What is clear about the 12.9-in. Retina screen on the iPad Pro is that it's the best-looking tablet screen I've ever seen. It makes you want to use it, even if you're just surfing the Web, checking email, tracking storms on radar or skimming through photos. With a 2732-x-2048-pixel resolution, it offers 264 pixels per inch; that's not quite as pixel-dense as the screens on the iPhone 6S and 6S Plus, but it looks just as good.
If you're keeping tabs,  the iPad Pro display has 5.6 million pixels, 78% more than the 9.7-in. iPad Air 2. And the iPad Air 2 is no slouch when it comes to beautiful displays.
The iPad Pro lineup
The iPad Pro isn't cheap. It starts at $799 for the Wi-Fi-only model with just 32GB of storage. That's a tolerable amount if you don't plan on keeping a lot of videos or images on the device itself, but it's at the low end of tolerable -- especially since many people (to Apple's likely financial chagrin) tend to keep tablets for years. If you're at all concerned about storage, opt for the 128GB model. That one costs $949, or $1,079 if you need cellular connectivity, too. (These prices are in line with those of Microsoft's Surface Pro 4, which starts at $899 and goes to $1,799, albeit with more options for storage and processors. See video below for more on the Surface Pro 4.)
Note: You can't get a 32GB iPad Pro with cellular; the entry-level model is Wi-Fi-only. You also can't get an iPad Pro in Rose Gold, the new iPhone color Apple rolled out in September. The iPad Pro comes in Space Gray (with a black bezel around the screen), gold and silver (both of which have a white bezel). I have a Rose Gold iPhone 6S Plus, and yes, I'd have gotten an iPad Pro in that color if it were offered.
I settled for a 128GB Wi-Fi-only version in Space Gray. That turns out to have been a popular choice among early buyers. Shipping times for that model are now delayed almost two weeks.
For many buyers, picking which iPad Pro you want is just the start. What sets it apart from its predecessors are the new "Smart Keyboard" and the stylus -- which Apple calls the Pencil. Without them, the iPad Pro is just a tablet. But with those two accessories, it becomes more of a true hybrid, two-in-one device like the Surface Pro: Laptop by day in the office, tablet by night at home.
I'd like to tell you how well the Smart Keyboard and Pencil work, but I can't. Although the iPad Pro was available yesterday if you ordered online early and opted for pick-up at the closest Apple Store, neither accessory was in stock. Buyers will be waiting about three weeks for both to arrive, according to the shipping times offered on the Apple online store. (Logitech keyboards are available, but I'd prefer to wait for the Apple-designed version.)
Neither accessory is cheap: The Pencil sells for $99, while the keyboard is $169. Doing the math means that a top-of-the-line iPad Pro with accessories totals $1,247. That's almost MacBook territory and definitely more expensive than a MacBook Air.
So if you're eyeing the new tablet, you'll have to ask: What does the iPad Pro offer that a MacBook Air or MacBook doesn't?
Weighing the possibilities
If you really, really love iOS 9 instead of OS X, then OK, it's tablet time -- especially if the apps you need are already available on iOS or you're just a flat-out tablet junkie who thinks laptops are soooo 2010. But most users aren't head-over-heels in love with an operating system and they rightly see tablets as ancillary, not primary devices.
If ultimate portability is priority one, then, of course, the iPad Pro delivers in spades. It weighs less than the smallest 11-in. MacBook Air and has the screen real estate of the larger 13-in. Air. But neither Air has the gorgeous Retina display. (You could opt for an iPad Air 2 or even the iPad mini 4 -- both are smaller and lighter and cheaper. But the whole point here is a laptop-size screen, right?)
It's the combination of portability plus that big screen, in addition to the business-friendly keyboard and stylus, that sets the iPad Pro apart. And it's around the enterprise that Apple has been building its case since unveiling the tablet on Sept. 9.
During its big September presentation, Apple had Microsoft's Kirk Koenigsbauer, who leads the company's Office team, up on stage to demonstrate Office on an iPad Pro. And in announcing the tablet's Nov. 11 arrival earlier this week, Apple highlighted comments from Scott Belsky, vice president of Products at Adobe.
Said Belsky: "With the larger iPad Pro screen and lightning-fast performance, creatives will be able to take full advantage of Adobe's family of Creative Cloud mobile apps."
For "creatives" on the go -- especially those involved in areas like graphic design, a long-time Apple stronghold, or video -- the iPad Pro seems ideal. Just add a Pencil, a few of Adobe's Creative Cloud mobile apps, and start drawing. Or creating.
A9X inside
Belsky touted the iPad Pro's "lightning-fast performance," the result of a brand new Apple-designed 64-bit A9X SoC (system-on-a-chip) processor. Apple's marketing chief, Phil Schiller, claimed the A9X is faster than 80% of the mobile PCs that shipped in the past year. It also has 4GB of RAM, as iFixit found during its usual teardown of new Apple hardware.
The fast A9X, the M9 motion co-processor and all that RAM make for one speedy tablet. I haven't had time to run extensive tests on how fast the iPad Pro is in absolute terms, though in general use I've not seen any kind of slowdown or stutter when opening apps, watching video, typing on the on-screen keyboard, using two apps at once in split-screen view or doing anything else.
Geekbench tests indicate the A9X is a dual-core processor running at about 2.25GHz and chugging along at about the level of a 2013 era Core i5 chip, according to Ars Technica. That makes it faster, at least in terms of benchmark tests, than Apple's current Retina MacBook, which uses an Intel Core M chip. (The A9X falls short of the processors in the new Surface Pro 4, if that matters.)
In short, it's about as cutting edge as tablet technology can get right now, and should stand up well over time. That's important given its cost and the length of time many buyers or businesses are likely to keep it in use.
Battery life and charging times
Apple says the iPad Pro will last about 10 hours on battery. The battery level of mine was at 83% when I pulled it out of the box, and that charge rapidly dropped as I restored apps and settings from an iCloud backup -- admittedly a pretty intense set of tasks. After a couple of hours, the battery was down to about 53%. So I plugged the iPad Pro into my iMac at work to charge. I glanced at it a few minutes later, and it was still at 53%. I waited a little longer. Same thing.
So I hit the iPad Pro's power button and waited. When it awakened from sleep a little while later, the charge had risen to 57%. Progress. In other words, it charges very s-l-o-w-l-y when in use -- especially during a backup restore.
Although the iPad Pro has a larger battery (because the case has more room), that battery is also running a more powerful processor than in earlier iPads and it's got to handle a bigger screen. In this case, a bigger battery in a bigger tablet with a bigger screen yields about the same battery life as the smaller iPad Air 2. That should be  plenty for most users.
Surprisingly, the 12-watt plug-in wall charger that comes with the iPad Pro is the same one the iPad Air 2 gets.
Video, audio and the cameras
Although the iPad Pro is likely to end up in a lot of workplaces, it's also a fabulous option for "content consumers" -- people like me who plan to use it to read, watch videos and listen to music. Video playback is as flawless as it gets on the Retina display, whether watching videos stored on the device itself or streaming over services like Netflix.
Better yet, the iPad Pro comes with not one, not two, but four speakers, allowing for a level of clarity and volume tablet users aren't accustomed to. Two of the speakers are located on either side of the Home button at the bottom of the iPad Pro when it's held vertically; two are located at the top. Not only can you fill a room with whatever you're listening to, but the quality of the music is rich and warm. I fired up my Buena Vista Social Club album and was impressed with the sound separation and how good the guitar work sounded.
My partner offered a one-word summation of the speaker setup: "Bose!"
As for cameras, there are two: an 8-megapixel, rear-facing iSight camera that can shoot 1080p HD video, and a 1.2-megapixel front-facing camera that does 720p video. The latter is fine for Facetime video chats; the former is very good, but not top-end, for quick photo-taking on the go. (The iPhone 6S has a 12-megapixel camera, for comparison purposes.) There's no flash, but the rear camera can shoot slo-mo video at 120 frames per second. You're not likely to need it often, but in the rare event you want something in slow-motion -- and the only camera nearby is your iPad Pro -- it'll do nicely.
There's more -- and less
For connectivity, the iPad Pro has a modern retinue of wireless options, including 802.11ac Wi-Fi technology and MIMO, which Apple says allows download speeds of up to 866 Mbps when connected to an 802.11ac network; it also supports 20 LTE bands and up to 150 Mbps transfer speeds on LTE. The iPad Pro also boasts a better on-screen keyboard that gives you more options.
One thing that's not part of of the iPad Pro package is the much-heralded 3D Touch that arrived with this year's iPhones. That technology allows for new ways of navigating apps by pressing harder on the iPhone's screen, popping up various options and actions. Yes, the iPad Pro screen allows you to draw on it with the Pencil, but you'd think 3D Touch would be a natural part of what is now Apple's top-end tablet.
Maybe next year.
Final thoughts
The iPad Pro is a breakthrough device. But I'm not yet sure what it's breaking through. It's the biggest, baddest, bestest iPad ever. So if you just want the ultimate iPad -- that's pretty much me -- you'll be happy. If you're looking to replace a laptop, however, the question of whether you should buy it is murkier. That's in part because of the hardware, and in part because of the operating system.
All computers are in some way compromises between the features you absolutely need, the features you really want, and how much you can pay. Enterprise users who want to plop an iPad Pro on their desks will have to weigh the tablet's high price with what they could get for the same money in a laptop. Is screen-only portability a must-have or a wanna-have? Are you really ready to spend part of your time typing on an accessory keyboard and regularly touching the display to navigate among your apps? Are the apps you need to do your job available on iOS 9?
Answer those questions and you should know whether the iPad Pro is right for you. For me, the iPad is an add-on in my daily computing experience; I expect to continue to use my late-model 15-in. MacBook Pro for my day-to-day editing duties. The iPad Pro will be for more casual tasks, and I expect it to excel at those.
Either way, it's good to see Apple finally fire back in the hybrid wars first launched by the Surface in 2012. (Thanks, Microsoft!) It seems sort of like the old days of the 1990s, with two big innovators continually trying to one-up each other. Even as Microsoft's new Surface Book arrives to take aim at the MacBook Pro, the iPad Pro is now ready to battle the Surface Pro 4.
Ready. Set. Go.
Editor's update: Computerworld's Apple expert, Michael deAgonia, has his own first look at the new iPad Pro.
Copyright © 2015 IDG Communications, Inc.
Shop Tech Products at Amazon