4 risk management must-haves for independent contractors
Lawsuits and tax liability are just a couple of the things to look out for when you're working on your own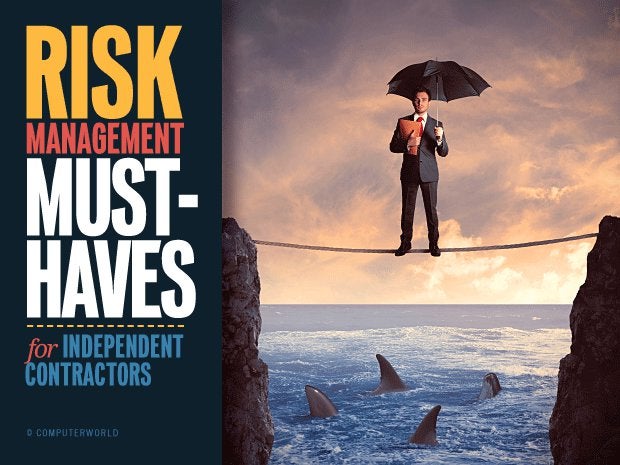 4 risk management must-haves for independent contractors
In the past five years, the independent workforce grew faster than the overall economy, according to MBO Partners' 2015 State of Independence in America Report. The trend isn't slowing, either: 71% of those who already work independently are doing so in addition to a full- or part-time job, and one in seven full-timers are considering switching to all independent work.
There are advantages, but going solo isn't all pajama conference calls and handpicked projects. Working solo can be risky business. Read on for four risk management must-haves that can keep you profitable for the long term.
Written contracts
Think you're too small to be sued? Think again. According to a survey from the U.S. Chamber Institute for Legal Reform, 43% of small-business owners have either been threatened with or named in a lawsuit. In the event of a suit, written contracts reduce your risk by:
Outlining the terms of an agreement.
Defining the scope of a project.
Assigning responsibility to appropriate parties.
As an IT professional, you may also want your contracts to have:
A confidentiality clause pertaining to the specialized information your business is built on.
A service-level agreement to define the parameters for ongoing support.
A hold-harmless clause to divide liability between you and your client.
If you download a free contract template, at least run it by a lawyer. Paying for a couple of hours of legal review now can save you from having to pay for months of attorney review of a lawsuit.
A tax plan
What's the difference between a fulltime employee moonlighting as a Web developer and a freelance technical writer? As far as taxes go, nothing. Earning as little as $400 means you have to pay taxes. Moreover, if your clients send a 1099, they're sending one to the IRS, too.
Depending on earnings, you'll likely pay 20% to 30% in taxes. That sounds huge, but it covers contributions to Social Security and Medicare, which would usually be split between you and your employer. Because freelancers are required to part with so much of what they make, many opt to pay quarterly taxes to the burden isn't so large in April. (Detailed info from the Freelancers Union's Quarterly Tax Guide.)
But what if you're paid in cash? Or you don't get a 1099? File taxes anyway. If the IRS audits you, it will look at your accounts for unreported cash and examine your lifestyle for an income mismatch. The headache and potential fines of skipping taxes are not worth the short-term savings.
Regular client communication
Managing client expectations can be tough, especially for IT contractors. Customers often expect you to solve their tech problems without truly understanding the scope of the work involved. And while a contract upfront may make for more realistic expectations, changes that delay a project or add to the budget increase the likelihood of a lawsuit. Sadly, our 2015 analysis of our applicants' practices (published as the Tech Industry Risk Assessment) shows that:
53% of small IT business owners don't have written complaint resolution policies.
54% don't have internal project management audit procedures.
29% don't use customer acceptance or signoff procedures.
Communication is key to keeping clients happy. Hit a snag while coding? Send them an email. Need to subcontract to a cloud vendor? Make sure they know and sign off. You might even want to call clients when things are going well. Nobody likes to be kept in the dark, so schedule regular check-ins at intervals that fit with a project's timeline.
Lawsuit prevention best practices
Lawsuits, even frivolous ones, are expensive. According to the Court Statistics Project, the median cost for a contract case that goes to trial and on to post-disposition is $91,000. Maybe even more cringe-worthy, though, is a finding from the Institute for Legal Reform that even a frivolous lawsuit that's dismissed by the court costs an average of $2,000 to $5,000.
Contracts and communication can help you avoid lawsuits, but additional steps can protect your business further:
Keep records on every project.
Document the business relationship.
Say no when projects don't fit your skills.
Invest in professional development.
Purchase liability insurance.
None of this guarantees you won't be sued, but taking these steps can minimize your risk that a suit will wipe out your finances.
Here's a final thought: One of the most effective risk management tools for a business is keeping revenue strong. These four to-dos help achieve that goal by reinforcing that your business is serious and professional, which helps win the trust of new clients.
Ted Devine is the CEO of Insureon, a leading online provider of small business insurance. Prior to joining Insureon, Devine held senior leadership positions at Aon Corp. and McKinsey & Co. He lives with his family in Chicago.
Copyright © 2015 IDG Communications, Inc.
Next Up: Check out these related slideshows