Register to download the Computerworld Digital Magazine!
In the November 2015 issue:
IT and Operations on a Collision Course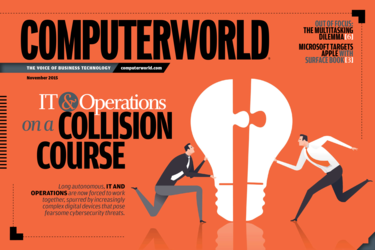 Long autonomous, IT and operations are now forced to work together, spurred by increasingly complex digital devices that pose fearsome cybersecurity threats.
Microservices Mania
Good things may come in small packages, but microservices can present big challenges for software application design. Here's how to make the most of the modular approach without sweating the small stuff.
Making Analytics Pay Off
A look at companies that got a revenue kick by putting accurate and timely analytics data into the hands of their salespeople.
The Grill 
Off-the-shelf isn't an option for Indianapolis Motor Speedway CIO Rhonda Winter. Instead, she borrows great ideas.
Security Manager's Journal
SSO will bring several benefits, but our manager has to be prepared to address any security lapses that could accompany it.
News Analysis
With the Surface Book launch, Microsoft may be eyeing Apple's hardware market while seeking a way to keep Windows afloat in case its OEM partners give up on its flagship operating system.
Opinions
Bart Perkins notes that just about everyone is trying to multitask, but no one does it well. And Paul Glen says how well you generate, solicit, select, collect, evaluate, modify, prioritize, test, implement and communicate about ideas determines, to a large degree, your success as a manager.
Shark Tank
Read the latest exploits of hapless bosses and clueless users.