Register to download the Computerworld Digital Magazine!
In the September 2015 issue:
2015 Data+ Editors' Choice Awards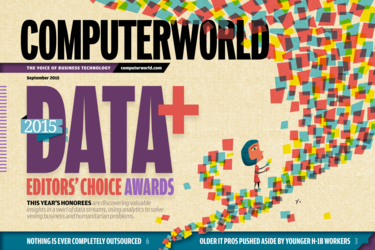 Our program recognizes organizations using analytics to solve vexing business and humanitarian problems. This year's honorees, which include PayPal, Zulily, DirecTV and National Grid, are mining data to make fast business decisions, measure risk, create efficiencies and much more. 
The Grill
When Sue Schade stepped into the CIO's job at the University of Michigan Hospitals and Health Centers, she saw a need to restructure the IT organization, which had begun to split in two during a multiyear electronic health records project.
News Analysis 
H-1B visas go primarily to people who are younger than 35, suggesting that age discrimination may be at the heart of the discord over the controversial program.
Opinions
Thornton May says IT leaders should create the technology maps that their enterprises will need to negotiate today's marketplace. And Bart Perkins reminds us that IT projects are never completely outsourced, so service providers should be required to estimate how much help they'll need from your staff.
Shark Tank
Read the latest exploits of hapless bosses and clueless users.