Windows 10
Review: Is Microsoft's Edge browser ready for business?
A more modern, more secure and more compatible browser with today's websites, Edge will need more features to fully fit in at work -- but will be worth the wait.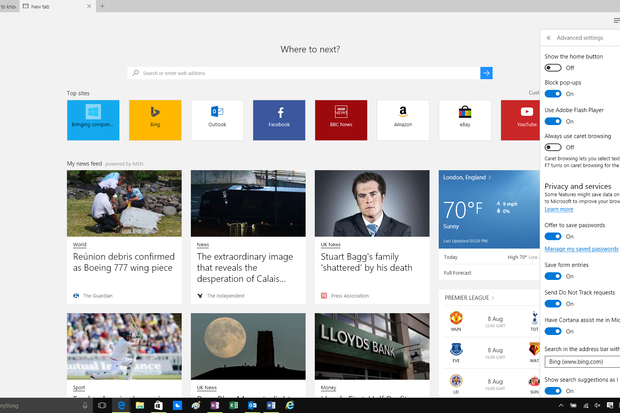 Internet Explorer has long been the standard for desktop browsing in businesses. Older versions have persisted for compatibility reasons even as Microsoft has tried to get users and enterprises to upgrade to more recent releases.
In fact, many businesses have standardized on older versions of Internet Explorer for line-of-business applications that rely on ActiveX, VBScript, Browser Helper Objects or specific document modes in IE. Chris Jackson, software architect at Microsoft, said in a talk at TechEd Europe 2014 that, as of October of that year, roughly 70% of enterprise Web apps had to be run in IE5 Quirks mode (a technique for maintaining backward compatibility with older websites).
As a result, many companies have had to continue using IE while also providing a second, more modern browser that employees can use for most of their online work -- like Chrome.
After years of trying to address that trend by ensuring backward compatibility in new versions of IE, Microsoft has changed its approach in Windows 10 by introducing a new default browser: Edge. Internet Explorer is still present, but it's relegated to a legacy browser that will get only security updates, not new features.
Edge is based on a stripped-down, heavily rewritten version of Microsoft's Trident rendering engine that drops nearly all of Microsoft's CSS vendor prefixes and technologies like ActiveX plugins, and adds support for both HTML 5 standards and the vendor prefixes used on many mobile-optimized sites. It runs as a universal app, so it's in the most restrictive sandbox Windows has, with no binary plugins or add-ons except for Flash (which is automatically updated), all of which should improve security.
If businesses are going to have a dual browser policy, Microsoft is hoping that they will choose to have both browsers come from Microsoft. But is Edge ready for its new role? And what will supporting it mean?
Cleaner, simpler, faster
Edge has a logo that looks enough like the Internet Explorer blue 'e' to be familiar. But it also comes with a clean and simple interface, with minimal controls on a small toolbar to the right of the Address Bar -- and more than a hint of smartphone-style design.
The toolbar includes a Share button that works with Windows Store apps like Mail and OneNote, and a Reading View option that trims away advertisements, links and other extraneous content to make it easier to read an article (but doesn't turn off any of the tracking features that ad-funded sites use to identify users).
Also, there's a pane called the Hub that appears when you tap its icon (which looks like a stack of papers) on the toolbar, and that you can use to view your bookmarks, the history of pages you've visited, pages you've saved from the reading view or the download manager.
The last button on the toolbar gives you access to a short list of other tools, such as the equally short list of settings for Edge; a welcome change from Internet Explorer's confusing tabs and plethora of options.
There are some handy extra features here that may or may not take off. For example, a pen icon on the toolbar lets you annotate a screen grab of the page you're browsing (even the parts that aren't visible onscreen). This is an attempt to tackle the perennial problem of sharing a Web page that might change before the person you're sending it to gets around to following the link, making it easy to show them what you thought was interesting.
Edge uses Microsoft's Cortana personal assistant as well; it allows users to right-click to search on highlighted words and phrases and get results in the Hub -- without leaving the page they're looking at. Some searches -- such as weather, stock prices, currency conversions and questions like 'What is Pi?' or 'How old is Bill Gates?' -- pop up answers directly in the address bar, while others produce the usual results page using your default search engine.
Cortana will also add a note to the address bar that leads to additional information when you visit some sites. Currently, this works for about 120,000 restaurant sites; click it to see opening hours, menu details and directions in the Hub. As these features expand to cover more types of information, they'll get more useful, especially if they also work with the extensions that let you connect Cortana to your enterprise data sources.
But mostly, Edge tries to get the browser out of the way of your browsing. The home page combines a search box with tiles for the sites you visit most and a news feed personalized to topics Cortana thinks you're interested in. PDFs open up as if they were normal Web pages so you can read them without getting interrupted by a plugin (which means there's an extra step if you need to open them in a specific PDF tool to do anything more than just read them).
And pages load quickly, thanks to the vastly improved rendering engine. You can see that in the artificial benchmarks like SunSpider, JetStream and Octane, where Edge handily beats Chrome and Firefox, as well as IE 11. But we also experienced it while browsing real-world sites, which loaded faster than they did in IE.
Benchmarking the Edge browser
 
Edge
Internet
Explorer 11
Chrome
Firefox
SunSpider 1.02* (ms)
98.8
115.4
277.6
216.9
JetStream 1.1**
163.71
70.33
137.89
136.21
Octane 2.0**
25554
12500
24917
23716
Engine and page rendering
By the time Internet Explorer 11 appeared in October 2013, Microsoft's HTML rendering engine, Trident, was starting to show its age. While it was technically one engine, Trident operated in several different ways depending on how it was called by a Web page. In some circumstances, it behaved like IE 5's engine when supporting Quirks mode; for other pages, it used IE 8/9 compatibility tools; and for HTML5 pages it used what Microsoft called an Edge rendering mode.
The resulting tangle was hard for Microsoft to maintain and harder still for Web developers to make compatible with other browsers.
Microsoft began developing its new Edge HTML rendering engine by refactoring Trident, stripping out a lot of code and focusing on supporting commonly used HTML 5 APIs. That meant working with sites and standards bodies like the World Wide Web Consortium (W3C) and the Internet Engineering Task Force (IETF) and removing much of Trident's legacy support at the same time. More than 200,000 lines of code have been taken out -- removing not just the legacy Internet Explorer document modes, but also support for ActiveX plugins and the notoriously insecure Browser Helper Objects.
Dropping IE's confusing document modes simplifies life for Web developers, and doing away with plugins -- including Microsoft's own Silverlight -- is undoubtedly good for both security and performance. But it also means that companies may have compatibility problems on sites designed specifically for IE.
If there is a version of the site designed for Chrome, Firefox or a generic WebKit browser, Edge's deliberately broad user agent string means the site will probably load, and the browser's fairly broad standards support means pages designed for those "modern" browsers will usually work well.
However, if a site is looking for specific Internet Explorer features, Edge will offer a link to load it in IE instead (and you can also do that manually from the browser menu).
Microsoft is describing Edge's rendering engine as a "living document mode," with regular updates coming through Windows 10's new servicing model. It's also using the browser's about:flags options as a way of managing experimental features -- allowing developers to enable them for testing before they're ready for wider use. Type about:flags into Edge's address bar and you're able to turn on new CSS features, manage scrolling and touch, and try out new JavaScript elements, including the asm.js JavaScript compiler developed by Mozilla. Simply choose the features you want to enable by clicking checkboxes, with one button to reset everything to the browser's defaults.
While some emerging Web standards aren't supported yet, many are in development, like the template element for Web Components and Microsoft's Edge Developer site.
For sites on your own network that need IE, you can (as previously mentioned) still use Internet Explorer 11, which is still part of Windows 10. Administrators can use their usual techniques to have intranet sites load in IE. And businesses using the Long Term Servicing Branch of Windows 10 won't get Edge at all (because Microsoft expects to be continuously updating Edge over the next few months).
Also, keep in mind that if you're tracking Edge site usage, the user agent may confuse some tools. Statcounter and the tools offered by Akamai have been able to recognize Edge correctly for some time, but Google Analytics won't do so until later in the summer.
Shop Tech Products at Amazon