Review: 2 tri-band routers push wireless network speeds
Two new 802.11ac Wi-Fi routers from D-Link and Linksys bring real-world half-a-gigabit speeds to your office.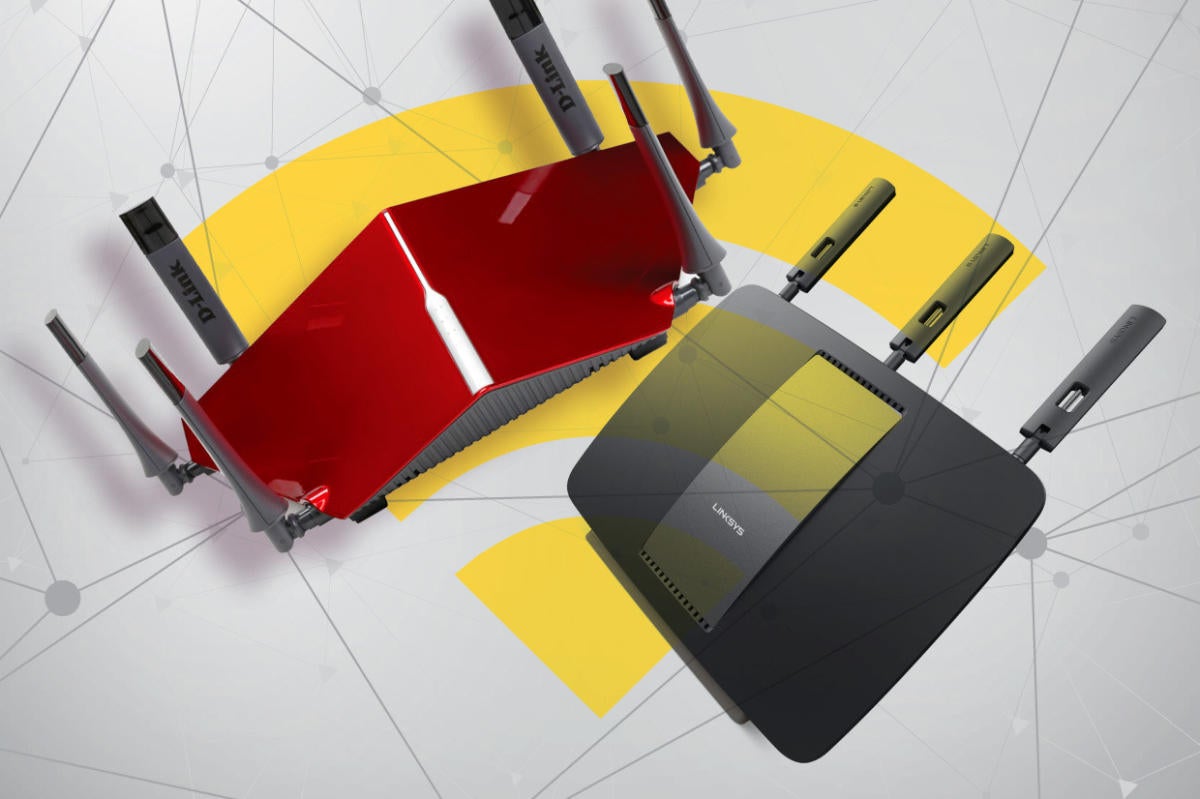 Do you need real Wi-Fi speed in your office? As 802.11ac-equipped laptops and PCs become common (and your 802.11n gear grows older), it's time to consider upgrading your Wi-Fi network infrastructure.
You could push for the bleeding edge and get one of the first 802.11ac Wave 2 Access Points (AP) -- which use a system of multiple antennas to increase throughput -- such as the Ruckus ZoneFlex R710 and Asus RT-AC87U. There's just one problem with that plan: 802.11ac Wave 2 client devices are about 18 months from commercial delivery -- and while these Wave 2 devices will work with the current generation of client 802.11ac equipment, you won't get the full throughput benefit.
Another problem with Wave 2, which in theory can reach a data rate of 6.8Gbps, is that you'll need to upgrade your wired network to support it. So unless you're ready to replace your existing routers and possibly your cabling as well, 802.11ac is where you should put your money today.
Two good bets for your IT cash are the D-Link AC3200 and the Linksys AC3200 routers. Why the similar names? Because they make similar performance claims.
Both support two separate 5Ghz channels and a single 2.4Ghz frequency channel. Combine the maximum throughput of the three channels -- 1,300 Mbps on the 5GHz Wireless-AC band and 600 Mbps on the 2.4Ghz 802.11n -- and you get a top speed of 3,200 Mbps. Thus the name.
Sounds great, doesn't it? Too bad it doesn't really work that way. You can't actually bond the channels together on any single device. What you can do, however, is support three devices at once. Both APs are powered by the 2.96GHz Broadcom 5G XStream Wi-Fi chip. With its three radios and fast performance, it enables these devices to simultaneously support three connected devices.
For this article, I tested the devices with PassMark's PerformanceTest 8.0 using a 2015 Dell XPS 13 laptop with a Broadcom 802.11ac chipset and running Windows 7.
Keep in mind that your current APs can probably support only one device at a time. And don't be fooled. It may appear that you're running numerous Wi-Fi devices at once, but they're really waiting their turn to use the bandwidth -- it's just that it's difficult or impossible for users to detect it (even if everyone in the office is watching Game of Thrones on the corporate network).
As a result, the new three-radio APs enable greater throughput for office devices. Note: This increase does not show to its best advantage in venues where you might have only a few devices seeking network attention at once, such as a home or small office. In those cases, a less expensive dual-band AP is probably a better IT buy. Once your office goes past 10 devices running concurrently, it's time to think about upgrading.
The first thing you'll notice about the D-Link AC3200 is that it looks nothing like any other AP. With its bright candy apple red coloring, 15.2-x-9.7-x-4.7-in. size and six external antennas, it looks more like a droid from a Star Wars movie than office equipment.
While it's futuristic looking, it has the usual number of ports: four Gigabit LAN ports and one Gigabit Internet WAN port. It also has a single USB 2.0 and one USB 3.0 port for a USB printer or external hard drive.
As with all modern APs, all you need to do with the D-Link is plug it in to your switch or cable modem, turn on the power, aim your Web browser at its default IP address (192.168.0.1) and head to the interface's setup wizard under its Settings menu. In less time than it takes to brew a cup of coffee, you'll be in business.
You can use the AP to power up three different Wi-Fi networks using your own Service Set Identifier (SSID). Alternatively, you can merge them together with Smart Connect mode. As mentioned before, this will not give you 3,200Gbps -- instead, Smart Connect will simply hook up each client to its best possible radio.
The Web interface, which is called Mydlink, is simple to use. Indeed, it's a little too simple. For instance, you can't assign an IP address manually to a particular server. On the other hand, if you're away from the office you can control or even reboot your D-Link AP remotely by using either the Mydlink portal or the mobile (Android or iOS) app.
If you're a network administrator or power user, and you want more control over the AP, I'd recommend you replace its existing interface and firmware with the open-source DD-WRT firmware. With DD-WRT, you can adjust your router to your exact specifications.
Mind you, the default firmware comes with excellent features. For example, it comes with an L2TP over IPSec VPN server (which needs a fixed Internet address; if your office doesn't have one, you can still use it by setting up a Dynamic DNS address). For offices with remote users, this is an easy-to-implement way for them to securely dial into the home office.
Speed test results
Of course, the real proof with any Wi-Fi router is how fast it delivers data. After loading the latest firmware (1.06 B04, loaded on May 14, 2015) at a distance of 15 feet using 2.4GHz 802.11n, I saw speeds of 104 Mbps. At a distance of 100 feet, its throughput had dropped to 36 Mbps. I consider that performance to be okay, but not outstanding.
When I set it to 5GHz 802.11ac, it was a different story. At a distance of 15 feet, I experienced 580 Mbps, while at a distance of 100 feet, I got 178 Mbps of throughput. Better still (and this is the whole point of using tri-link routers such as this), I saw almost the same performance, 564 Mbps and 158 Mbps, when I was supporting two 802.11ac clients simultaneously. At peak speed, my Gigabit Ethernet switch, not the AP, was becoming the performance bottleneck.
Bottom line
I liked this AP a lot. While I wish its 2.4GHz speed were better, I was impressed by its 5GHz performance. I also liked that I had a choice of firmware. If you enjoy tinkering with your network gear to get the best possible performance, this unit is very attractive.
As opposed to the D-Link's futuristic styling, the Linksys AP looks like a normal everyday piece of SOHO network gear. The Linksys EA9200, unlike earlier Linksys models, is positioned in a vertical position using a stand. It also has six antennas, but only three are visible. The other three are hidden inside the device.
Like the D-Link unit, the Linksys has four Gigabit LAN ports and a single Gigabit WAN port. It also has one USB 2.0 and one USB 3.0 port.
Setting up the Linksys is a lead-pipe cinch. Just hook it up to your network with the supplied Ethernet cable, power it on and head to 192.168.1.1 with your favorite Web browser. When I set it up, after about five minutes I was ready to roll.
Like the D-Link, the Linksys has a Smart Connect option. In this case, however, the Smart Connect only binds the two 5Ghz channels into one -- otherwise, the two devices handle binding channels together in an identical manner. So, for example, if you have a tablet that supports 5GHz 802.11n and a newer high-speed network laptop, the Linksys will feed the 802.11n connection to the former while using 802.11ac for the latter. Again, you can't bond the connections together to push past the 1 Gb/sec. barrier on a single device.
The Linksys Web-based interface is more sophisticated than D-Link's front end. One easy-to-use feature I quite liked with my heterogeneous network is Network Map. Besides simply displaying IP addresses and their devices, I could display connected devices by connection or device type. So, for example, I could look at all the currently attached tablets. I could then click on each client and assign it an IP address, change its network name and monitor Internet usage. I found it surprisingly useful for such a simple network management tool.
You can also manage the router/AP by hooking up to it via the Linksys website. This interface works in exactly the same way as the default intranet front-end, with the exception that you can't run the Internet speed test. (You can also manage this unit via an Android or iOS app.)
One thing the Linksys doesn't have that I would have liked is a built-in VPN server. True, you can always roll your own with programs such as OpenVPN, but for small offices with minimal IT staff, having a VPN built into the router is very handy.
Speed test results
Where it really counts, which is raw speed, the Linksys AC3200 stood out in its 802.11n tests. At 2.4GHz at a distance of 15 feet, it scored an impressive 158 Mbps. At a distance of 100 feet, I experienced an excellent 65 Mbps. This was done using the 1.1.5 firmware, which was created in December 2014.
It was a different story with 802.11ac. There, in the 5GHz range, I got comparatively low results of 412 Mbps at a distance of 15 feet, but a solid 182 Mbps at a distance of 100 feet. When supporting two 802.11ac devices at once, I saw essentially no performance drop-off.
Bottom line
If it were just speed, I'd recommend the Linksys over the D-Link. Generally speaking, the Linksys was faster -- excepting, oddly, at close distance in the 5GHz range. (Naturally, network bandwidth will vary depending on network conditions and pre-existing Wi-Fi APs.) However, as a network professional, I was a bit bothered that the firmware hadn't been upgraded in eight months -- performance of Wi-Fi devices can be greatly improved with a good firmware patch.
Speed test results: D-Link vs. Linksys
|   | D-Link AC3200 | Linksys EA9200 AC3200 |
| --- | --- | --- |
| 2.4GHz 802.11n |   |   |
|      15 feet from router | 104 Mbps | 158 Mbps |
|      100 feet from router | 36 Mbps | 65 Mbps |
| 5GHz 802.11ac |   |   |
|      15 feet from router | 580 Mpbs | 412 Mbps |
|      100 feet from router | 178 Mbps | 182 Mbps |
Conclusions
My test results indicated that, in an office with a lot of 802.11n-equipped gear, the Linksys would perform better. In a company that has moved up to 802.11ac, the D-Link is the clear winner (although it lost the advantage when my device was about 100 feet from the router).
Why the difference between the two when they're based on the same chipset? I strongly suspect it's the firmware. When it comes to Wi-Fi devices, firmware is just as, if not more, important than hardware. That's especially true when it comes to newer Wi-Fi standards such as 802.11ac. Linksys is still using its first release, 1.1.5 from December 16, 2014, while D-Link is using a more up-to-date release.
That said, I also like that D-Link includes its own VPN server. This makes deploying VPNs to remote offices that may not have someone who's VPN savvy much easier -- and that alone would be enough reason for me to give the nod to the D-Link if all other factors are equal.
Either way, though, you won't go far wrong.
Copyright © 2015 IDG Communications, Inc.
Shop Tech Products at Amazon