5 great free apps for powering up Google Drive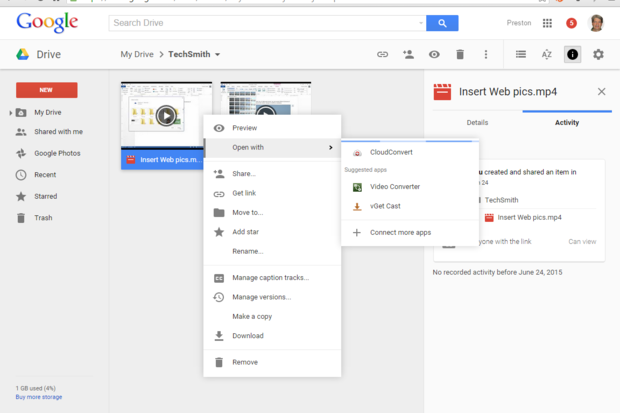 Want to make Google Drive even more powerful than it already is? I've got five free power-ups for you that let you do everything from edit photos and videos, convert files to different formats, build databases, and more.
This surprisingly powerful photo editor opens and stores files right inside Google Drive. It packs a surprising amount of punch, including many filters, a desaturation tool, and plenty more. It doesn't skimp on the basics, though, so if you're looking for common things such as a red-eye remover, drawing tools, and cloning tools, you'll find them as well.
The computing world is a virtual Tower of Babel, with far too many file formats that don't all work with every piece of software. Converting files to different formats is an unfortunate way of life. In Google Drive, it's even tougher than on your PC, because normally you'd have to download files, convert them, and then upload them again.
Enter CloudConvert. Install it, right-click on a file, then choose "Open with --> CloudConvert." From there, choose the format to which you want to convert the file. The app promises that it can "convert anything to anything." It may not be able to convert lead into gold, but for file formats, it makes good on its promise.
Yes, believe it or not, you can edit videos from right within Google Drive. And you can do it whether you're a novice or a pro, because WeVideo has three editing modes to suit your level of expertise. Trim clips, cut and rearrange long clips, create new videos from existing videos, add special effects and text...there's more as well. You can also connect to Facebook, Instagram, Flickr, and Dropbox to grab use photos, videos, music, and graphics files you've stored there. And when your creation is done, you can publish it to YouTube, or notify people about it via Facebook and Twitter.
One major shortcoming of Google Drive is that it doesn't include tools for editing PDFs. That's where DocHub comes in. You can edit PDFs right inside Google Drive, including tools for typing, drawing, and more. You can also sign PDFs, fill out PDF forms, and convert PDFs to .doc files.
Here's what else is missing from Google Drive: A database. That's why you need Obvibase. It's simple enough that even database beginners will be able to use it. But that doesn't mean it's underpowered. You can build databases with checkboxes, dropdowns, and tables nested in cells, among other features. It's free, but if you want more powerful features, such as collaboratively editing a database, you need to get the Pro plan at $4.99 a month. But few people will need that.
This story, "5 great free apps for powering up Google Drive " was originally published by ITworld.
Copyright © 2015 IDG Communications, Inc.
Shop Tech Products at Amazon