The best Chromebooks you can buy right now [July 2015]
Choosing a Chromebook can be a difficult decision -- but it doesn't have to be. A newly updated guide to picking the best device for your needs.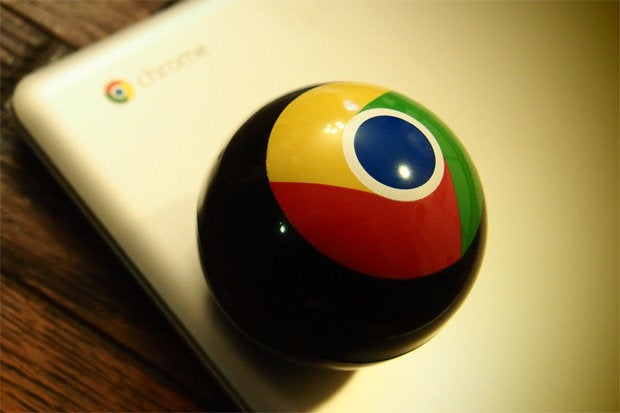 Chromebooks are popping up everywhere you look these days -- and with all the options available, it isn't always easy to figure out which one makes the most sense for you.
One quick glance through the choices is enough to make anyone's head spin. We've got Chromebooks ranging from $149 to $1299, with a seemingly endless array of styles, materials, and tough-to-decipher setups (processors, pixels, and RAM -- oh my!).
So let's make things easy, shall we? I've used and lived with all the significant Chrome OS devices over the past several months (and years!). With that perspective in mind, these are the Chromebooks I'd recommend right now.
[NOTE: You can find a more current version of this list here.]
The best all-around Chromebook for most people
When you're using a laptop, the screen is your primary focus -- the thing that you stare at all day long. And most Chromebooks have shockingly poor displays that'll leave your eyes straining after mere minutes of use.
Toshiba's Chromebook 2 is a rare exception. The system, which originally sold for $330, has a 13.3-in. 1080p IPS screen that's leaps and bounds above the rest. Its resolution is significantly higher than the accepted norm, which is important, but equally noteworthy is the fact that the laptop uses a high-quality IPS panel instead of the cheap TN material favored by the majority of current Chromebooks. As a result, it's bright, crisp, and clear, with vivid colors and excellent viewing angles. Once you've seen how good it looks, you'll never want to go back to the status quo.
(Note that Toshiba also sells a cheaper version of the Chromebook 2 that lacks the 1080p IPS display. The one being described here -- and the one you'll want -- is the "Full HD" version, model CB35-B3340.)
The Chromebook 2 has exceptional speakers, too, along with reasonably good build quality and respectable stamina. The only asterisk is its performance: The system is perfectly suitable for most normal use, but if you're a power user who tends to keep lots of tabs open at once, it may be a little light on horsepower for your needs.
Toshiba's laptop offers a commendable all-around experience, though -- arguably the most balanced one available in the realm of affordable Chromebooks. Particularly with its price now as low as $269, it's the most sensible selection for the typical Chromebook consumer.
The best big-screen Chromebook
Portability isn't the most important factor for everyone in a laptop; in fact, for many people, bigger is actually better. If you're one of those people -- looking for a great Chromebook that's more of a desktop replacement than a drop-it-in-your-bag-and-go kind of computer -- Acer's Chromebook 15 is the system you'll want to snag.
The Chromebook 15 has a 1080p IPS display -- the same type of higher-level screen technology used in the aforementioned Toshiba device. Just like with that laptop, the elevated display quality makes a world of difference in what this system is like to use. Trust me: Your eyes will thank you.
And with its 15.6-in. size, the Chromebook 15's screen feels refreshingly spacious. The extra real estate is nice for viewing videos, doing work where you appreciate seeing more content, or having the ability to keep multiple windows open without feeling cramped.
(Like Toshiba, Acer sells lower-end versions of its laptop that lack the 1080p IPS display. The one being described here -- and the one you'll want -- is the "Full HD" version with either 16GB of storage (NX.MUNAA.014) or 32GB of storage (model NX.MUNAA.003).)
Acer's Chromebook has better-than-average build quality for its class along with great speakers, solid performance, and good stamina. Just keep in mind that this is no petite computer -- nor is it meant to be. If you need a laptop that's ideal for carrying around or traveling, it's not going to be the device for you. But if you tend to keep your Chromebook on your desk most of the time and want a comfortably sized system with plenty of power, the Chromebook 15 is the one to get.
The best compact Chromebook
If you need something that's smaller than the Toshiba Chromebook 2 and yet oozing with horsepower, Dell's Chromebook 11 is your best option for outstanding performance in an affordable yet pleasant-to-use package.
With its Haswell-based Intel processor and 4GB of RAM, the Chromebook 11 has one of the speediest setups you'll find this side of the $1000 mark. It's actually faster than the Toshiba system, in fact, and able to keep up with even unusually demanding use. The added oomph won't be terribly meaningful in real-world terms for most typical users, but power users who tend to do a lot of multitasking will definitely notice the difference.
(Note that there are now several models of Dell's Chromebook 11 floating around out there -- including a model with 2GB of RAM, a model with an Intel Core i3 processor, and a newer model with the same processor setup as the Toshiba device. If you're going to get this laptop, I'd suggest going with the 4GB Haswell model I'm describing here, which is more limited in availability but still quite easy to find. The newer model is less powerful than the original yet no cheaper, whereas the Core i3 model doesn't offer enough of a real-world performance boost to be worth the extra money for most people. The 2GB model, meanwhile, doesn't typically have enough of a price break to be worth the decrease in capability.)
Dell's device is no means a premium laptop, but it feels solid and well-constructed. The biggest downside is the display: The Chromebook 11 doesn't have the higher-end IPS-caliber screen that the Toshiba and Acer systems enjoy; instead, it uses the same ol' 11.6-in. TN panel that's been standard on entry-level Chromebooks since the start. No two ways about it: That isn't great. Within the TN parameters, though, I've found Dell's display to be a bit better than most.
Stamina, meanwhile, is a strong point: The Dell Chromebook 11 gets around 10 hours of use per charge, which is quite impressive. If you want a more compact Chromebook and/or one that's especially well-suited to resource-intensive use, Dell's original Chromebook 11 is a killer value and a tough contender to beat.
The best Chromebook for those who need something extra durable
Lenovo ThinkPad Yoga 11e Chromebook
If you're willing to spend a little more -- $436.05, to be precise -- Lenovo's versatile and durable ThinkPad Yoga 11e Chromebook delivers a user experience that's a cut above the rest. The Yoga 11e Chromebook is truly in a league of its own within the midrange realm, with none of the flimsy surfaces or cheap-feeling materials you frequently see on sub-$500 laptops. This thing is built to take abuse, be it from busy students or accident-prone travelers. It also has a fantastic keyboard and trackpad -- hands-down the best you'll find on any Chromebook under $1000.
The system is fully convertible, too, meaning you can use it in a traditional laptop configuration or tilt the screen back to use it as a stand-supported slate or fully flattened touchscreen tablet.
The only real downside to the Yoga 11e's body is that as a result of its sturdy nature, it's not exactly what you'd call sleek. It's rugged -- and thus a bit heavy and clunky compared to other Chrome OS systems. But let's be honest: Most Chromebooks aren't exactly pinnacles of design. If you can deal with the heft, you'll get a laptop that's on another level in terms of quality and durability.
Like the Toshiba and Acer systems, Lenovo's Yoga 11e uses a higher-end IPS screen that's easy on the eyes. It has a lower resolution than what those devices provide, at 1366 x 768, but it still looks relatively good -- a definite step up from most other Chromebooks in the sub-$1000 range. Like the Dell, it's also more compact than the others -- at 11.6 in.
And while its stamina is just okay, the Yoga 11e has commendable performance that should keep both casual users and power users satisfied. Between that, its standout hardware, and its versatile form, there's an awful lot to like about this device.
The best Chromebook money can buy (if you're willing to spend a lot of money)
I'm listing this laptop last for a reason: While Google's Chromebook Pixel is without a doubt the best-in-class option, its level of quality also comes at a price.
If you can justify spending $999, though, the Pixel will give you a Chromebook experience like no other. The laptop is downright luxurious, with a gorgeous design, premium materials, and top-notch build quality that screams "high-end" from edge to edge.
The Pixel provides a sleek and minimalist aluminum body, an outstanding backlit keyboard, an etched glass trackpad, and an stunningly beautiful 12.75-in. 2560-x-1700 touch-enabled LCD display. Performance is second to none, as you'd expect. This year's second-gen model also provides solid stamina and cool and quiet operation -- notable improvements over the original Pixel device.
The 2015 Pixel offers some other neat features that weren't present in the original, like the use of two USB Type-C ports -- one on either side of the laptop. USB Type-C is an up-and-coming universal standard for charging that'll soon be present on Android devices as well as (brace yourself) Apple products. It's fully reversible, so there's no wrong way to plug a cord in. And beyond that, it's extremely fast at charging and able to double as a video-out port (with the aid of an HDMI adapter). In addition to its two USB Type-C ports, the Pixel has two USB 3.0 ports -- so you never have to worry about finding a place to connect anything in your arsenal.
At $999, this system certainly isn't going to be for everyone -- but boy, is it a treat to use. If you really want to go all out and get the best experience money can buy, this one's as lust-worthy as it gets.
(Google also sells an even higher-end version of the Pixel with an upgraded processor and more RAM for $1299. For the vast majority of users, though -- including most power users -- that's simply going to be overkill. Unless you just crave the most cutting-edge components available, I wouldn't advise dropping the extra dough.)
What about all the other Chromebooks?
As I said at the start of our discussion, there are a lot of Chromebooks out there these days. If a device isn't listed here, that doesn't necessarily mean it's bad; it just means it doesn't stand out as much as the ones mentioned above and thus isn't one of the top options I'd recommend at the moment.
A few specific examples worth mentioning:
The fine but forgettable Chromebooks like Asus's C200 model -- okay but underwhelming in performance and unexceptional in most other regards. If you're going to spend $200 to $250, you'd do much better with a system like the Dell -- or, if you want a nicer display and can justify an extra $19, the Toshiba.
The entry-level budget devices, including a couple that sell for as little as $149. If $149 is the top of your budget, those devices will certainly get the job done -- but they're nothing to write home about. At the very least, if you can, I'd consider spending an extra $50 for the Asus C201 Chromebook; it has the same internals but with an extra 2GB of RAM -- 4GB total, which goes a long way in making a system of this caliber more capable. Again, though, it's a question of budget; if you can justify going up another 50 bucks from there, you'd do better yet with the Dell device.
Acer's C720 Chromebook. This one used to be a regular on my list of recommendations, as it shares the same impressive internals as the Dell Chromebook 11. Its build quality is significantly worse, but its price used to be significantly lower -- which made it an attractive option for those who wanted ample power and didn't mind sacrificing the physical niceties. The 4GB RAM version of the C720 now actually costs more than the 4GB RAM version of the Dell system, though. Even the less powerful 2GB RAM version of the C720 is currently just $18 less than the 4GB Dell model. At those prices, there's really no reason to consider that system over the superior Dell alternative.
The just-launched Asus Chromebook Flip -- a neat convertible system with excellent build quality and some impressive elements. The problem is that at 10.1-in., the Flip is really small -- too small to be useful as a laptop for any extended productivity-centric work. If you want a little device that's suited for passive consumption along with a bit of limited or lightweight work, the Flip could fit the bill. But at $300 for the 4GB RAM version -- which is the version most people would want for reasonably decent performance -- it's tough to recommend over the Toshiba, Acer, or Dell devices, all of which are less expensive and more suited for input-oriented work.
Here's what it ultimately boils down to: When I think about these sorts of suggestions, I think about which products I'd buy myself or recommend to my own friends and family. The Chromebooks outlined in the preceding categories ("Best all-around," "Best big-screen," and so forth) are those products.
Now it's up to you to figure out which category makes the most sense for your situation. If you still aren't sure, stick with the first one (there's a reason I called it the "Best all-around Chromebook for most people"!).
The good news is that you really can't go wrong with any of the options in the sections above. It all comes down to what you need and how much you're willing to spend, but in their respective divisions, these devices will get you the best overall experiences available for Chrome OS today.
Copyright © 2015 IDG Communications, Inc.
Shop Tech Products at Amazon