Security suites
Review: Norton Security -- simpler and still a winner
Symantec has streamlined its line of anti-malware suites and combined them into one efficient package.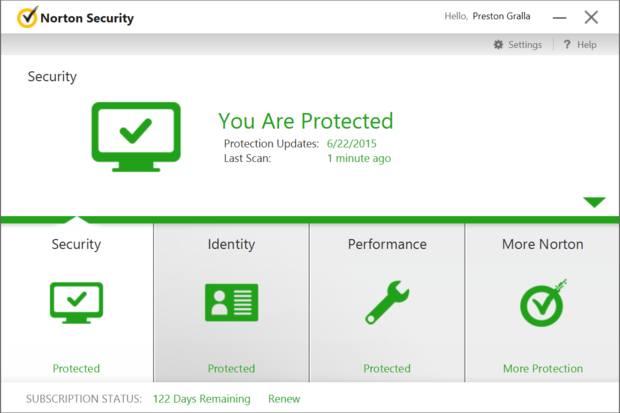 Security suites
Once upon a time, Symantec's brand of Norton security software had one of the most confusing lineups around -- products included Norton 360, Norton 360 Multi-Device, Norton Anti-Virus and Norton Internet Security. Trying to decide which product was the best for you -- not to mention the best priced -- was no picnic.
Thankfully, that has changed. There's now just a single piece of security software, Norton Security, which combines the tools and features from the previous packages into one product.
Those who want not just security for multiple devices, but also a variety of Windows tools, will find Norton Security a top choice. For $49.99 a year, the Deluxe version offers protection for up to five devices on Windows, OS X, Android or iOS. (There is also a Standard version costing $44.99 that protects a single Windows PC or Mac, but for an extra $5, it's definitely worth going with the Deluxe version.) The $69.99 Premium version adds 25GB of cloud-based storage, parental controls and protection for up to 10 devices.
As is common with other security suites, Norton's Mac version is a bit bare bones. It also falls down in iOS, but shines with Android. Overall, though, the Windows version is the star of this protection suite.
Windows
The Windows version of Norton Security offers a range of tools well beyond security, and encompasses useful performance tools such as a startup manager, disk optimizer and file cleanup. Everything is presented in a main interface with four large icons representing the software's main features: Security, Identity, Performance and More Norton, which allows you to install Norton on other devices (by emailing a download link) and shows their status.
Although it's relatively clean looking, I found the interface somewhat confusing -- at first, I wasn't sure how to drill down to get at the tools in each feature. For example, when I first clicked Performance, I was immediately able to find information about when my PC was last optimized and cleaned up, but I couldn't find any of Norton's performance tools.
It turned out that, in order to find the tools associated with each of the four categories, you have to first highlight the icon and then click a rather discreet down arrow at the right side of the main screen. Once I did that, I found a wealth of tools. For example, under Performance there's a disk optimizer, file cleanup, startup manager, and graphs that trace your PC's current CPU usage as well as its activity over time, including history of downloads, installs, optimizations, malware detections, malware scans, and alerts.
Those who like to customize their security will want to go to the Advanced section of the Security category (found by clicking on that down arrow), where you can turn on or off individual security modules, such as the firewall, email protection, browser protection and others.
Finally, the Identity category includes the Identity Safe password manager; Password Generator; Safe Web, which checks websites to make sure they're safe (this is turned on by default); and an anti-phishing feature (also turned on by default).
In its earlier days, Norton security products would bog down your system by using too many system resources, but it's been years since that's been the case. Over time Norton required less of a load, and this newest version seemed even lighter on my system than the last. Symantec claims that it now uses 20% less memory when scanning and takes up a smaller malware definition size than the previous version.
Windows 8 users can download the Norton Studio Windows 8 app, which shows you the security status of all of your devices. It displays a snapshot of the most recent Norton activity on each, including the results of scans, any malware found, phishing sites encountered and blocked. But it's not an active tool like the desktop version of Norton -- you can't perform scans or customize how security works. I used it once and then never again.
OS X
If you're looking for security for your Mac, Norton Security is a keeper. If you want the kind of performance tools you'll find in the Windows version, though, you'll be disappointed.
Apart from the lack of performance tools, the Mac version of Norton Security mirrors the Windows application fairly closely. The interface is similar, with large icons representing each of the application's main features: Security, Scans, LiveUpdate, Advanced and Add Devices. Security shows you the results of your most recent scans, Scans lets you tell Norton to perform a scan, LiveUpdate shows you the update status of malware signatures and lets you update them, Advanced lets you customize how the program works, and Add Devices lets you install Norton on other devices.
In fact, in one way the Mac's interface is superior to the Windows one: No need to hunt out the small down arrow on the right side of the screen in order to get down to business.
You get a full complement of security tools, including anti-virus, firewall, phishing-blocking and identity protection. As with the Windows version, you can turn on and off various components. Also, as with the Windows version, each feature includes levels of protection. The firewall, for example, lets you configure different blocking settings for the different networks to which your Mac connects.
The upshot? I found the Mac version simple, straightforward and intuitive, although it would have been nice to see some performance tools added to the mix.
Norton Security - Windows & OS X compared
| | Windows | OS X |
| --- | --- | --- |
| Anti-malware | Y | Y |
| Anti-phishing | Y | Y |
| Email protection | Y | Y |
| Identity protection | Y | Y |
| Firewall | Y | Y |
| Suspicious websites/links flagging | Y | Y |
| Tuneup tools | Y | N |
| Backup/restore | Y* | N |
| Cloud-based storage | Y* | N |
| Rescue disk | N | N |
| Social media protection | Y | N |
| Download scanning | Y | Y |
| Password manager | Y | N |
Android
Norton's Android app is superb. It offers a full suite of protection, including anti-malware, anti-theft, backup, protection against Web threats and an App Advisor that checks your installed apps for potential issues. Icons represent each module; tap any icon to use it or see more details about it. I found it a paragon of good design, giving easy access to all its features quickly and easily.
The App Advisor is extremely useful. It scans all of your apps and looks for potential issues, such as whether they're adware or will potentially invade your privacy. Tap the name of an app and it provides more information, such as "collects personal account details." From that same screen you can uninstall the app or tell Norton to trust it.
iOS
Norton's iOS protection is underwhelming. It has the usual anti-theft component for locating a lost iOS device on a map, remotely setting off a "scream" alarm and locking the device, and can also back up your contacts -- which is pretty much what any garden-variety iOS protection tool does. And that's all -- no malware scanning or other similar features. No checking apps for privacy invasions. No protection against Web threats. The interface is easy enough to use, but that's because the app itself does so little.
Norton Security - Android & iOS compared
| | Android | iOS |
| --- | --- | --- |
| Anti-malware | Y | N |
| Remote wipe | Y | Y |
| Remote lock | Y | Y |
| Remote alarm | Y | Y |
| Remote locate | Y | Y |
| Malicious website protection | Y | N |
| App privacy check | Y | N |
| Backup | N | Y* |
| Password manager | Y | Y |
Dashboard
You won't be overwhelmed by Norton's Web-based dashboard. In fact, you may not use it at all. It shows you the devices on which you've got Norton installed and lets you install Norton on others. You'll also be able to manage the anti-theft features of your iOS and Android devices. But it gives you nothing else beyond that.
Bottom line
This is a fine security suite, offering a comprehensive set of tools in easy reach for protecting Windows systems, Macs, Android devices and to a lesser extent, iOS devices. The Windows software is particularly noteworthy because of the range of tune-up and maintenance tools.
If you want iOS anti-malware, you'll want to find a different app, because Norton doesn't include it. And don't expect much of a Web dashboard. But apart from that, Norton Security is about as good a security suite as you can get.
Copyright © 2015 IDG Communications, Inc.
These days, security suites do more than protect you from malware -- they handle phishing, lost...
McAfee LiveSafe provides users with protection for an unlimited number of devices -- and for a...
Shop Tech Products at Amazon