Apple Watch
Deep-dive review: The Apple Watch after a month of use (video)
According to our reviewer, if you're an Apple fan, chances are you'll want one -- eventually.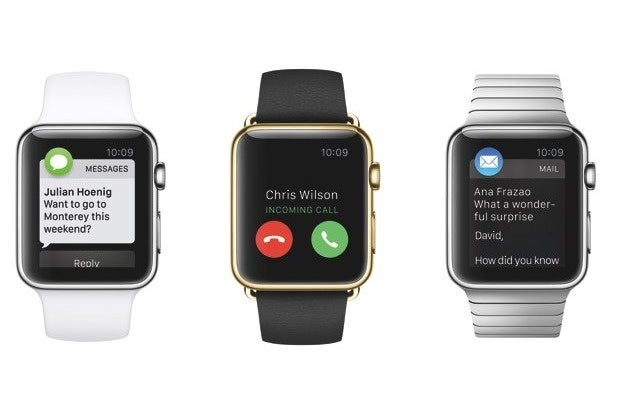 Every once in a while, there comes a bit of tech that lets you do what you're already doing, but in simpler and more effective ways. After using the Apple Watch for a month, I've decided that the watch is that kind of product. If you're already in the Apple ecosystem, chances are that you'll want one.
The design of the watch is typical Apple minimalism: A simple square of stainless steel, aluminum, or gold measuring 1.65 x 1.41 x 0.41 in. for the 42mm versions and 1.52 x 1.31 x 0.41 in. for the 38mm version. Weight varies by model and materials, ranging from 2.43 oz. for the 42mm Edition to .88 oz for the 38mm Sport. All models feature a capacitive multitouch Retina display with Force Touch technology.
The 42mm models have a 1.5-in. display with a resolution of 312 x 390, a pixel density of 302 pixels per inch (ppi). The 38mm versions have a 1.32-in. display with a resolution of 272 x 340 and a pixel density of 290ppi. All models feature 8GB of internal storage, a reported 18 hours of battery life, 802.11b/g/n Wi-Fi and Bluetooth 4.0. There's also a built-in microphone and a mono speaker.
The entry-level model, called Sport, is made of aluminum and an Ion-X glass display and costs $349 / $399, respectively, for the 38mm and 42mm iterations. The mid-range model, called Watch, has a stainless steel body and a sapphire laminated display; it costs $549 / $599 for the 38mm and 42mm versions. (I purchased the 42mm stainless steel model with a black sports band.)
Finally, if you've got money to burn, the Edition model features a solid yellow or rose 18 karat gold body and a sapphire-laminated display; it costs about $10,000 or $12,000 for the 38mm / 42mm models.
All models have a crown and single button on the right side and a couple of machined holes for the microphone and speaker on the left. On the surface, black borders surrounding the display almost give the impression that the screen and the housing are seamlessly connected, but the slightly different shades of black break the illusion.
The Watch has a sensor that uses infrared, visible-light LEDs and photodiodes to monitor heart rate. Depending on the model, this sensor is covered by either zirconia (in the Watch and Edition model) or a composite back with hard-coated optical polymer lenses (in the Sport model). The heart rate monitor checks every 10 minutes, and when a workout is initiated via the Watch's Workout app, heart rate is checked every 10 seconds.
There are other hardware-based personalization options. Bands can be removed and swapped out very easily by pressing tiny buttons on the underside of the Watch; they can be purchased separately, ranging in price from $49 for differently colored rubber Sport bands to $450 for the stainless steel Link bracelet. In between, Apple offers classic buckles, as well as leather and metal bands with magnetic clasps. My favorites are the comfortable black Sports band and the good-looking stainless steel Link bracelet -- the latter features a clever button mechanism that lets you resize the bracelet to fit your wrist. There will likely be third-party straps available in future.
And just in case you're worried about it, the Watch is splash and water resistant (but not waterproof).
Force Touch and Digital Crown
The Watch features two hardware controls: a Digital Crown and Favorites button. The latter allows a quick way to start a phone call, text message or Digital Touch session. (Digital Touch lets you send sketches, a tap or even share your heartbeat with up to a dozen contacts.)
The Digital Crown is a scroll wheel that you use to select options when using the Watch's software. It also acts as a Home Button when pressed. Double-pressing the Digital Crown also switches between the last used app and the Clock app, and holding down the Crown activates Siri.
The multitouch Retina display is not only capable of touch and gestures, but it also senses when additional force is applied to the screen; Apple calls this Force Touch. Applying pressure in supported spots brings up additional options. Thus far, Force Touch is mostly used for invoking actions such as calling up app settings, dismissing all Notifications, pausing or ending workouts, selecting audio and video sources in Remote, and customizing Watch faces in the Clock app, to name a few examples.
Besides the Digital Crown and Force Touch, Siri can be used for voice commands like setting timers, checking weather, launching apps and dictating messages. Functionality that can't be accomplished on the Watch is handed off to the iPhone.
An iPhone is required
Let's be clear about this: The Apple Watch needs an iPhone 5 or later to work. Much of the Watch's functionality -- such as app data, GPS and Watch customization -- piggybacks on the iPhone. In fact, as of iOS 8.2, Apple began including the Apple Watch as an un-deletable system app for iPhones. (That said, there are a few features that can be used without the iPhone once the Watch has been set up -- like sending and receiving texts, using Siri for reminders and weather, paying for items with Apple Pay and tracking workouts.)
The iPhone app lets you arrange application layouts; customize Notifications, Glances (more on these in a moment), and application-specific settings; run software updates and add your credit cards to Apple Pay.
Getting acquainted
Using the Watch involves a learning curve, although I managed to figure most things out by poking about the interface. The most important thing is to understand the difference between an App, Glance and Notification; after that, you need to learn how to distinguish between the different chirps, beeps, and physical feedback.
Glances are like a dashboard: A way to get at important app data, which is accessed from the Watch face by swiping up. Once in Glances view, swiping from side-to-side switches between various bits of information from different apps.
A Notification is an alert from an app that can be accessed by swiping down. Some Notifications can be acted upon right from the Watch. Email, for instance, lets you read, delete, mark as unread, or flag, though a reply must be done on the iPhone. Notifications for SMS or iMessages, however, can be replied to right from the Watch using either animated emojis or canned responses (which are edited on the iPhone), or via Siri dictation, with the option to send not only the transcribed text, but the audio file as well.
Apps can be accessed by tapping on the appropriate Glances or Notifications, or launched by pressing the Digital Crown. Built-in apps include standard communications software for Messaging, Email, Calendar and phone calls, both answering and receiving. There's also Music (you can add up to 2GB worth of songs on the Watch), Remote (for controlling an Apple TV or a Mac or PC with iTunes), Weather, Stocks, Alarm, Timer, Stopwatch and World Clock.
The Clock app features eight basic themes (called Faces), each with its own customization options. The Faces can be tweaked to display Complications -- avatars that give you additional tidbits of information, such as weather, Activity progress, sunset/sunrise times, moon phase, calendar events, and more.
The Watch does come with its own set of (sometimes unwritten) rules. For instance: Notifications and Glances are only accessible through the Clock app. Why? Because Notifications and Glances are called using your finger to swipe down or up, respectively, and doing so in any other app causes the onscreen elements to scroll. There are some inconsistencies as well -- for example, you'll see support for technologies like Force Touch in only some of the screens in some apps; other apps don't use it at all.
Becoming familiar with the Watch's feedback is key to using it effectively. Notifications and alerts use different chirps and sounds, but more than that, the Watch has built-in what Apple marketing calls the Taptic engine. This provides physical feedback in the form of taps on your wrist. The physical feedback worked so well for me that I muted sound almost immediately.
Shop Tech Products at Amazon