Register to download the Computerworld Digital Magazine!
In the June 2015 issue:
IT Road Map: Healthcare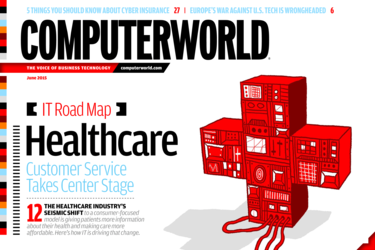 The healthcare industry's seismic shift to a consumer-focused model is giving patients more information about their health and making care more affordable. Here's how IT is driving that change. 
The Changing Nature of Collaboration
New tools invite more innovation and knowledge sharing -- and better connections with customers. But will too many choices make us less productive? 
5 Things You Should Know About Cyber Insurance
The right coverage can help soften the blow of a data breach. But don't expect to be bailed out if your security plan is flawed. 
The Grill
Rent the Runway CTO Camille Fournier says a strong engineering department turns dreams into reality.
Security Manager's Journal
Our manager upgrades his company's incident response plan and gets ready to test it with all the people who will need to take action should a real breach ever hit.
News Analysis
The number of software developers in the workforce is up from last year, but jobs in enterprise IT are growing scarcer as more companies turn to cloud-based services.
Opinions
Columnist Preston Gralla says innovation, not armies of red-tape-wielding bureaucrats, is the best way for Europe to succeed in the high-tech marketplace. And columnist Paul Glen says most managers tend to be rattled by this seemingly simple question: "How do you measure your own success?"
Shark Tank
Read the latest exploits of hapless bosses and clueless users.