Windows 10 Preview
Review: Windows 10 Insider Preview -- a nearly finished OS
The current build of Microsoft's upcoming operating system offers several improvements.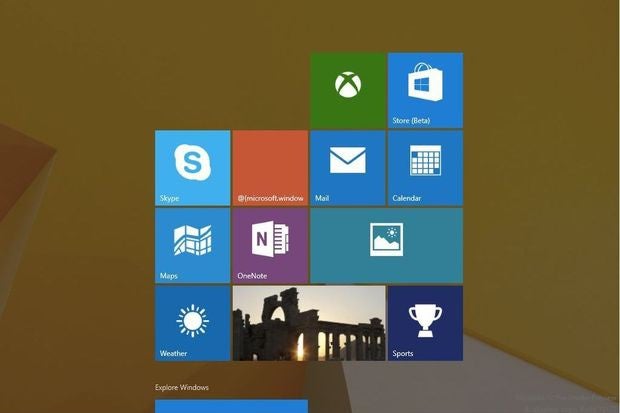 Windows 10 Preview
Show More
Microsoft has been racing to put the final touches on Windows 10 before its expected release date in late July. There have been three public updates in the last month: Builds 10061, 10074 and 10122. At this point, the interface and features for the new operating system are essentially set -- on May 20, Gabe Aul, engineering general manager at Microsoft, wrote about build 10122 on the company's official blog: "From here on out you'll see fewer big feature changes from build to build, and more tuning, tweaking, stabilizing, and polishing."
So now is the ideal time to catch up on the state of the operating system since we looked at the last major release in late January. At this point, to a great extent what you see is what you'll get.
In this review, I'll tell you in about the major changes to Windows 10 since the big January release. As you'll see, they're mostly to the good, although there are still some rough edges left in the operating system.
The new Start menu
Microsoft's decision to kill the Start menu in Windows 8 was one of the more controversial decisions the company ever made -- so in Windows 10, the company decided to backtrack and build it back in. Since the late January release, Microsoft has changed the menu several times.
In Build 10074, the menu was made easily resizable. You clicked a small double-headed arrow on the upper-right of the menu to grow it to take up the entire screen or shrink it back to its original size. You could also make it larger or smaller by dragging the top or right side.
However, in the newest build, 10122, that behavior has changed. There's no longer a double-headed arrow to switch between the full-screen Start menu and smaller-sized Start menu. Instead, users with traditional PCs and laptops get the smaller-size Start menu by default, while those with tablets get the full-screen Start menu. (I haven't had a chance to see the phone version yet.) To change the size between a smaller and larger Start menu, you have to go to Settings / Personalization / Start and make the adjustment in the "Start behaviors" section.
That's a smart move, because it cleans up the Start menu by getting rid of the double-headed arrow, and it's not likely people will want to switch between full-size and smaller-size Start screens very often. However, Microsoft made another change to Start menu behavior that made it worse, not better. In build 10122, you can resize the height of the Start menu, but not the width. Previously, you could change both. I found this frustrating, because it didn't let me have tiles in as many horizontal columns as I'd like. I'm hoping that this behavior will be changed in a later build.
If you've ever been nostalgic for the Windows 7 transparent Aero look, you'll be happy with another change Microsoft has made to the Start menu -- you can now make it transparent. Go into Settings and select Personalization / Colors, and turn it on using the "Make Start, taskbar, and action center transparent" slider. Is this useful? Not really. But I'm a fan of eye candy and it looks good to me.
There's only one more minor change to the Start menu in the latest build -- the Power button is now at the bottom left of the screen rather than the upper right. I've seen other reviewers complain about this. To me, that's a sign they have too much time on their hands. Upper right, bottom left; it's all the same.
New apps
One of the many disappointing things about Windows 8 was its apps, which tended to be underpowered and far less useful than those in more traditional Windows desktop applications. Rather than showcasing the power of Windows 8, they undermined it.
Things are getting better. For example, the new Windows 10 Mail and Calendar apps are both far superior to those in Windows 8. Unlike the Windows 8 versions, you can easily toggle between them by clicking the calendar icon in the Mail app or the mail icon in the Calendar app. Still, the implementation needs improvement: In Mail, the icon for switching to Calendar is on a vertical bar of icons on the left-hand side of the screen, while in Calendar the mail icon is on a horizontal bar on the lower left. More visual consistency between the two apps would make switching between them simpler. Still, they're clear improvements over the Windows 8 versions.
The Windows 8 Calendar always felt especially cluttered and klutzy to me; doing something as simple as switching to a different view (Day, Work week or Month) required calling up a menu and then making a selection. In the new app, those choices are always visible -- just tap the view you want. In addition, a small view of the entire month is always visible, even when you're looking at a single day, making it easy to navigate to see your calendar for any day of the month. I never would have considered using the Windows 8 Calendar. I can see using the Windows 10 version, though.
Another advantage to the new Calendar app is that it now supports Google Calendar, something that the Windows 8 version didn't allow. You won't even have to jump through hoops to do it. Just click Settings / Accounts / Add account / Google and follow the prompts. You can also add an Exchange calendar or an iCloud calendar in this way.
The Mail app, like Calendar, now has a simpler, cleaner look. Icons across its top are always available for common tasks such as replying, forwarding, deleting and flagging mail. Icons down the left let you do things such as browsing your mail folders, switching to different mail accounts, changing your settings, creating new mail and, as previously mentioned, switching to the Calendar.
Even more important: It supports POP-based email, something the Windows 8 app was incapable of doing. Also much improved are the text- and mail-formatting features, which are now Word-like and designed to allow you to do things such as insert tables into mail. That and more are available from a formatting toolbar that lets you change fonts and font attributes, change the color of text and insert tables and pictures.
Not everything worked for me. For instance, you are supposed to be able to do spell checking from the toolbar as well, but the spell check didn't actually check my spelling, and the icons for inserting a table, picture or a link were grayed-out so I couldn't use them. Presumably that will be fixed in a later build.
The app also includes new touch-based actions, including swiping left to delete a message.
The Edge browser
Internet Explorer's replacement, the new browser once called Spartan and now called Edge, has been filled out in the newest build. It shows a lot of promise, but is clearly still very much a work in progress.
The first thing I noticed was that it's clean -- free from visual clutter such as Internet Explorer's oversized forward and back buttons. The Address Bar sits underneath tabs rather than beside them as with Internet Explorer, which also makes for a cleaner look. The inspiration for Edge is clearly Chrome -- it's an attempt to strip away as many menus and controls as possible in order to make the content on Web pages the primary focus.
It works. I haven't regularly used Internet Explorer for years, in part because it's out of date. But based on Edge's overall visual appeal, it could eventually become my regular browser.
That being said, Edge still has a long way to go. The first issue is performance; I found it slow to load Web pages and buggy as well, sometimes closing tabs on its own. That should be able to be cleaned up fairly easily.
An even bigger problem was one of the features that Microsoft has been touting -- the ability to annotate Web pages, and save and share them with others. On some pages I visited, when I clicked the small note icon on the upper-right that turned the feature on, the site crashed. On other pages, the feature's toolbar would appear on top of the screen with icons for doing things such as drawing on the page, typing on the page and so on, but they didn't work. And on yet other pages, when I clicked the note icon, I got the statement, "Web Notes aren't available."
Only a few pages let me annotate them. And even then, when I clicked the Share button so I could share the annotated page with others, I received the message, "Project Spartan can't share right now. Try again later." I tried again later. Same message.
Another feature, Reading View, worked as promised. In Reading View everything extraneous is stripped from a page, including ads, navigation and anything else that distracts from the article itself. The article is presented in a clean, scrollable window, graphics included. It's easy to get in and out of Reading View -- click its icon at the top of the screen to toggle it on or off. I found it particularly useful for reading long text sections.
Missing at the moment is the ability to tear off a tab to its own window, or drag a window into another. That's basic browser functionality, so I expect that to be fixed before launch.
The bottom line? The design is right, the feature set promising. But Edge still can't be considered a fully functional browser.
Small changes
There have been a number of other tweaks. In the latest build, Microsoft continues to try and get all system settings in a single location, rather than put them in multiple places as was the case in Windows 8, where they were scattered between Control Panel and Settings. In the Personalization section you can now find settings for Background, Colors and Themes, which were previously found in Control Panel -- this makes life much easier for people (like me) who constantly tweak Windows' look and feel.
The eagle-eyed may notice a very small change that was ushered in by build 10074. The small watermark on the lower right of the Windows desktop no longer labels the build as a Technical Preview. Instead, it's called an Insider Preview. That may seem a small detail, but in Microsoft's world it means something -- the public previews have moved to a more finished phase, one that more closely resembles the final release of the operating system.
The Cortana digital assistant has also received a minor makeover with the addition of a vertical set of icons on its left, so that you can more easily use a variety of its features including a notebook, calendar, places and settings features.
The bottom line
Overall, Windows 10 looks to generally be in good shape before its expected release date in two months. The Start menu goes a long way toward making Windows a unified operating system rather than two separate ones kludged together -- one for touch-based devices and another for traditional computers.
The improved Mail and Calendar apps show that Microsoft is getting serious about making Windows apps fully powered ones rather than pale imitations of desktop apps. And the Edge browser shows a lot of promise as well, although it's still so buggy that it's hard to truly review it.
Apart from Edge, though, Windows 10 is just about fully baked. And if Edge and minor issues such as fine-tuning the Start menu and fixing the Mail app can be resolved before the final release, it looks to be a winner.
If you haven't downloaded Windows 10 yet, and want to give it a try, you can find it by following this link.
Copyright © 2015 IDG Communications, Inc.
Shop Tech Products at Amazon