Bluetooth headsets
Hands on: Plantronics' Explorer 500 Bluetooth headset adds a new loop
Plantronic's reasonably-priced headset offers good quality audio and an innovative strap that acts as both a charging cable and carrying strap.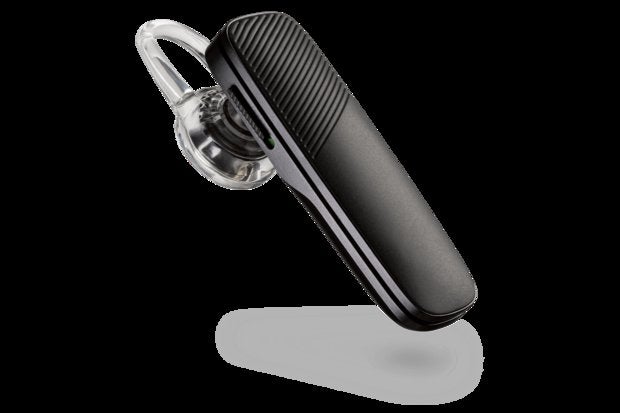 Bluetooth headsets
If you're a fan of larger smartphones such as the 5.7 in. Samsung Galaxy Note or the 5.6-in. iPhone 6 Plus, you may be in the market for a Bluetooth headset. These larger phones are incredibly useful, but can be (depending on your sense of proportion) a little large to hold against your face.
Now, Plantronics has introduced a new mid-level headset called the Explorer 500, which lists for $60 (compared to about twice as much for more elaborate devices). While it doesn't offer features such as water resistance or a charging case, the Explorer 500 has enough going for it to suit anyone who isn't a high-end road warrior.
The Explorer 500 is a small, modestly designed unit that comes in black or white; it measures approximately 2.0 x 0.6 x 0.3 in. and weighs a slight 0.26 oz.
The controls are well placed. A bit of subtly raised striping on the outer surface near the earpiece indicates the main call button, which lets you accept, reject and end calls. (According to a product rep, the patterning also helps offset wind noise and other environmental distractions.) The on/off slider is on one edge, while the volume up/down buttons (which also act as pause/play when pressed together) are on the other.
But the most interesting innovation on this headset is the charging strap. About 7.5 in. long, the flat micro-USB cable attaches end-to-end via a magnet, so it forms a loop that can be attached to a belt, a backpack or purse strap, etc. Plug the headset into the USB connector and you have a convenient way to carry the Explorer 500 around.
This is not a charging case, such as comes with the company's prosumer Voyager Edge or the more consumer-focused Jawbone Era headsets. Since charging cases hold their own batteries, they have the advantage of extending the use of the headsets considerably-- for example, for long business trips where you might not have the chance to recharge overnight. However, the Explorer 500's strap does have one advantage: You can also use it to charge any device with a micro-USB port.
According to Plantronics, the phone offers up to seven hours of talk time when fully charged. There is a power-conserving "DeepSleep" standby mode that goes into effect if the Explorer 500 is out of range of the paired phone for over 120 minutes (presumably, if you drop it in a drawer and forget about it for a day or two); it will, the company says, keep the headset charged for up to six months.
Comfort and call quality
Unlike most headsets, the Explorer 500 only comes with a single "universal" tip that fits into the ear; I'm pretty fussy about headsets and I found this one comfortable and firm enough so that I wasn't nervous about it falling out. A loop that fits around the outside of the ear is included, and according to a Plantronics rep, customers who need a smaller or larger tip can get one through the company's help line.
When you're not on a call, you can find out your battery and connection status by pressing the call button briefly; press it for a couple of seconds and you can use (if your phone has it) smartphone voice control -- for example, I was able to easily access Google Now's voice response.
Call quality was quite satisfactory. Although one call suffered from a few partial-second breaks during the conversation, I didn't experience that during several other calls, one of which was in a noisy room (challenging the headset's dual-microphone noise reduction) and another on a city street. Voices were clear and audible; the people on the other end reported no difference from any other smartphone call.
Plantronics has an app for its headsets called Plantronics Hub, which (as far as this headset is concerned) doesn't do much more provide a notification icon for talk time, and give quick access to a help file.
The Plantronics Explorer 500 lists at $60, which is a very reasonable price for this well-designed and modestly-styled Bluetooth headset -- especially one with an innovative charge cable.
Copyright © 2015 IDG Communications, Inc.
Shop Tech Products at Amazon