Register to download the Computerworld Digital Magazine!
In the April 2015 issue:
Combating the Diversity Dearth With Analytics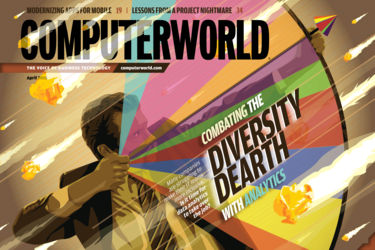 Diverse workgroups drive innovation and problem-solving, but despite countless programs and initiatives, many companies are struggling to make their IT teams more inclusive. Is it time for data analytics to take over the job? 
Modernizing Apps for the Mobile World
FIT shops are looking mostly to their existing software providers for an assist when extending enterprise apps to mobile platforms -- and they're finding compelling ROI along the way.
An Inside Track on Open Source
These companies swear by the strategic advantages gained when their IT workers contribute to open-source projects. But strict guidelines are paramount. 
The Grill
Karen Blackie, vice president of enterprise systems and data at GE Capital, oversees enterprisewide applications in a true follow-the-sun operating environment.
Security Manager's Journal
In his debut before top executives, our manager has just a few minutes to get them to see what needs to be done to better secure the enterprise.
News Analysis
Samsung is pitching the Galaxy S6 and Galaxy S6 Edge smartphones as popular, stylish -- and secure -- alternatives for businesspeople who might otherwise be thinking about iPhones.
Opinions
Bart Perkins says the Department of Labor has paid a high price for ignoring basic contract management principles. And Paul Glen advises IT to understand what users need to accomplish, rather than simply giving them whatever they want.
Shark Tank
Read the latest exploits of hapless bosses and clueless users.