2015 reality check: IT hiring, spending are up -- for now
How is 2015 shaping up for the IT industry? Spending is on the rise and hiring is increasing, but competition for employees with in-demand skills may slow innovation.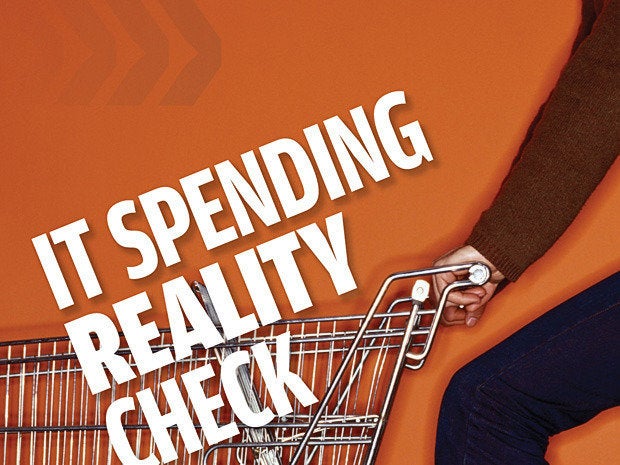 Confidence is high
IT managers started into 2015 feeling pretty optimistic, according to data from several industry reports, with solid economic growth paving the way for new IT initiatives and with them, a steady stream of IT hiring.
While the IT unemployment rate during the height of the recession remained far below the average across all industries, companies still were keeping the brakes on tech hiring, committed to doing more with less. With slow economic improvement, organizations are now moving away from years of serious cost-cutting to focus on innovation and growth initiatives built around technology. The upside? IT hiring efforts are at last shifting into high gear.
"Confidence remains high due to the stability of priority areas, which have remained largely consistent over the last three years," notes Jason Hayman, research manager at TEKsystems. "Overall, the IT market is very healthy and will continue to grow and expand. IT has a certain pervasiveness to it that ensures it will be in demand well into the foreseeable future."
Read on for some statistics and insight on how 2015 is shaping up in terms of tech spending and IT hiring.
Innovation efforts fuel IT growth
Economic recovery appears to be in full swing, with IT leaders generally optimistic about business conditions in 2015.
CompTIA's most recently quarterly IT Industry Business Confidence Index surged 2.4 points from the previous quarter -- the largest gain in two years and a solid indicator that IT leaders are feeling the love when it comes to technology investments.
Moreover, CompTIA's 2015 IT Industry Outlook projects growth at its highest rate post-recession and notably more robust than last year's 3.4%.
"Companies are coming out of the recession and feeling like it's time to rebuild," says Seth Robinson, CompTIA's senior director of technology analysis. "Businesses are optimistic about prospects and the economy is stabilizing. Companies want to grow and innovate, and they need to invest in technology and skills to move forward."
Good talent still hard to find
Robust IT growth calls for increased hiring, yet staffing up is proving to be quite a challenge for IT organizations. The low unemployment rate for IT workers -- coupled with steady demand for skills in sought-after areas like security, cloud computing, and software development -- make for a highly competitive hiring climate that could give stand-out talent a leg up when negotiating compensation.
According to CompTIA's 2015 IT Industry Outlook, 68% of IT firms are expecting a very challenging or challenging hiring environment for technical positions this year. Daniela Crivianu-Gaita, CIO at Gamma-Dynacare Medical Laboratories, is finding that the positions at the top of her hiring list -- data scientists and user experience specialists -- are hard to hire for.
"In general, there is a war for real talent -- people who are experts in their field and have excellent communication and collaboration skills," she explains. "Sure, you can find one or the other, but finding people with the whole package is a challenge."
Short-staffed, but making due
With more work on the docket and good talent hard to attract, many IT organizations find themselves short-staffed even though they now have the budgets and green light from management to open new positions. According to the CompTIA study, a net 43% of U.S. IT companies say they are understaffed, 22% by about 5% and 13% by as much as 10%.
Managers, directors now in high demand
Much of the hiring focus last year was on "doers," with programmers, developers, even help desk staffers in much higher demand than executive or VP-level IT positions. That's changed this year, according to TEKsystems' 2015 IT Forecast, which found companies are now in active pursuit of manager roles like IT director and project manager, which serve as a bridge between the C-suite and technical staffers.
The shift directly reflects the increased staffing levels, notes TEKsystems' Hayman. "Now the pendulum has swung to where organizations need to make sure all these new hires are focused appropriately to ensure that IT functions and activities stay aligned with business needs," he explains. "Additionally, IT managers are essential in the company's ability to retain this talent."
Developer talent remains elusive
Managers may be in high demand, but the "doers" -- programmers, developers, software engineers and architects -- consistently remain the most difficult to attract.
Part of the problem lies with supply and demand, which is exacerbated by the requirement that these candidates  possess a wide range of skills, including understanding the needs of the end user.
Suma Nallapati, secretary of technology and CIO with the Colorado Governor's Office of IT, says developers in all areas, including mobile app development and even legacy systems, are in demand. "These roles will enable increased service excellence to our customers and help us meet our strategic initiatives such as responsive end-user support, eliminating redundant applications and providing a consistent, reliable infrastructure," she says.
Unfortunately, they're currently the most difficult for her office to keep staffed, Nallapati says.
Full-timers take the reins
During the downturn, IT organizations whittled down their internal ranks, supplementing skills when necessary with what quickly became a booming contingent IT workforce.
Much like last year, the tide is shifting to full-time IT staffers, although hiring on both fronts continues to rise. TEKsystems' 2015 IT Forecast found that among the companies surveyed, there are approximately three to four full-time IT staffers for every one contingent worker.
David Foote, president of Foote Partners LLC, a research firm that tracks IT skills, chalks up the transition to IT reorganizing internally to combat the persistent skills and people gaps.
"More employers are taking hard looks at their IT talent and seeing big problems that need to be solved fast," Foote explains. "Companies are coming up with short-term cash incentive programs and long-term stock and cash incentives to give more workers reason to stay and grow their careers within."
Big data premiums slump
While big data certifications in skills like MongoDB or Cloudera were in top demand over the last two years, pay premiums began to erode mid-2014 as companies started taking stock of their projects and determined they weren't returning quite as much value as expected, according to Foote.
Non-certified big data skills (in categories like data mining and master data management, for example) took a bigger hit the last year, showing measurable declines in pay over the past three quarters.
Foote and other analysts remain bullish on investments in big data skills into this year and later, but most believe companies are now more realistic about the staffing and technologies needed in order to ensure success.
"Companies are realizing that they just can't spend a lot of money and have big data work," Foote explains. "There needs to be a culture of transparency in the organization and a lot of sharing going on."
In practice, big data efforts at many traditional companies have been hamstrung by hierarchical structures, inadequate data governance and management's distrust of data-driven decision making, Foote says. Before big data specialists have a chance at success, companies need to hammer out these management issues, he adds.
There's also the issue of maturity when it comes to analytics. "From an organizational and cultural point of view, most companies aren't doing a good job with the analytics they already have, so how do you expect to do big data," he says. "You can't get there simply by hiring the best and the brightest." As a result, the premium organizations were previously putting on those certifications has softened a little, he says.
Salaries on a upward climb
IT salaries are slated to rise across the board this year, according to TEKsystems' 2015 IT Forecast. Increases remain average, for the most part, with 68% of IT leaders expecting to give overall bumps of about 5%, with only 8% anticipating doling out meatier raises of 6% or higher.
While the numbers are down slightly over last year's forecast (76% of IT leaders expect to deliver salary increases in 2015 compared to 81% of leaders last year), IT can still expect a good, continual climb, notes TEKsystems' Hayman. Given that IT organizations are struggling with attracting top talent, it makes sense that salary increases are in the cards, he says.
"We've found that IT professionals receive, on average, 34 solicitations a week for new IT opportunities," says Hayman. As far as compensation goes, Hayman says it comes down to staffers' skills and the how supply and demand in the local market affects wages for IT talent.
In-demand skills land the biggest bucks
It's no real surprise that the hardest-to-fill positions are on tap for the greatest salary bumps. Programmers, developers, security professionals, project managers and architects can definitely expect to see more green in their paychecks this year, according to TEKsystems' 2015 IT Forecast. The so-called core skill sets (security, BI/big data, mobility and cloud computing) fell lower down the list this year -- although almost half of IT leaders expect to deliver some sort of salary increases for those posts as well.
With major trends like the Internet of Things (IoT), data analytics, mobility, cloud and security driving key IT investments into the foreseeable future, the war for talent will intensify, putting the onus on companies to be more competitive from a salary standpoint, says Brian Chan, vice president of IT at Avnet, an electronics distributor.
While the company determines compensation increases based on economic conditions and company performance in its various regional markets, Chan says "specialized and rare skills such as security and data analytics will command higher wages both in recruiting and employee retention."
Midsized shops are in the salary sweet spot
IT execs and staffers will fare better this year at midsize companies (those with gross revenues less than $500 million or with fewer than 1,000 employees) compared to their counterparts at larger organizations (those with gross revenues equal to or greater than $500 million or with more than 1,000 total employees), according to Janco Associates' 2015 IT Salary Survey. The average salary boost at large companies rose 0.78% compared to a 4.23% boost for positions in midsized shops.
With compensation and hiring now back to levels not seen since January 2008, there is growing demand for IT executives in midsize enterprises -- a harbinger of future staff hiring and spend in this sector, according to Victor Janulaitis, CEO of Janco Associates.
Copyright © 2015 IDG Communications, Inc.
Next Up: Check out these related slideshows