Review: Thin and light laptops
Asus ZenBook UX305 vs. Dell XPS 13: Thin, light and powerful
These two Windows notebooks are not only easy to carry, but offer a lot of power for a reasonable price.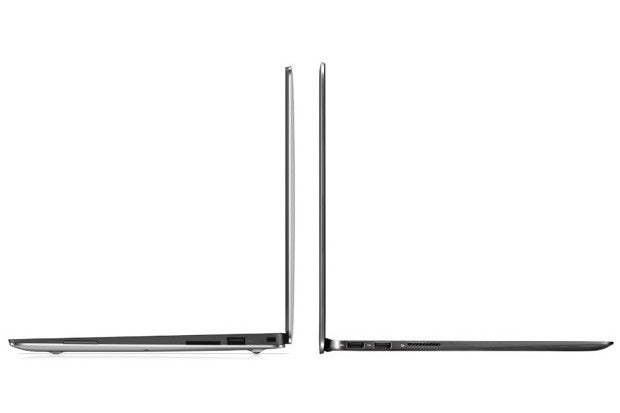 Review
Thin and light laptops
Show More
If Apple's new 12-in. Retina MacBook is any indication, the laptop is no longer considered an endangered species -- as long as it's slim and lightweight. However, while the new MacBook is extraordinarily portable and comes with an impressive display, it's garnered a bit of criticism because of its (which does double duty as a power port) and lack of SD card slots. On the other hand, two new Windows 8.1 systems have recently shipped that not only push the thin-and-light envelope, but offer enough features to make them suitable for both personal and business use.
The Asus ZenBook UX305 and the Dell XPS 13 are two of the newest Windows-based notebooks to hit the market -- and while they are slightly larger and heavier than the new MacBook, they appear ready to give Apple's latest a run for its money.
They have a similar look, with sleek aluminum skins and 13.3-in. displays (versus the MacBook's 12-in. display). Each is lighter and smaller than Apple's current 13-in. MacBook Air, although slightly larger and half a pound heavier than the upcoming MacBook. And while the Dell uses a midrange Core i5 CPU and requires a fan to prevent overheating, the ZenBook -- like the new MacBook -- uses Intel's latest low-power Intel Core M processor and so doesn't need a fan.
Note that, as with tablets and many slim laptops, it is not easy to get inside either of these systems, nor can you easily switch the battery.
I took a thorough look at both the Asus ZenBook UX305 and the Dell XPS 13 to evaluate them as notebooks for work, play and travel. Here are the results.
Asus ZenBook UX305
For companies looking to lighten their workers' load without busting the budget, the Asus ZenBook UX305 is a tough act to beat, with an excellent configuration, sleek profile, bright screen and a suggested retail price of $670 (starting Amazon price).
The ZenBook I looked at had a dark purple aluminum case, which Asus calls Obsidian Stone; the company also sells a white model called Ceramic Alloy. At a depth of 0.5 in. to 0.6 in., it's a tenth of an inch thinner than the Dell XPS 13, but the design is more traditional, with a 0.6-in. bezel around the screen. This gives the ZenBook plenty of room to fit its webcam (which can capture 1.2-megapixel stills and video) at the top of the screen.
The ZenBook measures 0.6 x 12.7 x 8.8 in., about an inch wider and longer than the Dell XPS 13. At 2.6 lb., the ZenBook matches the Dell ounce for ounce, although it is worth noting that the ZenBook has a lighter AC power adapter. The case has a metallic finish rather than the soft rubber coating of the Dell.
The 13.3-in. 1920 x 1080 HD screen is a gem, with brilliant and vibrant color. (Later this year, Asus promises a version with a Quad HD+ 3200 x 1800 touch display for about $1,000). In tests, the display measured 277 candelas per square meter of brightness, compared to the Dell's 222 candelas per square meter. The system comes with an excellent program for adjusting the screen's color balance called Splendid Utility, which has presets for Normal, Theater (warmer but a little dull) and Vivid (brighter but bluer) as well as a color-adjustment slider.
The ZenBook's screen is powered by Intel's HD Graphics 5300 chip, which runs slightly slower than the HD Graphics 5500 used on the Dell. Like the Dell, it has no dedicated video memory; instead, the ZenBook can call on up to 3.8GB from the system's 8GB of RAM.
In addition to the generous 256GB of solid state storage, the package includes 16GB of online storage space for one year.
As for the keyboard: The system's 19.2mm keys have a comfortable depth of 2.0mm, and I didn't feel at all cramped using the 4.9-in. touchpad. However, insomniacs take note: The Zenbook's keyboard isn't backlit. This can also be a disadvantage on those interminable red-eye flights where they turn the lights off.
Instead of a separate on-off button, the ZenBook has a dedicated key in the upper right corner of the keyboard; there's a blue LED that shows the system is on. While using the system, I found that it was all too easy to mistake the power button for the nearby delete key and turn the whole thing off.
Although it boasts a pair of Bang & Olufsen's ICEPower speakers, they are unfortunately placed on the bottom of the system. You can tune the output with Conexant's SmartAudio control panel, but its sound is often muffled.
The low-power Intel Core M-5Y10 processor runs at a sedate 800MHz, but can sprint to 2GHz. As with the new MacBook, the Core M processor means that the system doesn't need a cooling fan, which cuts down on weight and battery drain. However, the review unit had an annoying hot spot at the top center of the keyboard between the F7 and F8 keys. I measured it at 104 degrees Fahrenheit, 9 degrees warmer than the Dell's peak temperature.
The ZenBook offers a good assortment of ports: three USB 3.0 (one more than the XPS), one mini-HDMI and one audio. It also comes with a USB-to-Ethernet adapter for office-bound types. For wireless connections, the ZenBook comes with Bluetooth 4.0 and 802.11n Wi-Fi.
Performance testing
The ZenBook UX305 pulled in a PassMark PerformanceTest score of 1,629.4, somewhat lower than the Dell's score of 1,823.3. Its CineBench 15 scores were 210 (for the CPU section) and 24.06 frames per second (for the Open GL testing), between 15% and 20% slower than the Dell. The bottom line? The ZenBook is fine for most work, but can't compare with the Dell XPS 13 for all-out performance.
Its 3,900mAh battery played videos nonstop for eight hours and five minutes, a very impressive score that translates into enough power for close to two days of actual on-and-off work. Still, it was more than three hours short of the Dell's exceptional 11-hour battery life.
Asus backs the ZenBook with a three-year warranty, which makes its $670 price tag an even better bargain.
Bottom line
It may be a less ambitious system than the Dell XPS 13, but the ZenBook UX305 is still a masterful device, especially considering the very reasonable price.
In a world of cookie-cutter laptops, Dell's XPS 13 is a breakthrough system that does a lot with a little. It not only squeezes more battery life and performance into a small case, but adds several innovative goodies to the mix.
To start, the XPS 13's dull silver aluminum case is seductively thin, with a soft rubber coating in the area around the keyboard. At 2.6 lb. and 0.8 x 11.9 x 7.8 in., it is one of the smallest 13-in. systems around -- for example, it's 0.8 in. shorter and a full inch narrower than the ZenBook UX305.
With a tiny 0.15-in. bezel around its perimeter, the 13.3-in., 1920 x 1080 Infinity Display makes images seem to float in space. The screen is bright, clear and sharp, although whites were a bit on the bluish side. In tests, it delivered 222 candelas per square meter of brightness, making it about 25% dimmer than the ZenBook's display.
If you do a lot of video chats, however, the thin bezel has a big drawback -- it is too small to house the webcam. The 720p camera is mounted to the lower left of the screen rather than centered above, which changes the orientation for videoconferences; I found myself slouching in my chair on a video chat in order to be seen.
The computer uses Intel's HD Graphics 5500 video chip, which is slightly faster than the 5300 model on the ZenBook. Like the ZenBook, the Dell has no dedicated video memory; it can take up to 2GB from the system's 4GB of RAM.
The keyboard offers 19.1mm keys with only 1.1mm of depth, versus a more comfortable 2.0mm of depth on the ZenBook. On the other hand, unlike with the ZenBook, the keyboard has backlighting, with two brightness settings that can help get you through night work without straining your eyes. It has a 4.6-in. touch pad that's slightly smaller than the ZenBook's 4.9-in. pad.
The Dell's circular on-off switch is to the right of the keyboard. On the left side, the XPS 13 has a five-element LED battery gauge: Press the button and the number of LEDs lit shows its current charge status.
The speakers are towards the front, one on each side, and deliver solid sound (although perhaps not quite loud enough for a good party).
Inside, the Dell includes 128GB of solid state storage. The model I tested is powered by an Intel Core i5 5200U processor that normally runs at 2.2GHz but can speed up to 2.7GHz and uses a maximum of 15 watts, more than three times the power drain of the ZenBook's Core M chip.
As a result, the system requires a fan to prevent overheating. However, the fan didn't cycle on very often while I was using it, and the system actually felt cooler than the ZenBook.
Along with Bluetooth 4.0, the Dell comes with 802.11ac Wi-Fi. Ports include a pair of USB 3.0 ports, one audio jack and one Mini DisplayPort connector. If you want to connect to an HDMI projector or monitor, you'll need either an inexpensive generic converter or Dell's $75 adapter, which adds an Ethernet, VGA, HDMI and USB port. If you need more, Dell has a $170 docking station that turns a single USB 3.0 connection into a smorgasbord of ports, including two USB 2.0 and three USB 3.0 ports, Ethernet, DisplayPort, two HDMI and audio.
Speaking of adapters, the Dell has one of the most versatile AC adapters I've seen. You can either plug the adapter directly into an outlet, or you can add a 3-ft. cord between the adapter and the outlet for a longer reach (and to make it easier to use other plugs with the outlet).
Performance testing
The Dell was a top performer with a PassMark PerformanceTest score of 1,823.3, 10% better than the ZenBook, despite the latter having twice as much RAM installed. This extra power extends to graphics as well, with CineBench scores of 259 (for the CPU section) and 28.07 frames per second (for the OpenGL video tests).
The 6,400mAh battery was able to last for an astounding 11 hours and 10 minutes of continuous video playback. That's more than enough to use it flat out for a full workday or for on-and-off use over a couple of days. In my experience, it sets a new standard for battery life.
The XPS 13 comes with Windows 8.1, McAfee's LiveSpace security software and 20GB of Dropbox online storage space for three years. Its one-year warranty can be extended to three years with accidental damage coverage for $103 or four years for $119.
Bottom line
Dell's XPS 13 combines exceptional battery life with top-flight performance in one of the smallest notebooks available. It is the best $800 you can spend on a notebook today.
Conclusions
While the $700 Asus ZenBook UX305 is very capable and a good bargain, it can't measure up to the Dell XPS 13's performance and smaller size. True, the ZenBook has a better assortment of ports, twice as much RAM and storage space, and a three-year warranty, but it has nothing that can compare to the Dell's more than 11-hour battery life.
The Dell XPS 13 cuts the size of a 13.3-in. system to what we expect from one that holds an 11.6-in. or 12.1-in. screen, making it easier to carry, hold and pack.
The Dell XPS 13 is nothing short of the most innovative notebook available today. I can't wait to get my fingers on the ultra-HD touch version.
Features table: Asus ZenBook UX305 vs. Dell XPS 13
|   | Asus Zenbook UX305 | Dell XPS 13 |
| --- | --- | --- |
| Size (WxHxD) | 12.7 x 8.8 x 0.6 in. | 11.9 x 7.8 x 0.8 in. |
| Weight | 2.6 lbs. | 2.6 lbs. |
| Processor/Speed range | Intel Core M 5Y10/800MHz-2GHz | Intel Core i5 5200U*/2.2GHz-2.7GHz* |
| RAM/SSD Storage | 8GB | 4GB* |
| Storage (SSD) | 256GB | 128GB* |
| Screen size/resolution | 13.3 in./1920 x 1080 | 13.3 in./1920 x 1080 |
| Graphics | Intel HD Graphics 5300 | Intel HD Graphics 5500* |
| Ports | 3 USB 3.0, 1 HDMI, 1 audio, 1 SD card | 2 USB 3.0, 1 mini-DisplayPort, 1 audio, 1 SD card |
| Wi-Fi | 802.11n | 802.11ac |
| Operating system | Windows 8.1 | Windows 8.1 |
| Warranty | 3 years | 1 year |
| Price | $700 | $900* |
Performance ratings: Asus ZenBook UX305 vs. Dell XPS 13
|   | Asus Zenbook UX305 | Dell XPS 13 |
| --- | --- | --- |
| PassMark Performance 8.0 | 1,629.4 | 1,823.3 |
| CineBench CPU/OpenGL (fps) | 210/24.06 | 259/28.07 |
| Screen brightness (cd/m²) | 277 | 222 |
| Battery Life (hours: minutes) | 8:05 | 11:10 |
Review
Thin and light laptops
Shop Tech Products at Amazon