Register to download the Computerworld Digital Magazine!
In the March 2015 issue:
The 2015 Premier 100 IT Leaders: Primed for Business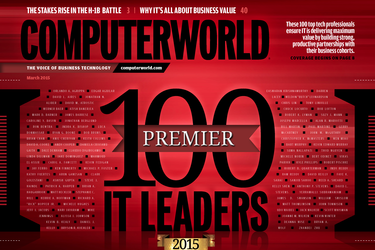 These IT leaders start by building an IT department that's structured to proactively identify business needs. Then they quickly deliver projects with stellar results. Our annual awards program honors 100 men and women who are writing the blueprints for their organizations' success. 
A Detailed Look at This Year's Premier 100 Class
Facts and figures about the honorees' 2015 budgets, purchasing plans and projects, plus profiles of this year's Premier 100 IT Leaders.
News Analysis
The H-1B visa program isn't supposed to "adversely affect" U.S. workers, and yet it does, say IT pros who have had to train their replacements.
Opinions
Scot Finnie says it's a lot of work to prime your IT organization for business, but this year's Premier 100 IT Leaders know that it's well worth the pain. And Thornton May says long-term planning involves much more than compiling a list of cool new things.