Review: Rugged Tablets
Break me if you can: 4 rugged tablets put to the test
These four tablets -- three Windows and one Android -- will take a licking and keep on ticking.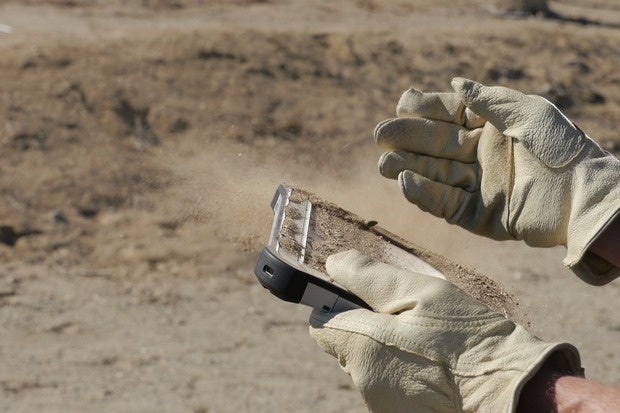 Review
Rugged Tablets
Show More
It's a cruel world out there for tablets: Every day, there's the possibility they will be dropped, knocked, spilled on or just shaken around. And that's just in a normal business day -- if you use your tablet outdoors, while traveling or in a work zone, the odds of a disaster go up precipitously.
In its report Mobile Device TCO Models for Line of Business Solutions, VDC Research estimates that the failure rate for conventional tablets in the workplace is 18% per year. That translates into roughly one in five systems failing at work each year.
"Unless you want to treat tablets as disposable, this failure rate should be unacceptable for businesses today," observes David Krebs, executive vice president at VDC Research. "By contrast, rugged tablets have been built for business use and have a 4% failure rate."
Rugged tablets offer reinforced frames, tough skins, watertight seals, hardened glass, soft corner bumpers and major components that are shock-mounted. In other words, if ordinary consumer tablets can be considered sports (or economy) cars, rugged tablets are tanks.
To see what the current state of the art is for rugged tablets, I gathered together three of the newest Windows-based worker-proof slates: the Mobile Demand xTablet Flex 10, the Getac F110 and the Panasonic Toughpad FZ-G1. I also tried out Samsung's Galaxy Tab Active, a reinforced Android tablet.
Meeting a standard
The gold standard for ruggedness is the Military Standard 810G rating (also known as MIL-STD-810G), a set of protocols that the U.S. Department of Defense uses to assess mobile computers. The 810G standard specifies a variety of trials, including 48-in. drops onto two inches of plywood over concrete, ill-treatment from temperature (high and low), and tests for resistance to humidity, altitude and vibration.
All three of the Windows tablets tested here meet the 810G drop standard. Two -- the Getac and Panasonic -- meet all the 810G requirements as well as the IP65 standard against intrusion by dust and jets of liquid. The Android-based Samsung Galaxy Tab Active (which is more of a ruggedized consumer tablet) isn't certified to meet any of the 810G standards but is certified to the IP67 standard, which means it can withstand dust and immersion in water.
The price for this robustness is that the systems are significantly larger and heavier than their consumer-oriented cousins. For instance, while the current 9.7-in. iPad Air 2 weighs just under a pound and is about a quarter of an inch thick, the smallest and lightest of the three Windows systems reviewed here is one inch thick and weighs twice as much.
The Galaxy Tab Active, at 1.1 lb., is closer to consumer proportions but is still heavier than less sturdy tablets such as the iPad Air 2 and Samsung's own 8.4-in. Galaxy Tab S, which weighs 10.37 oz.
There's another approach to making a tablet closer to being indestructible: Encase it in a protective cover that can absorb the shock of a fall and keep water out. However, the combined system and pad are often bigger and heavier than a fully rugged tablet. For instance, HP sells a version of its ElitePad 1000 tablet that is protected by a rugged plastic case; the tablet ends up weighing more than 3 lb. and is 1.3-in. thick.
Finally, protection doesn't come cheap -- most rugged systems can be priced at two or three times as much as their conventional cousins. "But getting a tablet meant for consumers is a false economy at work because it will likely cost more in the long run to use," says VDC's Krebs. "At work, a rugged tablet can quickly pay for its extra upfront cost."
In order to see how well these tablets operate in both normal and stressful conditions, I put each through a series of tests for ruggedness (during which they were dropped, shaken and soaked), performance, battery life, usability and so on. All the tablets survived with flying colors.
Easily the biggest, heaviest and most expensive of the tablets reviewed here, the Getac F110 is built to take a beating. The tablet has a textured polycarbonate case that's built on a firm magnesium frame; around its edge, polycarbonate and ABS plastic bumpers are molded into the case. The screen is made of Gorilla Glass II. The ports are covered, and there's a sealed docking connector on the bottom.
At 3.1 lb. and 1.0 x 12.3 x 8.1 in., the Getac needs a bit of muscle to carry it around. It's roughly a pound heavier than the Flex 10 or the Panasonic Toughpad, and is three times as heavy as an iPad Air 2. As a result, while carrying it, I frequently found myself looking for a table to work on. Getac offers an optional hand strap to help carry it and docks for your desk or vehicle.
The 11.6-in. display offers 1366 x 768 resolution. At 376 candelas per square meter, the Getac is brighter than the Flex 10 but 27% darker than the Panasonic. I also found it less usable in direct sunlight than the Panasonic.
The Getac has a tethered stylus that snaps into a recessed spot in the back of the unit. Because the bumpers rise 0.1 in. above the display, writing or drawing on the screen felt awkward at times. I much preferred the Panasonic's near-flush case.
On the right side is a port door that protects the Getac's USB 3.0, HDMI and audio connectors. It's the only one of the three to have a latch on the door to lock it shut.
In addition to an on/off button, a Windows button and one for locking the screen, there are keys for adjusting the volume and a programmable button for opening a specified app.
There's a forward-facing HD camera and a 5-megapixel back-facing camera. I tried the latter, and found that its images were sharp and clear; they can be GPS tagged for location, which can be helpful for a variety of employees, such as insurance adjusters or an oil rig repair crew.
There are a number of optional features that can be added to the Getac, including a micro-SD card slot, USB 2.0 or RS-232 serial ports, a barcode scanner and 3G/4G capability.
The tablet's Core i7 4600U processor runs between 2.1GHz and 3.3GHz and includes Intel's vPro security protocols; there's a Core i5 option that's about $200 less expensive. The review unit came outfitted with 4GB RAM but can hold up to 8GB; it comes with 128GB of internal SSD storage and is available with 256GB.
The Getac's two 2160mAh batteries kept it powered for 7 hours and 40 minutes of continuously playing HD videos from a USB key. That should be more than enough for a full workday of normal usage -- and you can change the batteries one at a time, something that few notebooks can do.
The system includes Windows 8.1 Pro and the company's own G-Manager software, which consolidates configuration settings and has a handy status screen that shows everything from CPU usage to the battery level.
The Getac F110 comes with a three-year warranty that includes accidental damage. (Assuming you need it; the Getac passed our torture test without a hitch.)
Bottom line
If your work requires a big-screen rugged tablet, then the Getac F110 is strong enough to provide years of reliable operations.
While it could hardly be considered slim and light, Mobile Demand's xTablet Flex 10 comes close to mimicking a consumer tablet while remaining rugged.
Made of smooth polycarbonate plastic, the Flex 10's case feels solid. Inside, its major components are bolted together to form the equivalent of an internal frame. The system has a sealed docking connector and silicone tabs to keep dirt, water and dust out of its ports. There are soft silicone bumpers to protect it from drop damage, but they fit loosely at the corners and extend 0.2 in. above the screen, making it a bit awkward to work with the screen.
At 1.0 x 10.8 x 7.4 in. and 2.0 lb., this is the smallest and lightest of the Windows rugged tablets and the easiest to carry around. I really liked the Flex 10's included hand strap, which attaches to the back of the unit and made it easier to hold and use the screen while standing. There's also a fabric handle that clips to small holes in the case.
The system's 10.1-in. screen (1920 x 1200 resolution) has chemically hardened glass and an oil-resistant coating that keeps fingerprints to a minimum (but seems to attract a lot of dust to the surface). Overall, the Flex 10's screen looked dull in direct sunlight compared to the others. It also was the least bright of the three Windows tablets (and roughly equivalent to the Galaxy Tab Active) at 322 candelas per square meter of illumination.
The speaker in the back is open to water seeping in; unlike the other two Windows tablets, the Flex 10 isn't IP65 rated. As a result, it is more appropriate for uses that involve only occasional outdoor activities or exposure to moisture.
The system's case has an on/off button, volume keys and a prominent Windows key on the bottom front panel (when holding the tablet horizontally); you need to firmly press your thumb on it to get it to work. The Flex 10 lacks the program start-up button that's on the other Windows tablets.
It comes with a front-facing HD camera and a back-facing 5-megapixel camera; there is no geo-tag feature for its images. I found that its video wasn't as clear as that offered by the others.
It leads in terms of ports: The Flex 10 comes with a micro SD card slot as well as one USB 2.0 and one USB 3.0 port. It also has an HDMI and an audio connector. There's a stylus that can be tethered to the unit. The unit itself doesn't have a slot for the stylus; instead, the tablet and the pen slide into a flexible cloth sleeve.
The review unit came with a quad-core Atom Z3770 processor that runs between 1.5GHZ and 2.4GHz; the company is planning to move to the newer Z3775 processor within a couple of months. It was also equipped with 4GB of RAM and 64GB of SSD storage space.
After I dropped, spilled on and shook the system, the Flex 10 was unscathed, although the silicone edging came loose (but it was easy to push it back). The benchmark score of 537.6 was lower than that of the other two Windows systems I tested.
The Flex 10's 7400mAh battery powered the system for five hours and 15 minutes of continuous playback of videos from a USB key, the shortest of the three Windows tablets. It does have one advantage: It uses a micro-USB port for charging and comes with an AC adapter that's the smallest of the bunch.
It includes Windows 8.1 with Bing, and comes with a one-year warranty; an extra year of coverage costs $95.
Bottom line
The Flex 10 sells for an attractive $695. Although it's not as fast or as watertight as the other tablets reviewed here, for the money, the Flex 10 offers a good amount of ruggedness.
Panasonic's Toughpad FZ-G1 provides the most protection per pound of the tablets reviewed here while delivering surprisingly strong performance.
That's because, rather than using a plastic skin, the Toughpad is built around a sturdy magnesium frame and case, while its major components have been flexibly mounted to absorb the shock of an impact. The tablet has a 10.1-in. screen made of Gorilla Glass II, sealed covers for ports and protective bumpers. It meets all the MIL-STD 810G tests and has an IP65 waterproof rating.
At 0.9 x 10.9 x 8.4 in. and 2.2 lb., the Toughpad is well-balanced and relatively easy to carry and use. Just below the screen (if you hold it horizontally) are buttons for on/off and volume. There are also two buttons that can be programmed for any app; when the tablet is shipped, one is set to display Panasonic's Dashboard, which consolidates major configuration details such as battery level and camera status, while the other brings up the on-screen keyboard.
Its front-facing camera can capture 720p video, while the rear-facing camera can grab 8-megapixel images and has an LED flash for illuminating dark scenes. It delivered the sharpest images of the three; images can be GPS-tagged.
The Toughpad also led the three Windows tablets as far as the screen is concerned. The 10.1-inch display offers 1920 x 1200 resolution and was the brightest at 480 candelas per square meter of illumination. It handled being in direct sunlight the best with images that weren't washed out.
The screen can be used with gloves on, making it more practical for use in low temperatures and rougher tasks. Its bumpers protrude only slightly above the screen, making the Toughpad easier for writing, drawing or just checking off Web forms. It comes with a stylus that has a tether and a place to snap it into the back of the case.
It comes with a single USB 3.0 port, one HDMI port and one audio connector. The tablet also has a sealed docking port that includes connectors for 3G/4G antennas that can, if you need to, link to a vehicle's more powerful antennas.
The Toughpad is equipped with an Intel Core i5 4310U processor that runs between 2GHz and 3GHz. The review unit came with 8GB of RAM and 128GB of solid-state storage space; you can upgrade to 64GB of RAM and 256GB of storage space; self-encrypting drives are an option.
The Toughpad suffered no damage during the ruggedness tests; however, its screen went blank on two of the three 48-in. drops. In each case, the tablet restarted right away with no damage, although I did find that a little annoying.
With a 2,179.5 rating on the PerformanceTest 8 benchmark, it came in surprisingly close to the Getac's faster processor (likely a result of the Toughpad's additional RAM). On the downside, the tablet got noticeably hot at times.
The Toughpad's 4400mAh battery pack powered the tablet for six hours and 11 minutes of continuous playback of videos from a USB key, which should translate to a full day of work. Panasonic has an optional 9300mAh battery pack replacement that sticks about 0.2 in. out of the slate's bottom.
Panasonic offers a variety of accessories for the tablet, including desk and vehicle mounting hardware, an optional RS-232 serial port, a bar code scanner, a smart card reader, a magnetic stripe reader, and a charger that can handle three batteries.
My favorite, though, is the $350 snap-on iKey Jumpseat Keyboard that can turn the tablet into a keyboard-centric notebook. It adds a USB port, is just as rugged as the tablet and has backlit keys. The combo weighs 4.2 lb.
Bottom line
Although its three-year warranty unfortunately doesn't include accidental damage, Panasonic Toughpad is a good choice for those who want a tablet that is as close to indestructible as is possible.
Shop Tech Products at Amazon