11 chic chargers: Portable power that's dressed to impress
These days, mobile tech has to both work well and look good. These stylish portable battery chargers can keep your mobile devices running through the day -- and attract envious looks at your next power lunch.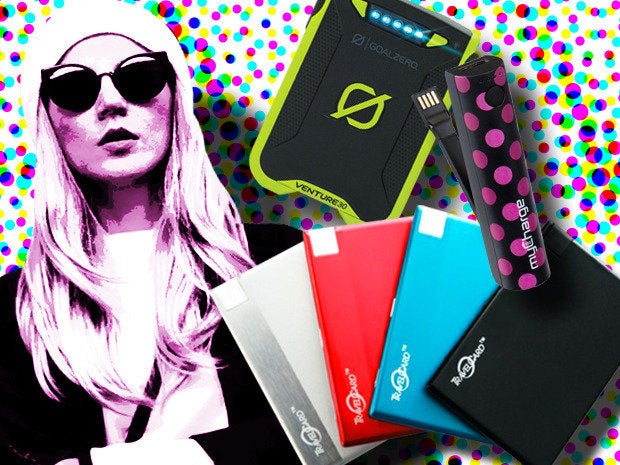 Looking good and working well
One sign of a successful technology is when manufacturers start considering how it looks as well as how it works. Take portable battery chargers: Once upon a time, they were clunky, heavy and came mostly in basic black; not exactly the kind of thing that you wanted to haul out during a business lunch (unless you needed to impress your guest with how seriously geeky you were).
These days, when devices such as the iPhone and Moto X are touted for both their power and their looks, it makes sense that chargers should follow suit. And while batteries are getting more efficient, there are still few smartphones or tablets that can make it through a busy day without hitting the dreaded "low battery" warning. So why not carry around a charger that not only gives your device that needed energy boost, but can also give your reputation for good taste a lift as well?
In the following slides, we showcase 11 battery chargers -- some available now, some coming in the next few months -- that will power your mobile device and make you look good at the same time. Let the fashion show begin!
Editor's note: If you are unable to advance to the next slide, try disabling your ad-blocker. We apologize for the inconvenience.
Ventev Powercell 10000+
The Ventev Powercell 10000+ is proof that you can provide both style and power in one good-looking package.
Black with bright orange highlights, the Ventev Powercell 10000+ keeps your USB-powered mobile devices up and running whether you're in your hotel room or on the run. The Powercell not only has built-in Lightning and micro-USB cables (and a USB port for a third device), but has its own built-in AC prongs as well. So after a long day, so you can plug the Powercell into the wall, plug your phone or tablet into the Powercell, and let both top up.
When you're ready to go, the prongs fold neatly out of the way so you can pop the Powercell in your bag or pocket. A glance at the LED indicator will let you know how much power is left; according to Ventev, the Powercell will deliver about 42 hours of talk time or 34 hours of Web browsing.
Capacity: 10,000mAh
Suggested price: $110
Available: April 2015
Goal Zero Venture 30 Recharger
The popular notion of an environmentally-conscious person usually doesn't involve the term "chic" -- but there's nothing that says you can't enjoy the beauties of nature while also looking good yourself. Goal Zero's upcoming Venture 30 Recharger lets hikers, campers and photographers keep their equipment powered with both practicality and flair.
Black with bright green highlights, the Venture 30 has a built-in micro-USB cable and two additional 4.8A high-speed USB ports for charging your devices. It is completely waterproof (without having to resort to inconvenient rubber plugs); a set of LEDs not only lets you know how your battery is doing but acts as a flashlight as well. You can recharge it using either a standard USB port or via Goal Zero's $80 Nomad 7 portable solar panel.
Capacity: 7,800mAh
Suggested price: $99
Available: March 1, 2015
Lepow Poki Power Bank
Who says that chargers have to be black, square and, well, square? The Lepow Poki will charge your smartphone or tablet quickly, efficiently and fashionably. The slim, subtly rounded device comes in black, white, pale green or yellow; a blue battery sensor along one edge will show you how much power you have left when you swipe your finger along it. And the icing on the cake: It comes with a handy gray felt carry case that holds both the Poki and a short charging cable.
But this isn't beauty without brains: The Poki has a 2.1A input and output to enable it to charge your device faster -- according to the company, it will recharge most smartphones in about 1-2 hours. You can get it in either 5,000mAh or 10,000mAh capacities.
Capacity: 5,000mAh / 10,000mAh
Retail price: $25 - $28 (5,000mAh) / $31 (10,000mAh)
Available: Now
PowerSkin PowerStand Boost
When you're at your desk, where do you keep your smartphone? Sitting flat next to your laptop, probably, so you have to pick it up every time you want to check an email or text. (And in the perfect place for a coffee spill...) What you need is a stylish, useful stand for your phone -- like PowerSkin's new PowerStand Boost.
The PowerStand is a good-looking, cylinder-shaped charger that comes in white or black, and includes a micro-USB port and charging cable; iPhone users can plug their Lightning cables into the USB port. According to PowerSkin, it offers such features as overcharge protection and thermal management. But the real difference here is an extendable rubber mat that lets you safely lean your smartphone against the PowerStand for hands-free convenience.
With the PowerStand sitting on your desk and plugged into your computer, you can keep your smartphone (and the charger) both within reach and fully powered. Then, when you're ready to go, drop both your phone and the charger into your pocket or bag for a full day of talking, texting and browsing.
Capacity: 2,600mAh
Direct price: $25 (on sale for $20 at press time)
Available: Now
myCharge Style Power / Style Power Plus
Charger manufacturers are becoming a lot more style-conscious when it comes to their wares, and the myCharge Style Power Plus (left) is a good example of that. The lightweight, inexpensive charger offers a 3,000mAh boost for your phone, yet it is slim enough so that you can hold both it and your phone easily in one hand (allowing you to conveniently make calls while it's in use).
The Style Power Plus comes in several colors and patterns to suit a variety of tastes; you can buy it either with a built-in Apple Lightning or micro-USB charging cable. According to myCharge, it offers rapid recharge and protection against overcharging and overheating. And you can simultaneously charge the Power Plus and your phone via an AC socket.
Need something even smaller to drop into your pocket? The 2,000mAh Style Power is not much larger than a roll of Life Savers and only costs $20.
Capacity: 2,000mAh (Style Power) / 3,000mAh (Style Power Plus)
Suggested price: $20 (Style Power) / $40 (Style Power Plus)
Available: April / May 2015
Acoustic Research PowerCompact / VitaCharge
In movies from the 1940s and 1950s, it's not unusual for an actress to pull out a compact and carefully check her makeup. If she time-traveled to the 21st century, she could have powered her smartphone as well.
Acoustic Research (AR), a company that seems to feel gender-specific products are the way to go (it even has a site called "AR for her"), is planning to introduce a new portable charger this summer called the PowerCompact (left). Designed to resemble the type of item usually used to powder one's nose, the 1,500mAh gadget will come in gold or black and will actually include a mirror inside the top cover. The bottom portion will offer storage for a charge cable or a pair of earbuds.
If that strikes you as a bit too, well, retro, AR will also introduce the VitaCharge (right), a lightweight, colorful disk that will offer an 1,800mAh charge. It will come in pink/white, green/white, black/gray or purple/white and will include a removable lanyard so you can hang it from your wrist or your backpack.
Capacity: 1,500mAh (PowerCompact) / 1,800mAh (VitaCharge)
Suggested price: $30 (PowerCompact) / $25 (VitaCharge)
Available: Summer 2015
TravelCard
Sometimes dressing up can be painful -- anyone who's worn very high heels or a suit jacket in 90-degree heat knows what I'm talking about -- but when it comes to chargers, you can be both chic and convenient at the same time. The TravelCard, for example, is about the size of a credit card and can fit into your wallet, but still contains a built-in connector for your iPhone or Android smartphone and delivers enough power to offer a necessary boost when you need it.
The slim device comes in four colors -- silver, red, blue and black -- and can be pulled out at a moment's notice to provide about five hours of additional talk time.
Capacity: 1,500mAh
Direct price: $39
Available: Now
Imation Link Power Drive
If "discreet" is your style watchword, check out the petite but useful Link Power Drive, which can both power your iPhone and give you some extra storage space. The small white device is a little under 3 in. square and under an inch thick, yet it offers 3,000mAh of extra power and can also hold either 16GB, 32GB or 64GB of extra storage, depending on which model you get. (Unfortunately, it's only available for iOS devices.)
To charge your phone or transfer data (via the Link app), you simply connect it with the built-in Lightning cable; recharge it with the built-in USB cable. Want to watch a video while you're powering up? A handy little ledge pulls out of the Link and turns it into a handy stand for hands-off viewing.
Capacity: 3,000 mAh
Suggested price: $130 (16GB), $150 (32GB), $180 (64GB)
Retail price: $75 (16GB), $103 (32GB), $129 (64GB)
Available: Now
Tylt VÜ Wireless Charging Car Mount
Okay, you've earned enough to get that really snazzy sports car you've been promising yourself all these years. So why spoil the effect with an ugly mount for your smartphone? The VÜ Wireless Charging Car Mount will keep your Qi-enabled smartphone safe and in view while you drive -- and continue to impress your friends with your good taste.
The holder comes with 4.2-in. spring-loaded arms and an adjustable foot base that will, according to Tylt, work with the largest phones available today. The smooth black unit allows you to adjust the placement of the phone so that you (or your passenger) can have a clear view.
The Tylt VÜ may be black but it features sleek highlights in gray, green, red or blue. Only the gray is currently available (according to Tylt, gray is its most popular color); the others should ship sometime this spring.
Capacity: N/A
Direct price:  $80
Available: Now (gray only; more colors shipping in Spring 2015)
Copyright © 2015 IDG Communications, Inc.
Next Up: Check out these related slideshows