Register to download the Computerworld Digital Magazine!
In the February 2015 issue:
2015 IT Salary & Jobs Regional Report: The Southwest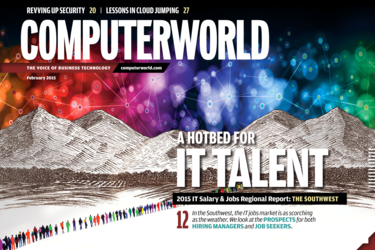 The IT jobs market is booming in the Southwest. See what's going on in Austin and other cities in the region.  
Revving Up Security
The cloud, mobile, social media and other factors are conspiring to force companies to re-evaluate their security infrastructures, from firewalls to authentication. 
Lessons in Cloud Jumping
Relationships with vendors seldom last forever. Here's how some IT managers have approached change-ups with their cloud providers.
Security Manager's Journal
As our manager settles in at his new job, he has begun to see security vulnerabilities everywhere he looks.
The Grill
Kimberly Bryant, founder of Black Girls Code, looks to expand skills outreach and challenges CIOs to help the cause.
Career Watch
Collaboration is more common in IT today than it once was, and open workspaces can foster that. But IT workers still need places where they can just chill.
Shark Tank
Read the latest exploits of hapless bosses and clueless users.
News Analysis
Docker, an open-source app containerization startup, has built up quite a bit of momentum in the past six months, but it's still not entirely ready for the enterprise.
Opinions
Paul Glen says reaching out to former colleagues can advance your career. And Thornton May considers the status of women in IT.