Gadget watch: The HTC Re and the Narrative Clip track your life's images
A new category of camera is helping users to track their lives in images without having to pull out a smartphone -- or even manually take a photo.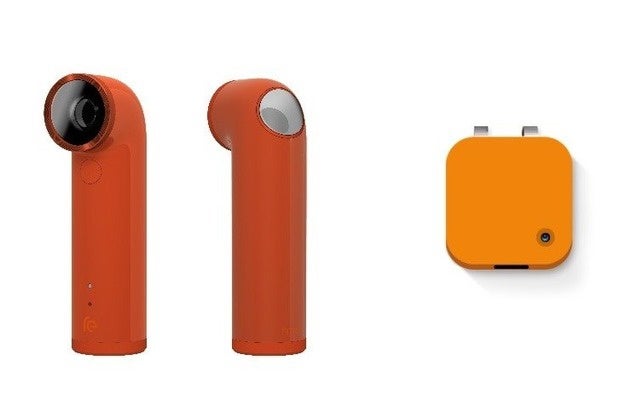 Although smartphone cameras have pretty much taken the place of separate digital cameras (at least, for casual photographers), tech companies are still trying to come up with interesting ways for consumers to use photography. One method that is popping up -- although there is no way to know yet whether it will actually catch on -- has to do with what is being called "lifelogging."
The idea is that you've got a camera that is small enough to be wearable and simple enough to be able to capture a moment without thinking about it (and a little less obvious than a pair of Google Glasses). These devices are so basic that they don't even come with a viewfinder. The photos are uploaded to the cloud; you can then either view them there or download them to your own devices.
I recently tried out two in that category. Neither is new: The HTC Re shipped back in November 2014, and the Narrative Clip first became available a year ago in January 2014. However, both are still available and worth taking a look at.
The HTC Re surprised a number of people when it came out, for two reasons. First, HTC is far better known as a smartphone vendor -- although according to Jeffrey Gattis, executive director, global marketing for connected products, there will be a number of other non-phone products coming out over the next year.
But even more surprising was its appearance: The Re is a small, periscope-shaped gadget (a friend of mine, who has asthma, refers to it as "the inhaler"). It is about 4 in. high; a 16-megapixel camera with an f2.8 lens (which can take pictures at a 146-degree angle) is on the tail end of the "periscope."
The Re doesn't come with an on/off button; it has a tactile sensor that turns it on when you grasp it. In fact, it has only two buttons: One on the back of the lens area takes a quick photo (a "snapping" sound and a flash of a green LED lets you know the photo has been taken); you can also start a video by holding the button down for a couple of seconds until you hear an audio signal and see a flashing red LED. A button on the front below the lens allows you to switch to slow-motion video.
At the bottom of the unit is a micro USB port for recharging the 820mAh battery and a slot for the microSD card that stores your photos (the camera comes loaded with an 8GB card). You can also screw it into a standard camera stand.
Taking photos
Taking photos with the Re is as quick and easy as one would wish. You just aim and click; because of the wide-angle lens, you're pretty sure to get your subject somewhere in there. Which means that wandering around with the Re can be a lot of fun -- if you want to take a photo of anything at any time, you just whip out the device in one hand and hit the button without worrying about focusing, centering, or wondering if somebody will call just when you're about to get your photo.
To see the results, you use the Re app, which is available for both iOS and Android devices. The camera connects to the device via Bluetooth; photos load within seconds, as long as both your device and the Re are active. They are organized by date; the app lets you share them, save them to the device, or delete any that you'd rather not see again. You can also see your photos mixed as a presentation using a separate app called Zoe, which is currently only available for certain Android devices; because it wasn't compatible with any of mine, I was unable to try it out.
If you really want to see what you're photographing real-time, the app lets you use your mobile device as a viewfinder -- which is useful, but is a bit too awkward to use a good deal.
The photos themselves were very crisp and clean, and worked reasonably well in low-light conditions. The aspect ratio, especially in longer shots, was often somewhat distorted at the edges because of the wide-angle lens, and many of the photos had a rather disturbing fish-eye feel to them. But on the whole, I was pretty satisfied. The videos were fairly good too, with better audio that I had expected.
Narrative Clip
The Narrative Clip is even smaller, lighter and less noticeable than the Re. In fact, the device is only 1.42-in. square and weighs 0.7 oz. A 5-megapixel camera lens is visible in one corner of the surface; there are also five LEDs that indicate the battery life and the micro-USB port. As its name indicates, the Narrative Clip has a small clip on the back so that you can attach it to your collar, your purse/backpack strap, or anything else.
Unlike the Re, the Clip doesn't wait for you to take photos manually. Instead, when it is active (which is any time it is not in a dark place such as a pocket, or not placed face down), it automatically takes a photo every 30 seconds. (If you want to make sure a photo is being taken at any time, you can tap the surface twice.) The device has 8GB of memory for storage, so it's good for at least a full day of shooting.
When you are ready to see your photos, you attach the Clip physically via a USB cable to your Mac or Windows PC to upload the images to Narrative's cloud service. This can take quite a bit of time, depending on how long you were wearing the Clip; if you have a day's worth, prepare to walk away from your computer for a while.
The service gathers the photos, picks out the best ones (so you're not trying to view several hundred), arranges them into timelines and chooses three photo to act as a "cover" for each timeline (which Narrative calls a "Moment"). You can swipe through each Moment to see all the photos one at a time or you can view it as an automatic slideshow; you can also add a caption and "trim" it (which will hide any of the lower-quality photos from the series). You can download individual photos to your device or share them.
Narrative has recently added a social media aspect with its "Public View." You can manually designate a Moment as public, allowing other Narrative users to see it. I checked out some of the existing public Moments, and I have to admit that there was a fascinating quality about seeing pieces of other people's lives, such as somebody's trip home on a subway in Japan.
Taking photos
As for the photos themselves: Daylight and well-lit inside shots looked fairly good; but low-light environments were invariably pixelated. The bigger problem, though, was actually capturing something significant: When I wore the device clipped to the strap of a pocketbook or a shirt collar, even when I tried to position it carefully, many of the photos seemed to be aimed high. So, for example, while I was happy to have an ongoing record of a day at a relative's house, most of the photos were not good enough to put in an album.
Possibly with these issues in mind, Narrator has announced the Clip 2, due to ship this spring, that will offer wireless uploads via Wi-Fi and remote control of the camera via Bluetooth; the device will accommodate a variety of mounts (rather than just the clip). The camera will be upgraded to 8 megapixels with a 90-degree range (up from the previous 70 degrees) and, according to the company, better low-light photos.
In addition, Narrative is apparently changing its pricing policy: The Clip was originally priced at $279, including a year's subscription to its cloud service; there would be a $9/month charge after that. The price has been dropped to $149; the Clip 2 will start at $199. And the company recently announced that it was extending all subscriptions without charge and would be putting a new plan (including a free option) into place in March.
Bottom line
The idea of being able to take quick photos and/or videos without even thinking about it is attractive -- not only for parents or the more adventurous (there is a whole genre of cameras out there for people who engage in high-speed sports), but for those who simply want to record the everyday events of their lives.
One thing that's a little nervous-making is the privacy aspect: These devices make it much easier to take photos surreptitiously. The Re does have an audible "snap" sound, but that can be made so quiet it's nearly inaudible, and while you have to manually take a photo, it's very easy to do it without anyone being aware.
The Clip is even more unnoticeable; in fact, Narrative has a webpage titled Common Sense For Wearing/Not Wearing the Narrative Clip that asks users to respect others' privacy. And it is a factor that you have to take into consideration -- at one point when I was wearing the Clip, at least one person asked me to remove it because it made her uncomfortable.
That being said, both the HTC Re and the Narrative Clip are interesting ways to record the events in your life. The Re is the more useful if you want on-the-spot videos and photographs that are good quality and that fix a moment in time; it is more likely to actually capture what you want it to, although distortion in a number of the photos can get in the way.
The Clip's ability to let you track a day's events without having to even think about it is fascinating; however, the current version can be frustrating in how often it misses its target. It will be interesting to see how much the upcoming Clip 2 fixes that.
Copyright © 2015 IDG Communications, Inc.
Shop Tech Products at Amazon